Vancouver Island: Five Britons die off Canadian coast after whale-watching boat capsizes
Eyewitness says the 65ft vessel was swamped by sudden wave that flipped it over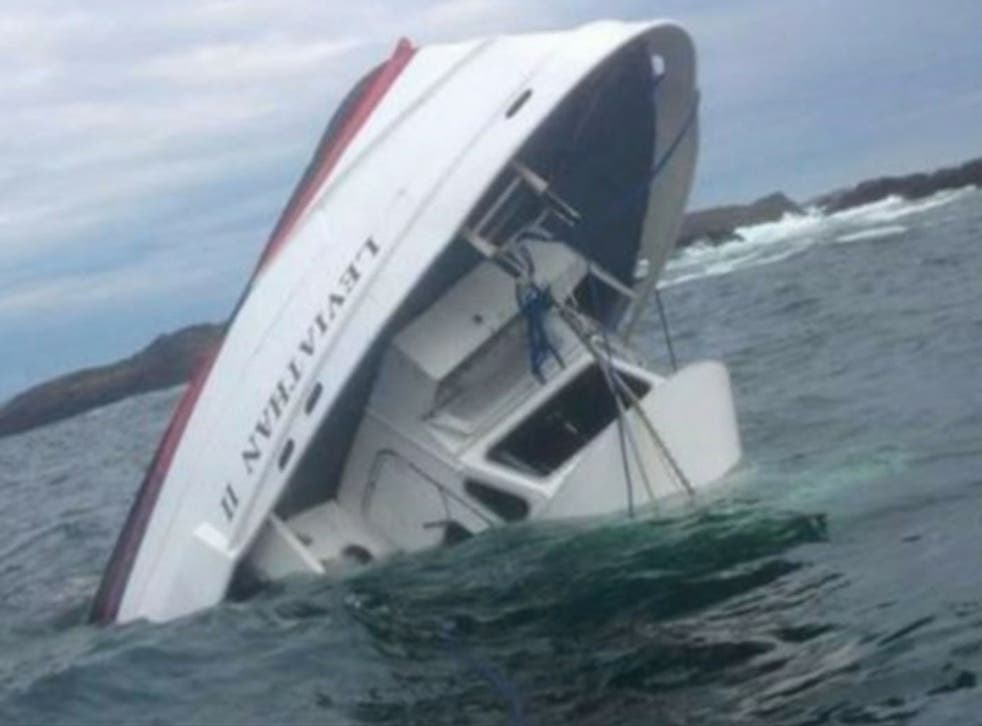 Five Britons have died and another person is still lost at sea after a boat carrying a whale-watching expedition capsized off Vancouver Island in western Canada. A total of 27 people were on board the Leviathan II when it mysteriously sank in calm seas close to the small town of Tofino.
The British victims are believed to have been four men and a woman, aged between 18 and 76, two of whom were British expatriates living in Canada. A further 21 people were rescued from the water by coastguard and civilian boats. Fifteen were treated at Tofino's local hospital while three who were more seriously injured were transferred to hospitals elsewhere on Vancouver Island, where they were said to be in a stable condition.
Philip Hammond, the Foreign Secretary, said: "It is with deep sadness that I can confirm five British nationals have lost their lives when the whale-watching boat they were on sank off western Canada on 25 October. My thoughts are with the family and friends of all those affected by this terrible accident."
Whale watching boat capsizes.mp4
The Transportation Safety Board of Canada has opened an investigation into the incident, which took place less than a week before the tour operator, Jamie's Whaling Station and Adventure Centres, planned to end its whale-watching excursions for the winter.
The Leviathan II could carry up to 46 people, according to the firm's website. Though the boat would have stored lifejackets on board in case of emergency, passengers were not required to wear them as a matter of course. The 65ft vessel was reportedly carrying 24 passengers and three crew members when it set out from Tofino on 25 October. It sent out a mayday call shortly before 4pm as it sank eight miles from the town, in an area known as Plover Reefs. A rescue helicopter and boats arrived within 30 minutes.
Several of the rescue boats were from the Ahousat First Nation, an indigenous tribal government on Vancouver Island. Ahousat councillor Tom Campbell watched from the Tofino waterfront as the boats carrying survivors returned to shore. "Their looks tell the whole story," he told Associated Press. "You can't describe looks on people that are lost. They look totally lost – shocked and lost."
Alec Dick, from nearby Ahousat, told Canada's Global News network: "They got swamped by a wave, it flipped their boat completely." Asked if the people on board had had time to put life jackets on, he added: "I don't think they had time to do anything."
In a statement on his firm's Facebook page, Jamie's Whaling Station owner Jamie Bray wrote: "It has been a tragic day. Our entire team is heartbroken over this incident … We are doing everything we can to assist our passengers and staff through this difficult time. We are co-operating with investigators to determine exactly what happened."
It is the second time such a tragedy has struck the same company. In 1998, a 20ft boat carrying just four people on a whale-watching trip in the same area of Plover Reefs was struck by a large swell, which tossed all four overboard. The boat operator and a German tourist were killed. "It does happen in a coastal community," Tofino mayor Josie Osborne told Canada's CTV News. "It's a beautiful, stunning environment but not without its risks."
Tofino, a fishing village of about 2,000 people around 175 miles from Vancouver, is a popular destination for tourists keen to see whales in the wild. The season runs from March to October. A coastguard communication station in the town was closed earlier this year.
Justin Trudeau, Canada's recently elected Prime Minister-designate, expressed his thanks to those involved in the rescue. "I know first-hand of this coastal area's natural beauty and the many people who visit here from all around the world," he said. "My thoughts and prayers are with the passengers, the crew, and their families at this most difficult time. We will continue to offer them support in the days ahead."
Register for free to continue reading
Registration is a free and easy way to support our truly independent journalism
By registering, you will also enjoy limited access to Premium articles, exclusive newsletters, commenting, and virtual events with our leading journalists
Already have an account? sign in
Register for free to continue reading
Registration is a free and easy way to support our truly independent journalism
By registering, you will also enjoy limited access to Premium articles, exclusive newsletters, commenting, and virtual events with our leading journalists
Already have an account? sign in
Join our new commenting forum
Join thought-provoking conversations, follow other Independent readers and see their replies