VE Day: Land Girls identified 70 years after taking a quick dip
The Imperial War Museum group wanted to find out more about the women in the picture, which has been used to highlight the end of WWII in Europe
Ian Johnston
Sunday 21 June 2015 20:08 Comments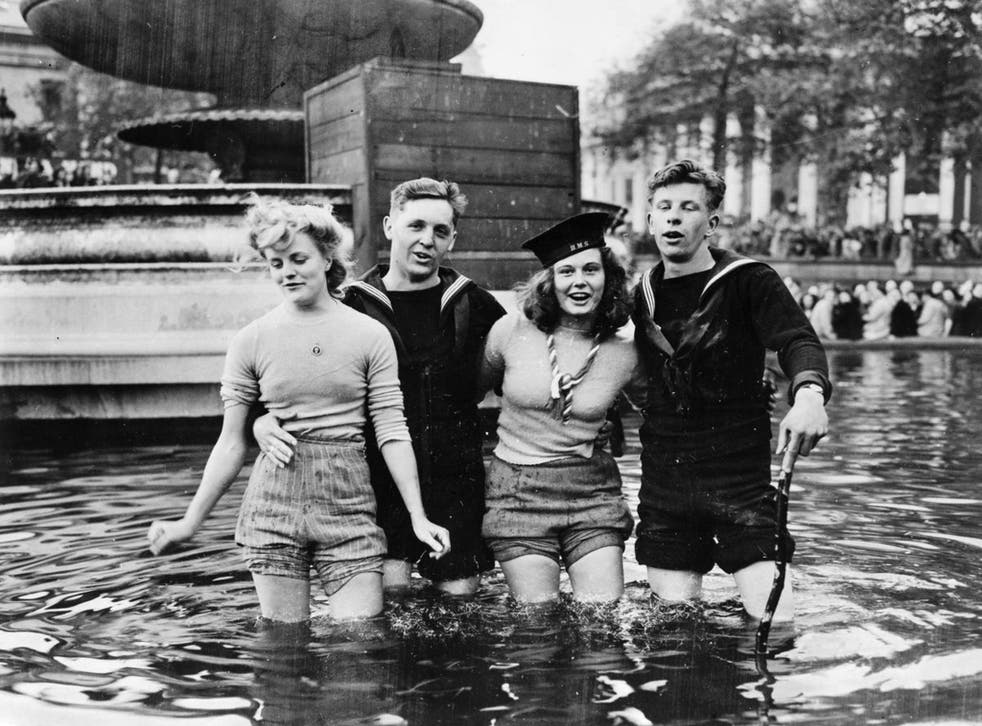 It is an image that captures the joy of VE Day – two women arm-in-arm with sailors in the Trafalgar Square fountain as the nation celebrates the end of six long years of war.
Now one of the women seen in the photographs which convey the euphoria that gripped London on 8 May, 1945, has been found in Canada after the Imperial War Museums (IWM) appealed for help on social media in tracing them.
The IWM group wanted to find out more about the women in the picture, which has been used across the world to highlight the end of the Second World War in Europe.
Just 24 hours after putting out an appeal on Twitter, IWM was contacted by a relative who identified them as Joyce Digney and Cynthia Covello, life-long friends after they met in the Women's Land Army in the summer of 1944, when Cynthia was 20 and Joyce was 18.
Joyce Digney, now 89 and living near Vancouver, had been working on a farm in Surrey with her "dear friend" Cynthia when the war ended and they decided to go into London to join the festivities.
But first they went to St Paul's Cathedral and gave thanks that they were both still alive, she said. "We both lost brothers who were pilots, so we said a prayer and then came out and looked at each other and said, let's go and have fun," said Mrs Digney, who was then 18 and called Joyce Brookes.
She spoke of "the crowds, the euphoria, everybody so happy, the smiles".
"I don't think I've ever seen so many people with smiles on their faces. It was the atmosphere of happiness that I remember," Mrs Digney said.
In Trafalgar Square, they joined the "longest conga line you could ever imagine", then decided to soothe their feet in the fountain's pool.
"The police shut their eyes to everything that was going on as long as we weren't causing any mischief," she said.
She described what happened next in a letter to the family of Cynthia Covello, who died in 1983 after she also married a Canadian and moved there.
"Two sailors came into the fountain to join us. [One of them] climbed up into one of the fountains and dived into the 2ft of water. How he didn't kill himself, I don't know!" she wrote.
"He [put] his arms around me and fell back, taking me under the water with him.
"I grabbed the chap by the shirt and dunked him up and down screaming: 'Look what you've done to me. How am I going to get home?'"
The women soon lost the two sailors as "we weren't there to pick up boys" and Mrs Digney said she had no idea who they were. Later, they dried off by a bonfire and then took a train back to Surrey.
Photographers and film crew in the square captured the images which were then used in media across the world. Mrs Digney saw film of their exploits in a newsreel a short time later but had not realised that they had been re-used so many times.
Speaking from Canada, Mrs Digney said she still could not believe what was so special "about a couple of silly women paddling around in Trafalgar Square".
Speaking about her friend Cynthia, Mrs Digney said: "She would think this whole thing is a hoot."
Register for free to continue reading
Registration is a free and easy way to support our truly independent journalism
By registering, you will also enjoy limited access to Premium articles, exclusive newsletters, commenting, and virtual events with our leading journalists
Already have an account? sign in
Join our new commenting forum
Join thought-provoking conversations, follow other Independent readers and see their replies