Vegan animal rights activists are 'sending farmers death threats' branding them 'murderers'
Activists compare farmers to 'slave traders' and say 'this is a classic case of the oppressor playing the victim card'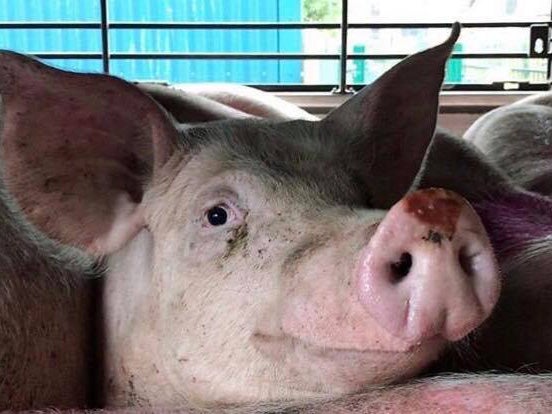 Farmers have described receiving death threats and being called "murderers and rapists" by activist vegans.
Alison Waugh, a trainee farmer in Northumberland, said she had received notes telling her and her family to "go die" from animal rights activists.
She said farmers across the country were feeling threatened by vegan campaigners "overstepping the mark".
"You've got people storming the meat mart, spraying graffiti...that's when it's not OK, when you've got people worrying if their cows are going to be safe tonight," she told the BBC's Victoria Derbyshire show.
"[It] is quite ironic from people that want peace for animals, but then they tell you, 'I hope you and your family go die in a hole for what you do'."
The National Pig Association has also claimed its members "cannot sleep at night" because certain activist groups have turned up at farms and slaughterhouses in the night.
Last year, the Association of Independent Meat Suppliers met with the National Counter Terrorism Police Operations Centre to discuss how to respond to one group, Save Movement – a network of vegan activist groups that aim to "bear witness" to farmed animals being sent to slaughter.
Members of the grassroots campaign have allegedly turned up at farms and slaughterhouses during the night.
Lead activist Joey Carbstron has denied being an extremist, saying there was "no evidence" to suggest farmers were being threatened.
Vegan Voyagers
Show all 6
"The farmers are playing the victim in this scenario, they are completely disregarding the fact that they have animals on the land that are being sent to the slaughterhouse," he told The Independent.
"Pig Farmers 'can't sleep at night'? Are they the really the victim in this scenario? This is a classic case of the oppressor playing the victim card. We are the animals' voice, the activists are their voice.
"I bet the pigs can't sleep at night either in their overcrowded conditions, after their piglets have been forcibly removed and facing death inside a gas chamber."
He believes there is never a humane way to eat meat, saying: "Is there a humane way to take my life against my will?"
"We're talking about an unnecessary practice here. We do not need to eat meat for health. It's not the Stone Age here, it's 2018. There's no humane way to do this, they cannot say that to us.
"They used to laugh at women's rights activists, black rights activists, now they are laughing at us. We are going to look back in history with our heads held in shame that we didn't protect the most vulnerable in society. Animals and children they are the most vulnerable.
"They are at our mercy and we are condemning them to the most horrifying death in a slaughterhouse.
"If people claim to care about animals, they have to let their actions reflect that. To be consistent with caring for our animals, they have to stop putting animals' body parts on their plates."
Ms Waugh said the group's criticism was "crushing when you take as much pride in your animals as we do."
"There is an attack on the industry, and that is an attack on me, people like me, my family. We will forever eat animals and I'll keep fighting for this industry as long as I can," she said.
Veganism has skyrocketed in popularity in recent years, with more than 150,000 people taking part in veganuary – January's month-long challenge to see if they could live without animal products.
More than half a million people (542,000) follow a vegan diet in England, Scotland and Wales, according to 2016 research by Ipsos Mori.
Join our commenting forum
Join thought-provoking conversations, follow other Independent readers and see their replies