Vertex: Police warn of 'ticking time bomb' of potentially lethal cannabis substitute
The legal high, also known as Space Cadet, offers a 'significant risk to life'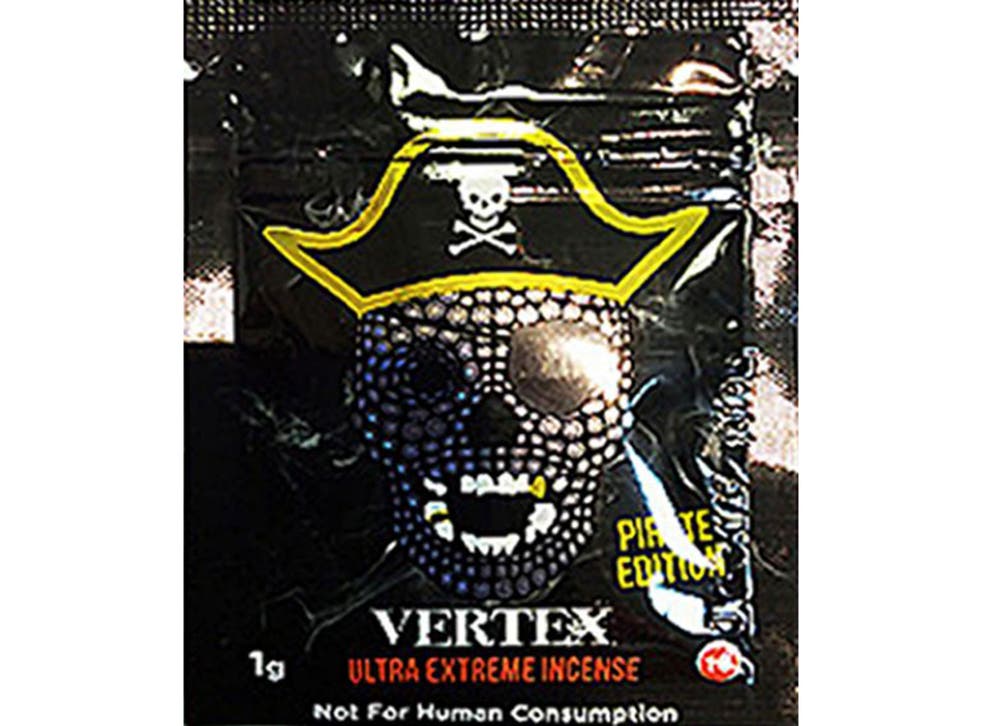 Police in the north-west of England have warned of a "ticking time-bomb" after four people were hospitalised after taking a potentially lethal legal high.
Cheshire Police have warned that there a "significant risk to life" from the cannabis substitute Vertex, which has been linked to a spate of incidents in Warrington and Runcorn this week, including the hospitalisation of a 16-year-old girl.
The legal high, which is also known as Space Cadet, is a synthetic alternative to marijuana, often imported legally from China, that is diluted with water, sprayed onto herbs and smoked like marijuana.
Laboratory tests have now confirmed that some samples of Vertex, which is freely available in shops locally and online, contain a potentially lethal synthetic cannabis chemical called AB–CHMINACA (AB-C). AB-C is already illegal in the US and has been linked to a number of fatalities across Europe, with symptoms including "delirious ranting" and "very high body temperature".
Assistant Chief Constable Mark Roberts told The Independent: "This is a ticking-time bomb as we move towards the weekend and we are keen to get the warning about Vertex out to as wide an audience as possible."


He said: "We have alerted Public Health England and based on their analysis this drug poses a serious risk to health. It works on the cardiac system, which is obviously extremely dangerous and chemical analysis has shown it is close to a drug which has been responsible for a number of deaths in Europe."
Police officers in Cheshire have spoken to a number of outlets known to supply Vortex and advised them to remove it from their shelves, while Assistant Chief Constable Roberts said the force would "not rule out" pushing for manslaughter charges if a shop sold a chemical that went to cause a fatality. He also warned that the force has received "unconfirmed intelligence reports" that criminal gangs had starting buying the drug in bulk.
Vertex is a in the same family of drugs as Spice, a substance that was made illegal in 2009 after public outcry. Last month five students at Lancaster University were admitted to hospital after taking a substance believed to be Spice, however police later said the chemical was a "new psychoactive substance".
Both Spice and Vortex are so-called cannabinoids that are designed to work in the same way as tetrahydrocannabinol (THC), the constituent of cannabis that acts on receptors in the brain to produce a psychoactive effect, or high. On sale in the UK, they are often labelled as "incense" or "research chemicals" and mark "not for human consumption" so as to be sold legally in stores and online.
Meanwhile police in the Greater Manchester area are reportedly concerned that the drugs may be being bulk bought by street dealers in the Bolton area to sell at the Parklife Weekender festival this weekend, warning revellers at the 70,000 strong event would be playing "Russian Roulette" with their lives if they used the drug.
Drug addiction, overdoses, and a very brief history of Heroin

Show all 14
Last week, the Home Office announced plans to a blanket ban on legal highs, which would outlaw substances "capable of producing psychoactive effect".
The home secretary, Theresa May, has said the blanket ban is necessary to "get ahead" of the rapid growth in legal highs, which she regards as a "game changer" after decades of stable or even declining illegal drug use in Britain.
Under the plans there would be a penalty of seven years imprisonment for selling newly-created drugs, though critics have suggested the new law may drive the trade underground.
Register for free to continue reading
Registration is a free and easy way to support our truly independent journalism
By registering, you will also enjoy limited access to Premium articles, exclusive newsletters, commenting, and virtual events with our leading journalists
Already have an account? sign in
Register for free to continue reading
Registration is a free and easy way to support our truly independent journalism
By registering, you will also enjoy limited access to Premium articles, exclusive newsletters, commenting, and virtual events with our leading journalists
Already have an account? sign in
Join our new commenting forum
Join thought-provoking conversations, follow other Independent readers and see their replies