Veteran's story of PoW death march uncovers tale of wartime friendship
When Jeff Lyons came across veteran Robbie Clark's story in The Independent, he thought immediately of his late father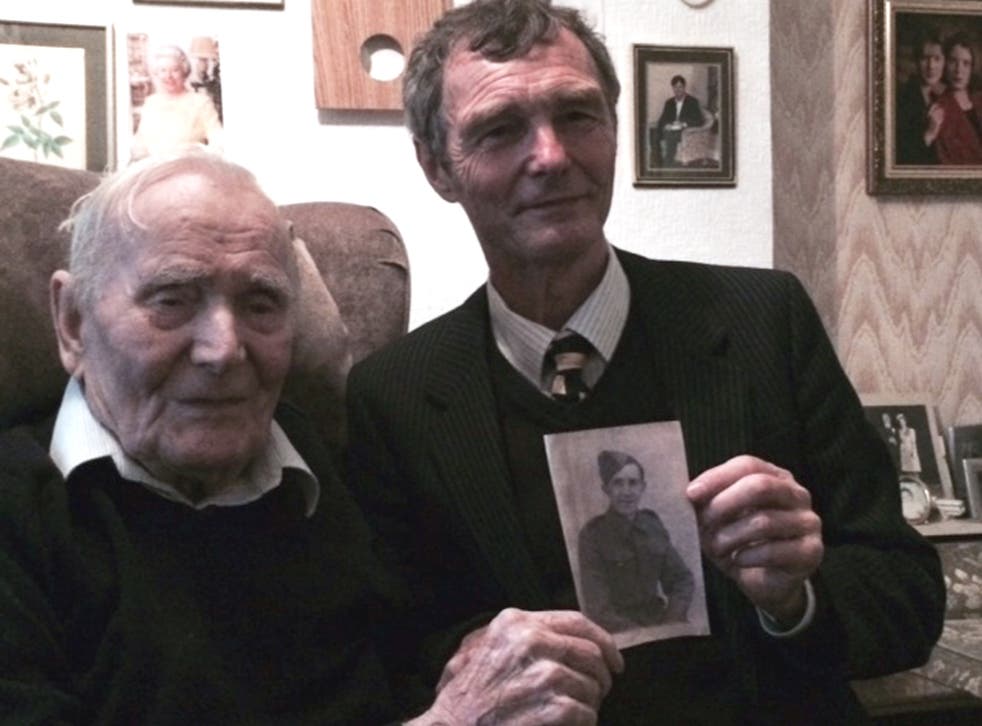 Seventy years have passed since Hitler's 1,000-mile death march retreat across eastern Europe at the end of the Second World War, but for Robbie Clark, one of Britain's oldest surviving prisoners of war, the memories are as strong as ever.
Aged 97 and all too aware of the steadily dwindling number of veterans, Mr Clark never thought he would connect with his fellow prisoners of war again – so he was astonished when the son of a man with whom he had been incarcerated got in touch after reading about him in the The Independent.
In September last year, Mr Clark shared his fears that he could be forced into a residential care home following a dispute with his local council over the funding of his live-in carer.
Independent reader Jeff Lyons found Mr Clark's account of the Second World War particularly interesting; he realised the veteran's experiences as a PoW closely mirrored those of his late father, Len "Kelly" Lyons.
Mr Clark was a gunner in the Durham Light Infantry when he was captured by German forces during the battle for Tobruk in June 1942. He was imprisoned in occupied Poland and later became one of the few soldiers to survive the brutal death march of 1945. More than 80,000 PoWs were forced to march westward across Poland, the Czech Republic and Germany in terrible weather conditions so German forces could delay their liberation by advancing allied forces.
Kelly Lyons had served as a driver/mechanic with the Royal Army Service Corps, his son said. "In Tobruk they formed the 32nd Army Tank Brigade from various regiments. His was one of them – he worked on armoured vehicles and tanks. He was captured on the same day as Robbie," he explained.
After The Independent passed on Jeff Lyons' story to Mr Clark's son, Mike, the pair spoke and agreed that it seemed likely their fathers had known each other during their incarceration. Robbie Clark subsequently confirmed this, and a comparison of the two soldiers' diaries, which they had both kept during their internment, corroborated their remarkable claim. Not only did they reference the same places and events throughout – the soldiers had known each other during their time in captivity and were together during the brutal death march, it emerged – they even mentioned each other by name.
"I sent a copy of Robbie's diary to Jeff, which he cross-referenced with his father's diary," Mike Clark said.
"Robbie's diary mentions 'Kelly' two or three times. He says they were mates, and that Kelly suffered from gout. Kelly's diary shows they were in the same places at the same time on the death march – and he suffered from bad feet."
Kelly had disclosed virtually nothing about that time to his family, so when Jeff Lyons travelled to London to meet Robbie, it was also a chance to learn about his father .
Robbie said he felt "honoured" to have met the son of his wartime friend. "There's not many of us [PoWs] left now. It was very interesting," he said. "It brought back real life. While they were here I felt like I was a prisoner of war – the memories were so vivid. I'll never forget them."
Register for free to continue reading
Registration is a free and easy way to support our truly independent journalism
By registering, you will also enjoy limited access to Premium articles, exclusive newsletters, commenting, and virtual events with our leading journalists
Already have an account? sign in
Register for free to continue reading
Registration is a free and easy way to support our truly independent journalism
By registering, you will also enjoy limited access to Premium articles, exclusive newsletters, commenting, and virtual events with our leading journalists
Already have an account? sign in
Join our new commenting forum
Join thought-provoking conversations, follow other Independent readers and see their replies