Video: Dad gives son with brain tumour surprise by posing as Spider-Man and wishing him a happy birthday
Five-year-old Jayden was diagnosed with a Grade Four brain tumour last year
Jack Simpson
Monday 17 November 2014 16:52 Comments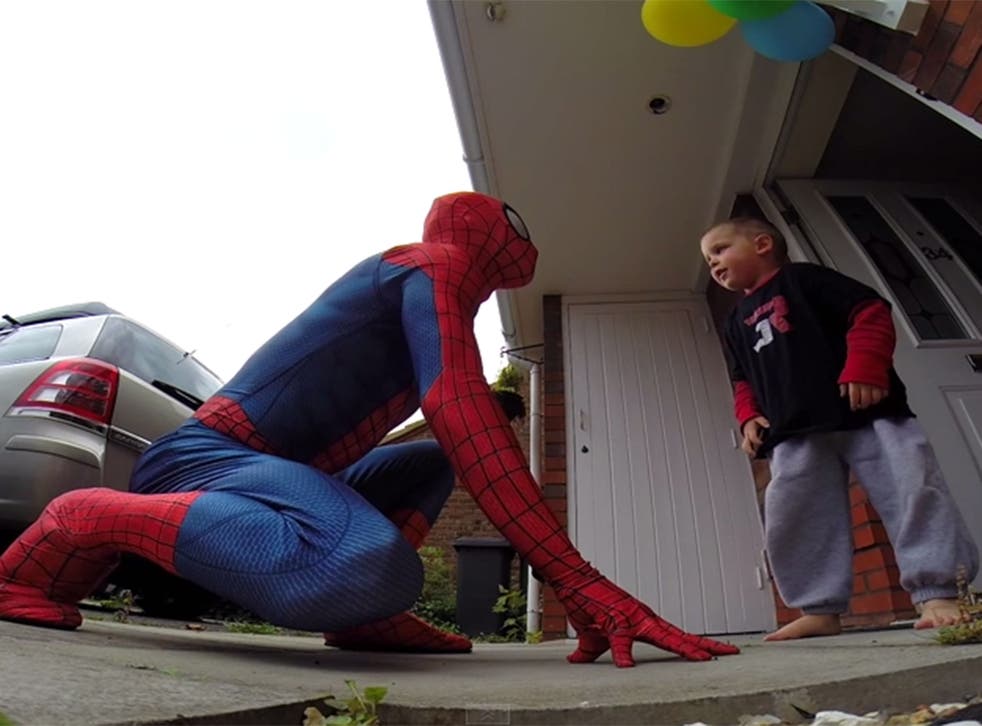 It's not every day you get to meet a real life superhero, but 5-year-old Jayden Wilson was able to do just that, when Spider-Man appeared on his doorstep to wish him a happy birthday.
In a video posted onto Youtube on Sunday, Jayden's dad, Mike Wilson, dressed up as the comic book hero to ensure that his son, who was diagnosed with having a Grade four brain tumour in September last year, had an extra special fifth birthday.
The video captures Mike Wilson, dressed from head-to-toe in a Spider-Man costume, jumping from the top of the family's roof and in front of a shocked Jayden.
Video: Watch Jayden's big surprise below
He then asks Jayden how old he is and whether he is having a good birthday, before hugging the 5-year-old and carrying him inside.
Speaking to The Independent, Mike Wilson said he decided on Spider-Man because he knew that his son loved the superhero.
He said: "I've always been a big Spider-Man fan myself, and Jayden also absolutely loves him. His bedroom is covered in Spider-Man pictures.
"I wanted to surprise him so much with one of his favourite heroes, so I found 2 costume designers, who were up for the challenge. We had the costume printed in America and then got to work putting it together. It was finished about 3 weeks before Jayden's birthday so perfect timing to work out how to surprise him."
After an accident saw Jayden bump his head in August 2013, Jayden's parents took their child to the hospital for a check-up when they noticed that his balance had been affected by the fall.
As a result of the check-up, doctors told Jayden's parents that they had found a Grade Four Stem Tumour on his brain and told them that he may only have one year to live.
A follow up MRI scan in September, confirmed to doctors that the tumour had increased in size and this would cause Jayden's coordination, speech and movement to deteriorate.
The video which was posted on Youtube on Sunday, has already seen over 20,000 people view Jayden's 'Spider-Man surprise' and his dad hopes it could go on to help others as well.
He said: "I hope to achieve awareness about the condition and to always stay upbeat, positive and spread positive energy to help Jayden fight this.
"He's such a little hero and we want the world to know about his journey. As well as to see the Spider-Man video and generate inspiration from it, so that kids have dreams made realities."
A GoFundMe page has been set up for Jayden to help his parents pay for hospital fees and essential supplements that are not available on the NHS.
If you would like to donate to Jayden's GoFundMe page click here: #HopeforJayden
Register for free to continue reading
Registration is a free and easy way to support our truly independent journalism
By registering, you will also enjoy limited access to Premium articles, exclusive newsletters, commenting, and virtual events with our leading journalists
Already have an account? sign in
Join our new commenting forum
Join thought-provoking conversations, follow other Independent readers and see their replies