Vigil held for Newhaven victim of St Jude's Day Storm as power networks struggle to recover
Storm continues to claim lives as it makes its way across the rest of Europe
Paul Gallagher
Tuesday 29 October 2013 10:01 Comments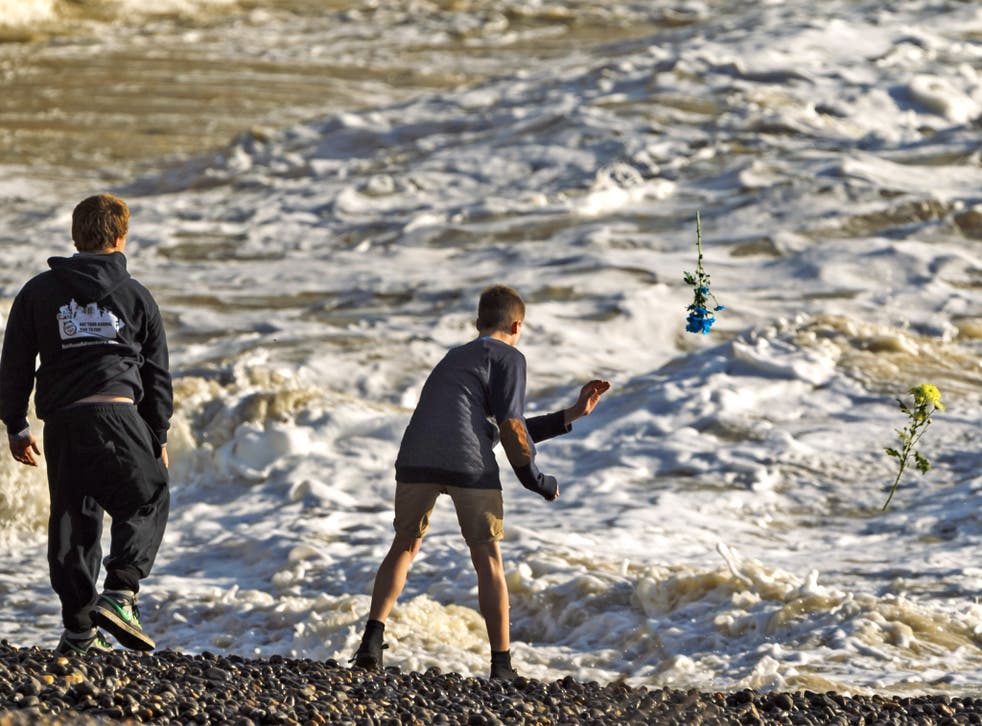 Tributes have been paid to the victims who died during St Jude's storm which battered the south of Britain on Sunday night and Monday morning.
The mother of a teenager killed when a tree toppled onto her caravan as she slept spoke of her sense of loss. Tess Peirce said her family was "absolutely devastated" at the death of 17-year-old Bethany Freeman. The talented sportswoman, nicknamed Gia, was crushed when a 30ft (9 metre) tree fell down during the storm on to one of the two caravans in which the family were living at Hever, near Edenbridge, Kent, while their property was being renovated.
Ms Peirce, a special needs teacher at a local school, said: "We are all absolutely devastated at the loss of my daughter. I would like to thank the emergency services for their tremendous efforts in attempting to save her." Bethany was a "universally respected" sixth-form pupil at Tunbridge Wells Grammar School who "had everything to look forward to", the school's website said.
Bethany was among four people killed during the storm that battered England and Wales.
Father-of-three Donal Drohan, 51, originally from Waterford in Ireland, died when his car was hit by a tree near the bridge over the River Colne in Watford, Hertfordshire. He has been described as a "loving father".
In Hounslow, west London, three houses were destroyed and two others were damaged by an explosion, thought to have been caused by a ruptured gas main. Suhail Akhtar, 46, and his girlfriend Dorota Kolasinska, 34, were found dead at one of the properties.
Friends and colleagues paid tribute to the couple. Ms Kolsinska, who had been working for Hackney Council for nine months as a traffic light sequencer, was described as "extremely popular and hard-working". Friends of Mr Akhtar, who had worked as an IT contractor for services firm Atos, said they were devastated by the news.
Friends of Dylan Alkins, the 14-year-old boy feared dead after being swept out to sea during the St Jude's storm, held an emotional vigil to their "kind friend" today at the beach where he was last seen alive. Up to 50 young people gathered at West Beach in Newhaven, East Sussex two days after he vanished while playing in the surf. Balloons with messages on them were released into the sky and flowers were thrown into the sea.
Hayden Hennessy, 14, showed off a bracelet which Dylan had given him as a gift. He said: "He gave me this bracelet and I only have this to remember him by. It makes me sad in a way. It just breaks my heart. I'm missing him."
Nearly 60,000 houses were still without electricity this afternoon, more than 36 hours after the first outages. Residents and business owners were facing the possibility of a second night in the dark as engineers said they were unable to give an estimate for when they would be reconnected.
A spokesman from UK Powers Network said there was five times the normal number of engineers working to reinstate power. He said safety was their main consideration.
The storm has reached Scandinavia as the UK returned to the relative calm of lighter winds and rain, but dozens of areas in southern England remain on flood alert, the Environment Agency said.
Insurers are counting the cost of the storm but say it is too early to tell whether it will compare with the multibillion-pound hits caused by previous severe weather events. Initial estimates of the level of financial damage wrought are not expected until later this week, the Association of British Insurers said. John Lee, a forecaster for MeteoGroup, said it was the most powerful storm in years and warned of another miserable day on Friday. He said: "There is an indication that stormy weather could return, but it's likely to bring heavy rain rather than strong winds."
Early warning: How the Met saw it coming
A combination of "the best forecasters in the world" and technological advancements including a £30m supercomputer allowed the Met Office to accurately predict the St Jude's storm four days before it formed.
A spokeswoman from the Met Office likened the scientists engaged in mathematical modelling – staff in IT, technology, quality control data, observatories and the forecasters themselves – to a football team. "How many players does it need to take to score a goal?" said Laura Young. "It takes our whole team to come up with the predictions based on a combination of people and systems.
"Our supercomputer helps to do that with millions of calculations to try and figure out what the weather is going to be like. There have been a lot of developments over the last 30 years and weather forecasting is an evolving science. Today, our four-day forecasts are as accurate as our one-day forecasts were 30 years ago. That's how far we have advanced."
With the help of the IBM supercomputer, capable of 100 trillion calculations a second from sources around the world – from satellites to buoys at sea – the Met Office now count themselves among the best forecasters in the world.
Register for free to continue reading
Registration is a free and easy way to support our truly independent journalism
By registering, you will also enjoy limited access to Premium articles, exclusive newsletters, commenting, and virtual events with our leading journalists
Already have an account? sign in
Join our new commenting forum
Join thought-provoking conversations, follow other Independent readers and see their replies