Vigil held at Pentonville Prison to protest deaths of transgender inmates, as part of international day of solidarity
'It is always incredibly difficult to lose a loved one, but there is a particular pain in losing someone inside prison. There are many layers to that pain. It is the pain of being separated by prison walls. It is the pain of knowing in most cases your loved one died alone. That they died in a cage'
Siobhan Fenton
Sunday 22 January 2017 23:02 Comments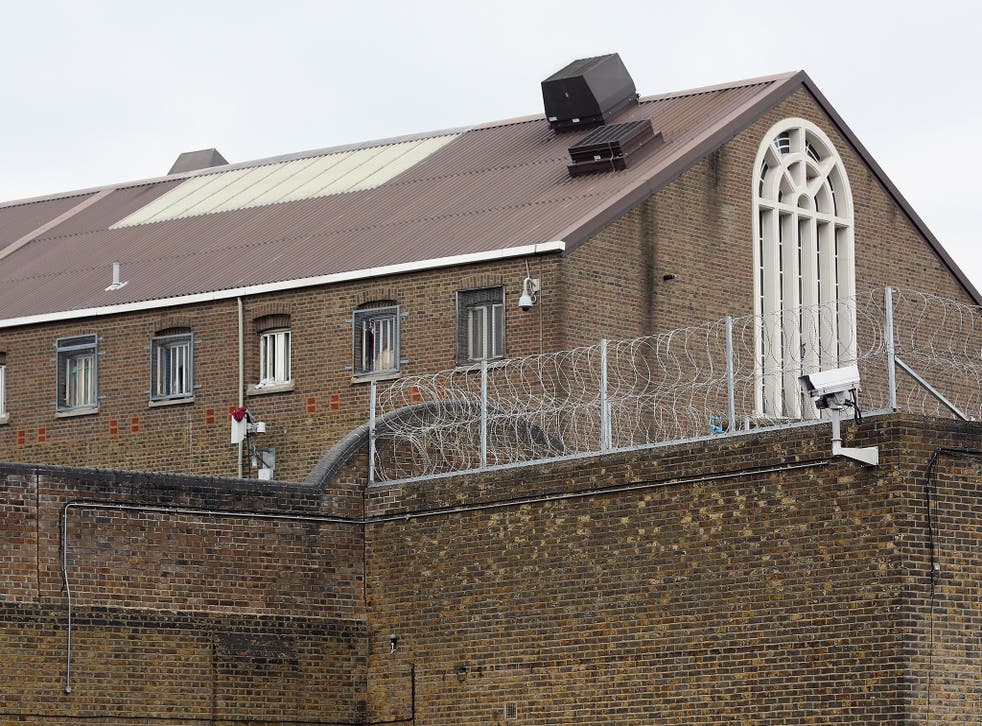 Vigils have been held across the world in support of transgender prisoners as part of the International Trans Prison Day of Action and Solidarity.
In central London, a crowd of 100 people gathered in front of Pentonville Prison for a candle lit vigil. Organised by the Bent Bars Project, a collective which supports LGBT people in custody, the event paid tribute to those who have died by suicide in prisons due to distress caused after being denied medical healthcare related to transition while behind bars, or transphobic bullying from other inmates.
Activists held candles in memory of transgender prisoners who have died while in custody in the UK, before releasing a lit lantern in front of the jail. Others read poetry and statements from transgender prisoners currently in custody explaining how they feel British prisons neglect their needs.
Speakers called for prisons to develop a better understanding of transgender prisoners' needs such as to be allowed to wear clothing which corresponds to their gender identity, to access hormone treatments if required and for greater psychological support as transgender people are more likely to experience mental health problems such as self-harm or suicidal ideation. They also highlighted that transphobic bullying or harassment from other prisoners or even staff can also add to mental and emotional distress, placing them at further risk.
A member of the Bent Bars Project told the crowd: "2016 was the worst year for recorded deaths in the history of recorded deaths [of both transgender and non-transgender people] in custody in this country. Last year, there were 345 deaths in prison, 45 deaths in police custody and 3 in immigration detention centres. So far in 2017, barely three weeks in, there have already been 15 deaths in prison. These are not mere numbers, these are people from our communities, they are our friends, they are our family members, our lovers, our neighbours, our colleagues. Every single death is a death too many.
"It is always incredibly difficult to lose a loved one, but there is a particular pain in losing someone inside prison. There are many layers to that pain. It is the pain of being separated by prison walls. It is the pain of knowing in most cases your loved one died alone. That they died in a cage. In cases of suicide, the pain of knowing being locked up was too much to bear."
It is difficult to ascertain precise numbers of how many transgender people are in prisons in the UK due to poor data collection as well as concern that many inmates will not be openly 'out' in the jail environment for fear of prejudice.
The vigil follows a high profile incident at HMP Doncaster where transgender woman Jenny Swift died by suicide on 30 December. She had been placed in an all male unit and reportedly denied hormone treatment associated with her gender transition.
Ms Swift's death echoed two deaths the previous year when Joanne Latham died by suicide at HMP Woodhill and Vicky Thompson died by suicide at HMP Armley. Both had been held in all male prisons were said to have felt considerable distress at being 'misgendered' by the prison service.
Following Ms Latham and Ms Thompson's deaths, the Ministry of Justice announced it would issue new guidelines on the rights of transgender prisoners. The new policies came into effect on 1 January of this year, two days after Ms Swift's death.
They stipulate that reasonable accommodations must be put in place in order to maintain transgender inmates' dignity unless there is a clear safety issue to the contrary. The cases of transgender prisoners must also be reviewed within three days of their arrival in custody to determine which gender prison is most appropriate for them.
Lonely road: Why school is hell for transgender pupils

Show all 2
However, transgender rights activists fear the measures are not enough to protect the safety of transgender prisoners and have called for greater reform as well as a shift in cultural attitude within the criminal justice system.
Speaking at the vigil outside Pentonville Prison, Kuchenga, a member of the Bent Bars Project told The Independent: "With the passing of so many [transgender people], we need to honour their lives, we can't just be celebrated when we're glamourous. When one of us passes it's a really big, significant thing and we deserve to be mourned and to be missed."
Register for free to continue reading
Registration is a free and easy way to support our truly independent journalism
By registering, you will also enjoy limited access to Premium articles, exclusive newsletters, commenting, and virtual events with our leading journalists
Already have an account? sign in
Join our new commenting forum
Join thought-provoking conversations, follow other Independent readers and see their replies