Village left without post office after owners claim they were blamed for armed robbery
Jonathan Brenton says his mental health has suffered as a result of the on-going dispute with the Post Office
Rachael Pells
Thursday 07 April 2016 10:50 Comments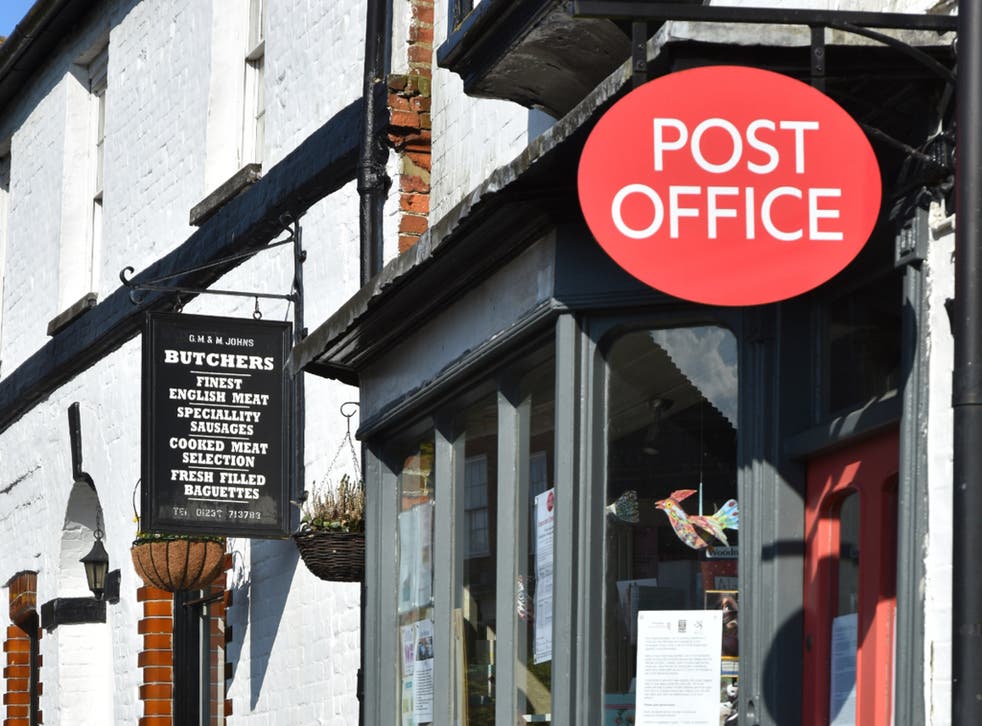 A village post master has accused the Post Office of "bullying tactics" and has shut up shop after claiming he was effectively blamed for an armed robbery, in the latest row over how the company treats its employees.
The village of Charing in Kent has been left without a post office – to the anger of residents who now have to make a 15-mile round trip - after Jonathan Brenton and his partner Nicholas Sutton, decided to call it a day last week.
In an open letter to the Post Office Mr Brenton, 34, described how after being held up at knife-point by burglars, he no longer felt safe in his own home and workplace. He also claimed that security systems, such as a panic button, failed, and the company had subsequenty refused to repair them.
"Post Office has failed in its most basic duty of care to minimise risks and keep my family and I safe," he said, "I have made numerous complaints about bullying and coercion to Post Office. All have been ignored."
The shop has been owned and run by the couple for five years.
Post Office Limited last year came under fire for accusing around 150 sub-postmasters of false accounting – something the employees say was due to a fault in the Horizon computer system used by the company.
UK news in pictures

Show all 50
According to Mr Brenton, Post Office Limited refused to upgrade a security system it "knew to be vulnerable to attack", only offering to modernise branch security if he signed a new contract resulting in a £12,000 pay cut.
"This is a disgraceful abuse of power," he said.
The sub-postmaster told how his mental health had "suffered" as a result of his on-going dispute with POL.
"It's no exaggeration to say the whole thing has scarred us," he said. "When burglars forced their way in, we hit the panic button - but the wiring fell out and it failed."
Mr Brenton attended a disciplinary following the theft, but Post Office retracted their claims after legal action was sought.
"They made me feel like I was to blame for what was a very traumatic experience," he said.
Local MP Damian Green said he was in discussions with the Post Office over Mr Brenton's case.
Charing parish councillor Tylden Reed said: "Jon Brenton and his partner Nick have provided a first-rate service to the village and are very popular. People are furious both about the sudden loss of the post office and the way that Jon appears to have been treated."
"The unannounced closure has caused untold personal difficulty to our residents."
Sarah Hawkins, owner of neighbouring Charing business Rosebuds Vintage Tea Rooms, said the Post Office closure had already had "massive implications" on her business.
"We've lost some of our regular customers who would come to the Post Office and stop at ours at the same time," she said. "We also used the branch to cash our takings every day – now like many people we have to drive the 15 mile round trip to Ashford and back."
Post Office Limited responded in a statement: "We are concerned by Mr Brenton's comments and are contacting him to discuss."
"We understand that any robbery or attempted robbery is extremely traumatic for the people involved. The safety and security of our people is a key priority. We undertake regular assessments to ensure the right security procedures are in place and in the event of a robbery visit the branch immediately after to assess the need for any upgrade in security systems."
Post Office Limited has recently come under fire for accusing around 150 sub-postmasters of false accounting – something the employees say was due to a fault in the Horizon computer system used by the company.
Register for free to continue reading
Registration is a free and easy way to support our truly independent journalism
By registering, you will also enjoy limited access to Premium articles, exclusive newsletters, commenting, and virtual events with our leading journalists
Already have an account? sign in
Join our new commenting forum
Join thought-provoking conversations, follow other Independent readers and see their replies