Virgin Atlantic sacks 13 staff for calling its flyers 'chavs'
Facebook blog insulted passengers and claimed aircraft had cockroaches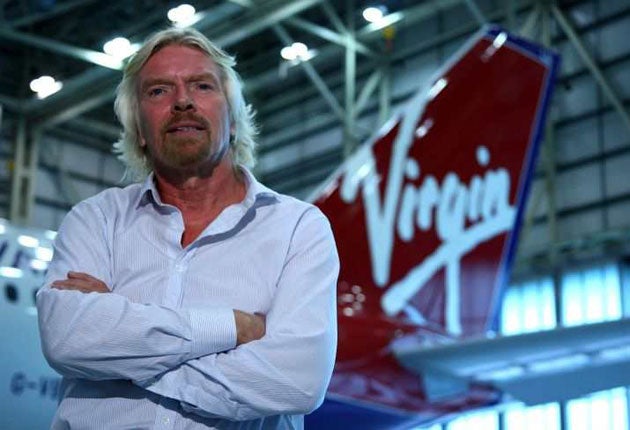 Virgin Atlantic has sacked 13 flight attendants for criticising the airline's flight safety standards and describing its passengers as "chavs" on a social networking website.
The staff were dismissed yesterday as Sir Richard Branson's company said their behaviour was "totally inappropriate" and had "brought the company into disrepute". In a statement, the airline said: "Virgin Atlantic can confirm that 13 members of its cabin crew will be leaving the company after breaking staff policies due to totally inappropriate behaviour.
"Following a thorough investigation, it was found that all 13 staff participated in a discussion on the networking site Facebook, which brought the company into disrepute and insulted some of our passengers."
Virgin Atlantic launched its investigation last Thursday after the messages were posted by members of the Facebook group, which has now been removed, about flights from Gatwick. The online messages also reportedly claimed the airline's jet engines were replaced four times in one year and that planes were full of cockroaches.
The five Virgin Atlantic Boeing 747s based at Gatwick are among the newest 747s flying worldwide.
A spokesman for the airline said: "There is a time and a place for Facebook. But there is no justification for it to be used as a sounding board for staff of any company to criticise the very passengers who pay their salaries."
He added: "We have numerous internal channels for our staff to feed back legitimate and appropriate issues relating to the company."
The cabin crew are not the first people to lose their jobs over indiscreet online postings about their employers. In June James Brennan was fired from his job at Waitrose in central London after writing an obscene remark about the "Partnership" – referring to the John Lewis Partnership, which owns the chain, on the site. He thought his views were only visible to his online friends, but a colleague printed off the remark and showed it to his boss, who fired him on the spot.
In August last year an Argos employee was also sacked for criticising his bosses online. Tom Beech, 20, was fed-up after a bad day at work so he logged on to the social networking site and set up "I Work At Argos And Can't Wait To Leave Because It's Shit".
Ex-workers have also used the site to launch attacks on former employers, as seen in the case of the directory enquiry service 118 118. They launched a Facebook group to moan about former bosses which rapidly turned into a repository for scornful comments about customers.
In August last year the group, which called itself "Survivors of 118 118", was removed, as senior management at the parent company The Number UK conducted an investigation into it.
Join our commenting forum
Join thought-provoking conversations, follow other Independent readers and see their replies