'What's happening in Wales?': The anti-racism movement sweeping the country
Exclusive: Black history lessons were recently made mandatory in Welsh schools but concerns over policing are fuelling anti-racism protests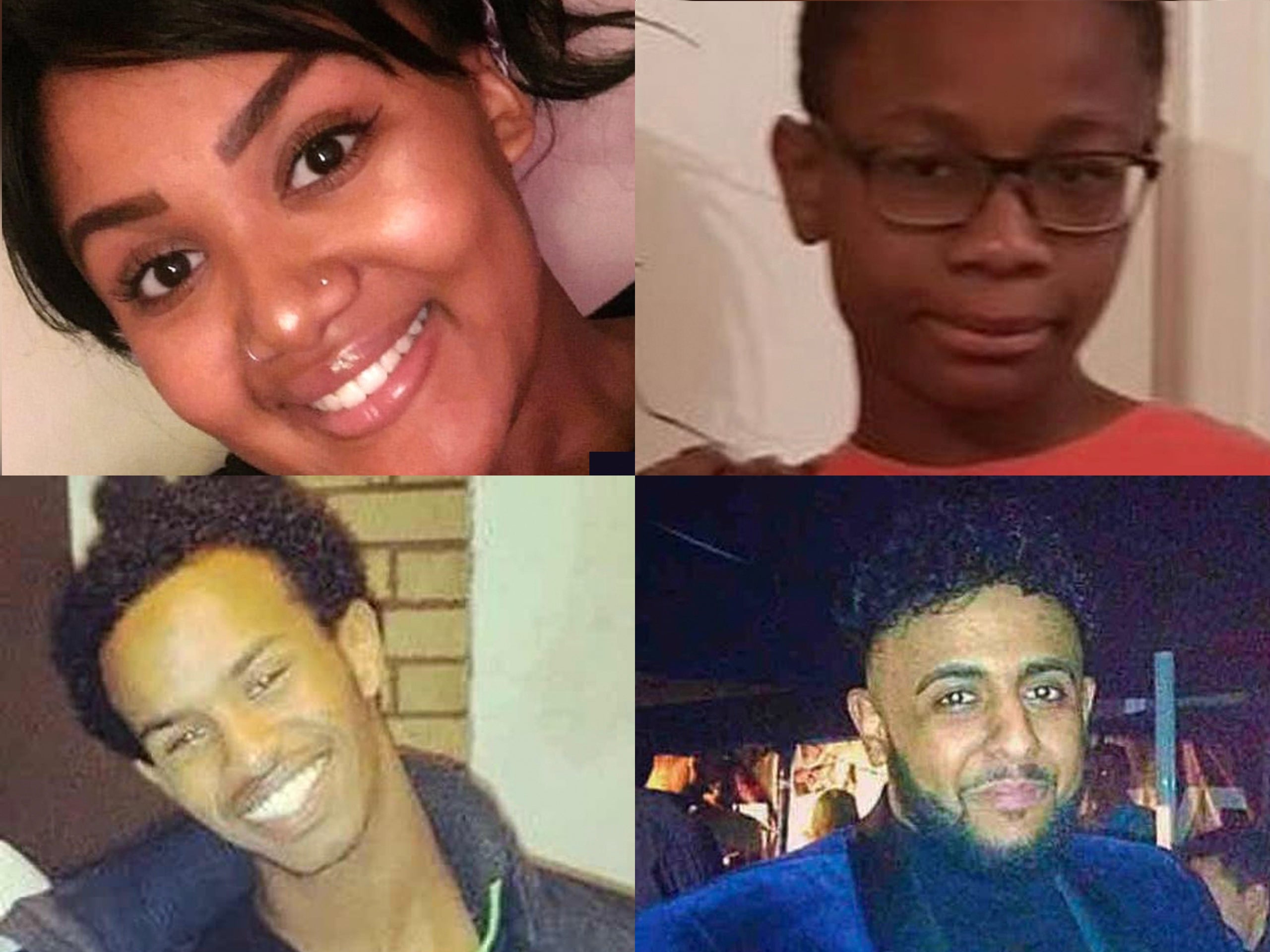 Despite black history lessons made mandatory in its schools recently, deep-seated concerns around institutional racism within the police have fuelled an outcry for justice at protests across Wales.
Four high-profile cases have raised grave questions over injustice perpetrated by the state.
Calls for justice for the black people involved – Moyied Bashir, Mohamud Hassan, Christopher Kapessa and Siyanda Mngaza – continue.
They are under the age of 30 and either dead or incarcerated after, campaigners say, being failed at every juncture.
Siyanda Mngaza, 22, is serving a four-year prison sentence after being found guilty at Swansea Crown Court of causing grievous bodily harmwith intent during a fight involving three people in May 2019.
On 13 March last year, she was convicted by an all-white jury though her lawyers always maintained that Siyanda was defending herself in a racist attack.
Ms Mngaza was on holiday at a campsite in Wales with her partner's family. Aged 20 at the time, she thought it would be a good opportunity to bond with them.
After a misunderstanding quickly escalated, the group involved in the incident repeatedly called her a "jungle c***" and "black b****", according to Siyanda's defence.
Ms Mngaza told police officers that she had been racially abused but Dyfed-Powys police admitted in court it had not investigated that line of inquiry.
The case has sparked the #FreeSiyanda online campaign to lobby with a series of social media takeovers, virtual meetings and calls for witnesses to come forward. An online petition has garnered half a million signatures.
Her case was heard at the Court of Appeal on Tuesday secured by her new legal defence team Virgo Consultancy Services Ltd. The court turned down her application for leave to appeal.
All of the individuals involved in the fight with Ms Mngaza, who stands 4ft 10in and has a physical disability, were much older than her and two of them were men. None was taken into custody, arrested or charged. The former human resources officer had never been charged with any crime and was surprised to be facing a maximum term prison sentence as a result of this incident.
Prior to her sentencing, Ms Mngaza toldThe Independent that she felt dehumanised by the entire ordeal.
She said: "It's been the most horrendous time of my life. We all know there's injustice and people of colour aren't always treated fairly by the police but until you're in it, you can't even fathom it.
"It's difficult to know that a young black woman's voice is not cared about, not heard; what happened to me, my freedom is so irrelevant that they don't even care. It's horrible when you realise that."
Moreover, Ms Mngaza said her "life would be ruined" if given a custodial sentence as it would harm her career prospects and she suggested that she has been given the harshest-possible charge because she's black.
She said: "It feels like I'm subhuman to them like my life doesn't matter. I'm a young girl, I've got a promising career and have never been in trouble with the police before yet they've given me the highest possible charge, just under manslaughter.
"That wouldn't happen if this was a 21-year-old white girl so when you see the parallels, the difference in the way they've treated me, it's disgusting, it's really demoralising. It's hard to keep my head up and stay positive because this is a whole system that's wrong."
Shadow justice secretary David Lammy's 2017 review into the treatment of, and outcomes for black, Asian and minority ethnic individuals in the criminal justice system found that once charged, black women were more likely to be tried at crown court – 163 for every 100 white women.
A Crown Prosecution Service spokesperson said: "Siyanda Mngaza gave her explanation of what happened to the police during interview, which was taken into consideration along with all of the evidence provided by the police, before the decision to charge was made. The jury heard all the evidence in the case, including the evidence of Siyanda Mngaza and her photographs, before reaching their verdict."
Cammilla Mngaza, Siyanda's mother, said: "Siyanda had never been in trouble before. By sentencing her, they have destroyed her life chances. In my opinion, she has been failed by the system because of the colour of her skin."
A Dyfed-Powys spokesperson said: "The criminal case in respect of this incident has been concluded. Any challenge to the case and consequent sentence would be the subject of an appeal. It would be inappropriate for the force to comment further pending any appeal.
The force received a formal complaint regarding this matter and a review concluded, they added.
The family members of Christopher Kapessa, 13, continue to campaign for his killer to be brought to justice after the CPS decided that it would not be in the public interest to launch a prosecution.
The child died on 1 July 2019 after being pushed into the River Cynon, near Fernhill, South Wales while he and a group of local people were out by the river. Within 24 hours South Wales Police force concluded that this was a tragic accident. Campaigners say that, at this point, the force had not interviewed all of the witnesses and collected all the evidence.
However, following pressure from the family and campaigners, its major crime investigation team was brought in and the case was referred to the Independent Office for Police Conduct and continues.
Despite eventually acknowledging that the teenager, who could not swim, was pushed into the river "with two hands", the CPS told Ms Joseph that the main suspect should not be charged with manslaughter.
In a letter sent to the family, the CPS said: "There was sufficient evidence to support a charge of unlawful act of manslaughter [but] a suspect, who cannot be named for legal reasons as he is a youth, should not be charged with an offence of manslaughter.
"When considering the public interest test, there are a number of factors to take into account because the suspect was 14 years of age at the time of the alleged offence and is now 15 years of age. The suspect is described as mature and intelligent for his age, in normal education and has a good school record without any issues of bad behaviour recorded."
The distraught mother has since criticised the authorities for not bringing her son's killer to justice and accused them of institutional racism.
Ms Joseph said: "My family should  be given a full and proper disclosure of all the CPS documents. Their assertions do not match what we have been told by Christopher's friends who sought to protect him from harm. Why is the CPS so afraid to be transparent and open? They have failed me and they continue to fail black families as victims, witnesses and suspects across the country. I am seeking justice not revenge. I just don't want another black child and family to be failed by the system."
Responding to the suggestion of racial bias, a CPS spokesperson told The Independent: "The decision not to prosecute the suspect was based solely on the two stage test applied to the evidence referred to us by the police.
"As part of the public interest, prosecutors are reminded that it is more likely that prosecution is required if the offence was motivated by prejudice, including on the grounds of race. There was nothing in any of the statements of the young people which suggested any racial issues or that this was a hate crime."
The campaign is currently fundraising towards a judicial review of the matter which will be led by human right lawyers including barristers Michael Mansfield QC and Phil Rule. Dozens of cross-party members have backed an Early Day Motion to see the case debated in Parliament.
Solicitor Daniel Cooper of Imran Khan & partners, representing the family, says: "Public interest has to allow the possibility of open revelation of the truth through the court process both to ensure open accountability and also the healing of public concern or a bereaved family's trauma. This case involves the killing of a young black schoolboy whose life is  worth more than the public interest afforded by the Crown to the suspect. Equality and the appearance of equality are also relevant public interests."
Meanwhile, within the first two months of 2021, two black men died following contact with two Welsh police forces. Both cases have been referred to the Independent Office for Police Conduct while Black Lives Matter campaigners call for answers regarding the circumstances around their deaths.
Moyied Bashir, 29, was handcuffed and his legs restrained by officers who were responding to concerns for his welfare at his home in Newport, Gwent, on 17 February. Mr Bashir's brother, Mohamed, has said his brother had been experiencing mental health problems and had been stabbed three weeks before.
He says: "His stab wound is on his main artery, so while he is tied up, handcuffed, he started getting weaker." Mr Bashir was taken to hospital but could not be saved.
A South Wales Police spokesperson told The Independent that while the IOPC continues to examine its conduct throughout Mr Bashir's investigation, it continues to cooperate and remains "absolutely committed to implementing any opportunities for learning".
The spokesperson added: "We are proud to police a modern, multi-cultural region which has a long tradition of strong, diverse communities. As an organisation we have made and continue to make significant investments in training and education, including diversity, equality and inclusivity training, to make sure that the public receive the highest possible standard of service and to ensure that our officers and staff understand topics such as Black Lives Matter, white privilege and disproportionality."
Black Lives Matter Cymru has 13 representative "regions" and operates independently from Black Lives Matter UK.
Cindy-Liz Ikie, its national campaign manager, told The Independent: "Cases that are heavily laden with tragedy have been a centrepiece in Wales. Many communities have been deeply negatively affected. In response to these cases and much more, BLM Cymru have taken part in a meeting with Chief Constable Pam Kelly and Police and Crime Commissioner Jeff Cuthbert following the death of Moyied Bashir. We have submitted a number of pertinent questions to Gwent police and we are still waiting for a response."
Mohamud Mohamed Hassan, 24, died on 9 January after being held in police custody in Cardiff. His family claim that he was assaulted while in custody.
The case was referred to the IOPC and three South Wales Police officers and one custody detention officer have since been served notices of investigation by the watchdog. Calls for answers from family members and campaigners continue.
IOPC Director for Wales, Catrin Evans, said: "My thoughts remain with Mr Hassan's family and friends and all of those affected by his death. We are continuing to analyse and gather evidence to help us piece together the circumstances surrounding his death, and we would also like any members of the public who saw anything relevant to come forward.
"We appreciate Mr Hassan's family understandably want answers to a range of questions about his death. We will ensure our investigation is independent, thorough and impartial. We intend to keep his family and legal representatives, the coroner, and South Wales Police regularly updated as our investigation progresses."
Ms Evans also said the same due process will be followed in its examination of Moyied Bashir's case.
Hilary Brown, a partner at Virgo Consultancy law firm, said these incidents have intensified the heightening sense of fear among black communities.
She told The Independent: "If you look at the cases we have a situation where the three different Welsh police forces – Dyfed-Pows, Gwent and South Wales – where there's a huge amount of unhappiness over four very high-profile cases.
"It all relates to the handling of cases that involve black people. These concerns are not new. South Wales police force, in particular, has a track record of getting it wrong when it comes to trying to deliver justice to black people. A lot of people are angry."
Join our commenting forum
Join thought-provoking conversations, follow other Independent readers and see their replies