Boy finds 30-year-old packet of Walkers crisps
Discovery highlights problem of plastic pollution in our oceans, campaigners say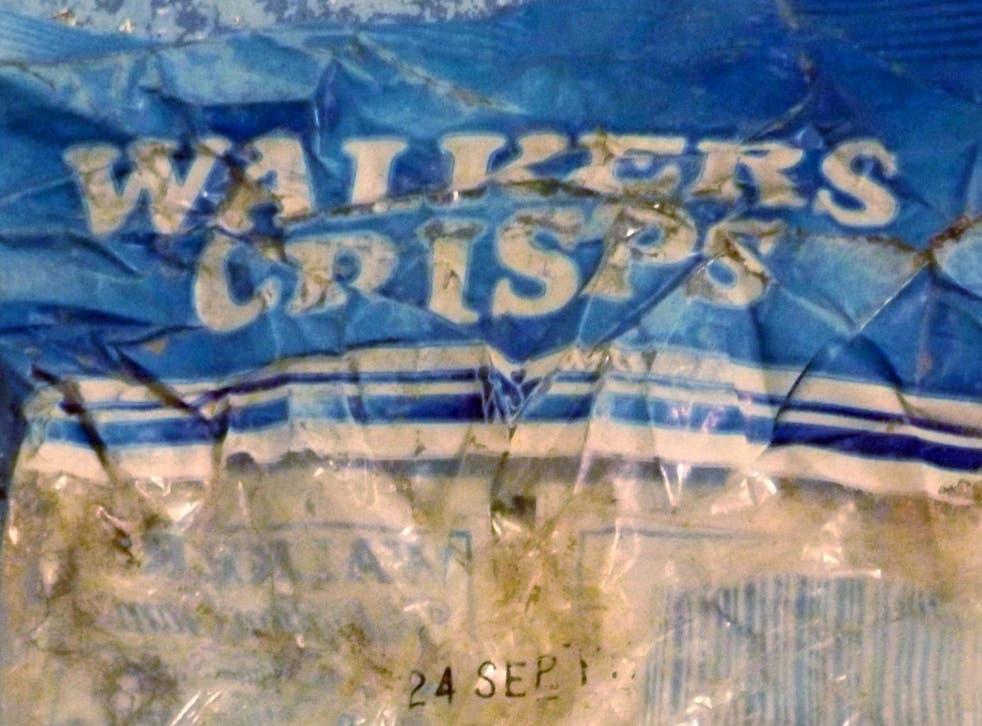 A 30-year-old packet of Walkers crisps discovered by a boy washed up on a Cornwall beach highlights the growing problem of plastic pollution in our oceans, campaigners say.
Laurence Miller, 10, was part of a group of beach-cleaning volunteers when he discovered the largely intact bag of cheese and onion flavoured crisps on Sunday.
The schoolboy was doing the litter pick when he found the bag three times his age at Treyarnon Bay, in Padstow, Cornwall.
Despite not having a printed date still visible on the packet, researchers estimate it was produced during the 1980s.
Laurence, from Wadebridge, said: "We were doing a litter pick and I was walking up the stream a bit where the river meets the sea and I found it just embedded in the side of the bank.
"It looks quite different to what the crisps look like now.
"It's probably the strangest thing I've found, I found lumps of palm oil in blocks and they get washed up sometimes, they are quite weird to find."
His dad Simon, 45, said Laurence had been interested in conservation since doing an five-mile bike ride for a hedgehog charity last summer and is a member of Cornwall Wildlife Trust.
The photographer, said: "They're really keen to do anything like that.
Social experiment documents how kids react to plastic pollution
"There's been a big push with the plastics in the ocean and its brilliant so many people are realising it."
The discovery comes less than three months after a crisp packet from 1997 was found on a neighbouring beach, Constantine Bay.
Rob Stevenson, who runs the volunteer beach-cleaning group, said: "Laurence was really enthusiastic, in fact they all were.
"The youngsters are so enthused and excited about it - I don't like to say it but some of the plastic things that are found can be quite exciting to find.
"The crisps are more than three times older than him, it really demonstrates just what the problem of using plastics are.
"Some of them will stay in the sand dunes if people have dropped them and the wind blows the sand over and they get covered; stuff floats around in the sea and gets battered; some may be in a sand dune for a long time, fall into the sea and come back in again.
"We can't say how long the plastic has been exposed for or where it's been, but it goes to show if you litter something somewhere, it does generally end up in the sea.
"Plastic is a fantastically durable product and it shows in the last 20 or 30 years how much the problem has escalated.
Vast sea of plastic and pollution in the Caribbean: in pictures

Show all 11
"We think the packet dates from the 1980s as on the back it says 'The Valuation Game'.
"We think that was a promotion they ran as a sort of football thing, we found a guy selling 'The Valuation Game' book on eBay and he said this is about 30 years old."
Mr Stevenson, who lives in Padstow, started the project last year with his daughter Emily, who is studying marine biology at Plymouth University, after watching the film 'A Plastic Ocean'.
He added: "You obviously see turtles and other marine species with plastic bags that they have ingested, you know this plastic will never go away.
"It just breaks down into smaller, smaller and smaller pieces – a crisps packet could end up being thousands of tiny pieces that lots of other marine animals are going to ingest.
"That's the worry people don't appreciate, that it doesn't stay as a whole packet over the course of 50, 60 years - the same with single-use bottles.
"Walkers is owned by Pepsi, that organisation is responsible for all those single use bottles, crisp packets and even if they say by 2025 they will change their packaging, that's seven years' worth of crisp packets that could potentially be doing so much harm.
"Why can't manufactures fall into line quickly - the technology is out there, there are home-combustible food wrappers available now.
"If alternatives are available now that are more healthy and don't use plastic packaging, the tide should literally turn."
A spokesperson for Walkers said: "At Walkers, we take the problem of litter and waste very seriously.
"We include on-pack labels to encourage our consumers to dispose of their waste responsibly and are also working towards the goal of designing all our packaging to be recyclable, compostable or biodegradable by 2025.
"Last year, we also became a founding member of the Ellen MacArthur Foundation's New Plastics Economy, an ambitious, three-year initiative to help create a plastics system that works."
The New Plastics Economy project is described as aiming to change the way companies and people "make, use and reuse plastics".
Walkers was founded in Leicester in 1948 and its crisp production plant in the city is the largest in the world.
It produces more than 11 million bags of crisps every day.
Other items coming under fire include plastic straws and single-use coffee cups.
According to the parliamentary environmental audit committee, 2.5bn coffee cups are thrown away in the UK every year.
The government is now considering introducing a 'latte levy' to discourage their use and Waitrose said they will remove throwaway cups from all their stores this year.
Sir David Attenborough took to screens to warn about the perils of plastic pollution in the final episode of BBC's Blue Planet II.
According to campaign group The Final Straw Cornwall, 8.5 billion straws are used in the UK each year.
A UK levy of 5p per plastic bag was introduced in 2015.
SWNS
Register for free to continue reading
Registration is a free and easy way to support our truly independent journalism
By registering, you will also enjoy limited access to Premium articles, exclusive newsletters, commenting, and virtual events with our leading journalists
Already have an account? sign in
Register for free to continue reading
Registration is a free and easy way to support our truly independent journalism
By registering, you will also enjoy limited access to Premium articles, exclusive newsletters, commenting, and virtual events with our leading journalists
Already have an account? sign in
Join our new commenting forum
Join thought-provoking conversations, follow other Independent readers and see their replies