Walkie Talkie skyscraper to be fitted with permanent sunshade after it melted cars
The 37-storey building's design reflects sun rays onto a nearby street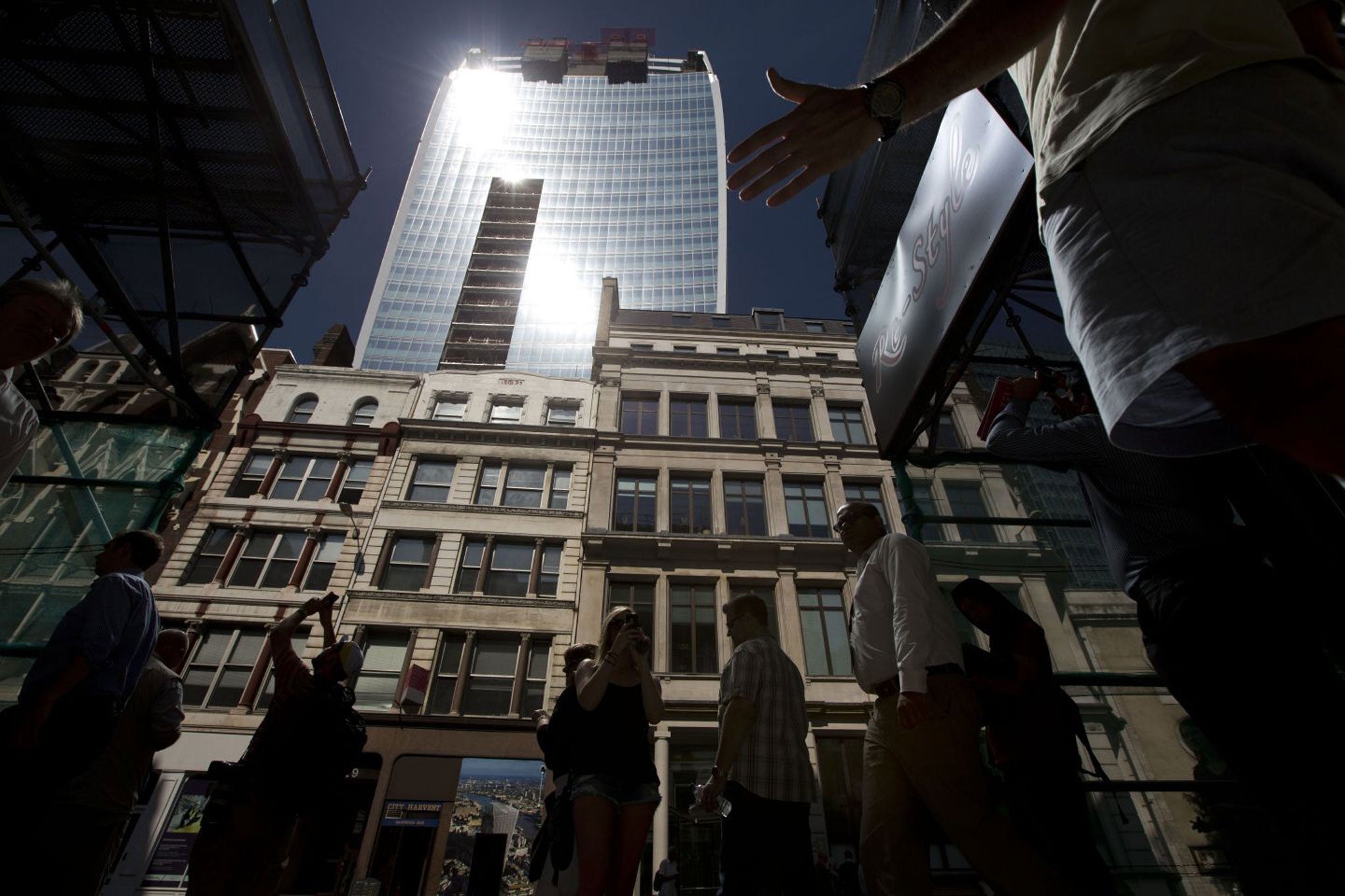 A London skyscraper that hit the headlines after sunlight reflected off its surface started fires and melted nearby cars is to be fitted with a permanent sunshade.
The Walkie Talkie tower, so-called for its curved shape, is to have an awning attached to its south-facing façade to prevent it reflecting sun rays and beaming them in concentrated form to a nearby street.
Officially named as 20 Fenchurch street, the 37-storey building was dubbed the Walkie Scorchie after it made headlines last September when a Jaguar owner who parked his car at its foot complained that the solar glare melted part of the vehicle.
Developer Land Securities said Thursday that it had received planning permission for a "brise soleil" sunshade to be attached to the building to replace a temporary system erected last summer.
The work is due to start this month.
In its financial results for 2013, it said: "A solar glare issue drew attention to the building for the wrong reasons, but did nothing to deter lettings, with 200,000 sq ft taken up in the months after the problem materialised.
"Our brise soleil solution has gained planning approval and installation will start shortly. It will not interfere with the customer fit-out or occupation. The cost involved has not altered our original estimated total cost of the building."
In September angry business owners in Eastcheap said the £200 million project, designed by Rafael Vinoly, had blistered paintwork, caused tiles to smash and singed fabric.
A local barber said the position of the sun at a certain time of the day caused a searing bolt of sunlight to start a small fire and burn a hole in his company doormat.
Developers Land Securities and Canary Wharf agreed to foot the bill for the repair work, and built the large temporary screen to reduce the chance of further damage to businesses.
Additional reporting by agencies
Join our commenting forum
Join thought-provoking conversations, follow other Independent readers and see their replies