War on Wonga: We're putting you out of business, Archbishop of Canterbury Justin Welby tells payday loans company
Wonga insists it would welcome competition from credit unions
Andrew Grice
Thursday 25 July 2013 14:36 Comments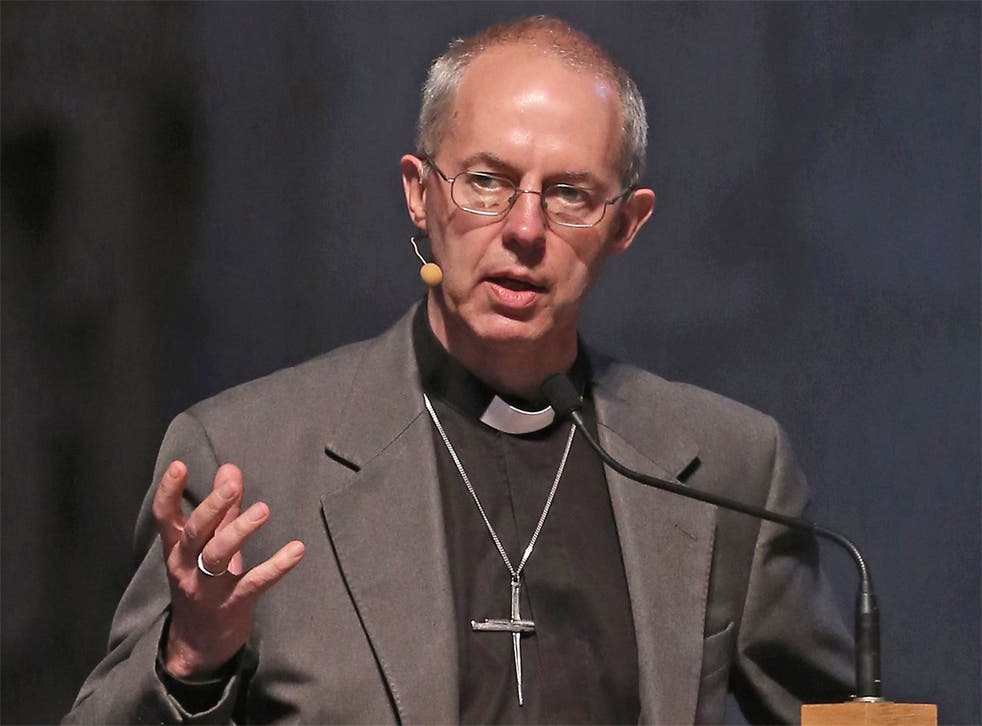 The Archbishop of Canterbury has vowed to put payday lenders out of business by using the Church to build up Britain's network of credit unions.
The Most Rev Justin Welby has told Errol Damelin, the founder and chief executive of Wonga, about his ambition to make the controversial lenders redundant – by helping the 500 financial co-operatives, which already provide small loans to their members, play a much bigger role in helping people with money problems.
The Church of England has already set up a credit union for its own staff, which will advise the other co-ops on how to expand their reach.
Officials believe the problem is not the number of unions but ensuring greater access to them. The Church will allow them to use its buildings and schools and encourage Church members with the right expertise to volunteer with them.
The Archbishop, a former oil industry executive and a member of the Parliamentary Commission on Banking Standards, has pointed out that the Church has 16,000 branches in 9,000 communities – more than the banks. In an interview with Total Politics magazine, he said: "I've met the head of Wonga and we had a very good conversation and I said to him quite bluntly 'we're not in the business of trying to legislate you out of existence, we're trying to compete you out of existence.' He's a businessman, he took that well."
The Archbishop added: "We've got to have credit unions that are both engaged in their communities and much more professional, and the third thing is people have got to know about them. It's a decade-long process.
"We're putting our money where our mouth is, we're starting a Church of England staff credit union. You've got to have a corporate interest body to identify who's members of the credit union. We're starting one of those so we're actually getting involved ourselves. We're working steadily with the main trade bodies for the credit unions."
Wonga insisted that it would welcome competition from credit unions. Mr Damelin said: "The Archbishop is clearly an exceptional individual and someone who understands the power of innovation. We discussed the future of banking and financial services, as well as our emerging digital society. There is mutual respect, some differing opinions and a meeting of minds on many big issues. On the competition point, we always welcome fresh approaches that give people a fuller set of alternatives to solve their financial challenges. I'm all for better consumer choice."
The Department for Business Innovation and Skills is providing £35m over 10 years to help credit unions grow and has lightened the regulatory burdens on them.
In the interview, the Archbishop criticised Conservative ministers for trying to drive a wedge between "scroungers" on benefits and "strivers" in work. He said: "The rhetoric is very damaging.
"Of course some people are scroungers, some multi-millionaires are scroungers, you find people who behave wrongly, badly, wickedly across the whole range of the social spectrum. It's nothing to do with being on welfare, I mean goodness knows we've looked at the banking system over the last year."
He added: "We shouldn't stereotype people in a particular category as scroungers, that's not the right way to talk about people."
He revealed that he considered entering politics but admitted: "It didn't really work out very well because I couldn't decide which side to go for. Which is probably why I ended up as a clergyman, as you said earlier, sitting on the fence."
The Archbishop also suggested the Church is bracing itself for more scandals over sexual abuse by clergy. Asked if it was through the worst of the revelations, he replied: "No. We're not… We got it wrong over many years when society had a different view of these things… there will be cases, some of which go back for 40, 50 years in which people were overlooked and ignored." Saying it was "utterly inexcusable," he admitted he expected "quite a bit of stuff will go on coming out".
He hinted the Church may take inspiration from the Royal Family. "Absolute genius. If you could bottle it, there wouldn't be a government in the world that wouldn't buy it. It's not manipulation. It is a genuine, profoundly thoughtful, extremely humble, determined recognition that the world has changed, and a response to that in all sorts of ways. They are probably more popular than they have ever been."
Register for free to continue reading
Registration is a free and easy way to support our truly independent journalism
By registering, you will also enjoy limited access to Premium articles, exclusive newsletters, commenting, and virtual events with our leading journalists
Already have an account? sign in
Join our new commenting forum
Join thought-provoking conversations, follow other Independent readers and see their replies