Water voles: Third of animal's UK habitats have vanished, study reveals
'For landowners that have low-lying areas of land that are not much good for anything, if they have ditches in there that can help create that habitat, they can make a big impact across a landscape'
Emily Beament
Monday 26 February 2018 01:05 Comments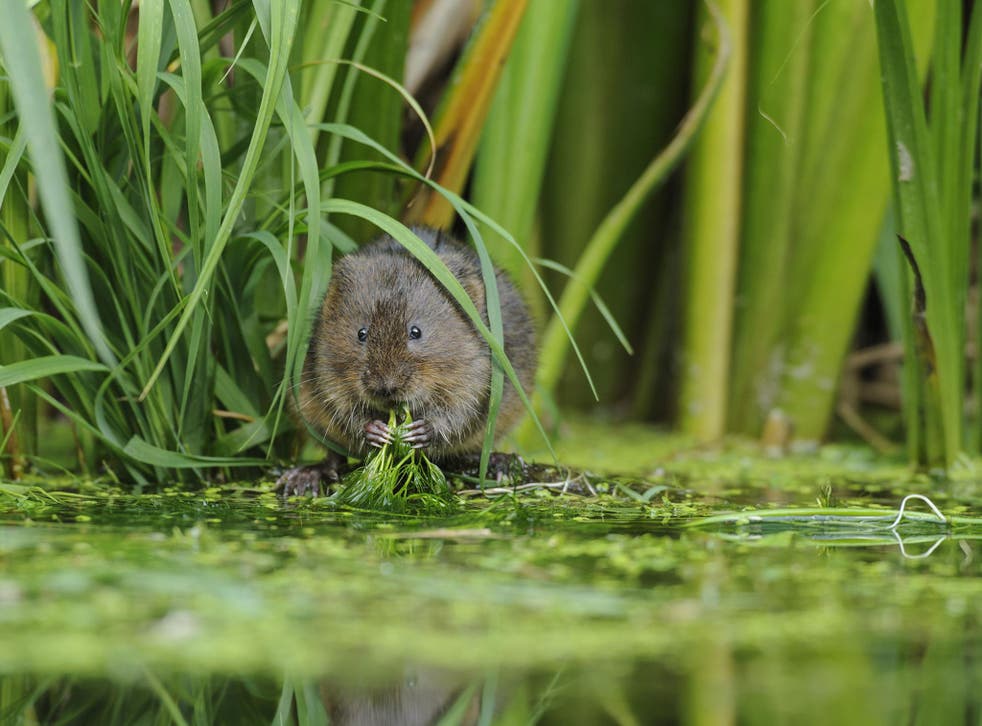 The number of areas where water voles are found across England and Wales has fallen by almost a third in 10 years, a study reveals.
The river mammals, immortalised as Ratty in Wind in the Willows, were once common in ditches, streams and rivers across the UK.
But habitat loss, development, water pollution and predation by invasive American mink introduced into the UK for fur farming led to massive declines.
Previous research showed water voles vanishing from 94 per cent of places they were once found – and the latest data reveals the species' range continues to contract.
The new analysis of records led by the Wildlife Trusts revealed a decline of 30 per cent in the areas where water voles live from 2006 to 2015.
There has been a slight increase in their distribution in the last few years, thanks to conservation efforts by wildlife groups, the study shows.
But Darren Tansley, water for wildlife officer for Essex Wildlife Trust and chairman of the UK water vole steering group, said the 10-year data showed that, despite their best efforts, "we are struggling to win that battle".
Ellie Brodie, senior policy officer for the Wildlife Trusts, said: "Water voles are an essential part of our wild and watery places and it's terribly sad that we're continuing to witness huge declines of this much-loved mammal.
"The Wildlife Trusts and others are working hard to help bring them back again and care for the places they need to survive – but much more is needed if we're going to stop this charismatic creature disappearing altogether."
Essex is one of the places which has had local success in boosting the mammal's range, with a scheme to reintroduce water voles from a stretch of the River Stort where they had been missing for 15 years.
Some 188 voles were released on a Wildlife Trust reserve and other nature reserves upstream and downstream managed to create suitable habitat.
Work has included excavating ditches to recreate a network of reedy water channels in marshy areas close to the river, making it harder for mink to track down the voles than if they are only living along the main river.
But Mr Tansley said: "Our reserves are not enough to tackle these landscape scale problems, we have to rely on other individuals working with us to do that.
"For landowners that have low-lying areas of land that are not much good for anything, if they have ditches in there that can help create that habitat, they can make a big impact across a landscape."
UK news in pictures

Show all 50
Essex Wildlife Trust is working with around 200 landowners to help water voles.
"From a national perspective, we need to have more of these opportunities to work at a landscape scale, we need the support of Government to do this.
"They've got to incentivise landowners to do this work with us," Mr Tansley said.
"Landowners want to do what they can with wildlife, but the bottom line is they've got to pay the mortgage and feed their kids."
The Wildlife Trusts report called on Government and local authorities to enable the creation of a nature recovery network to protect and link up habitat, backed by a new environment act and expanded funding for water vole conservation efforts.
They also want landowners to manage river banks sympathetically to help water voles and for people to find out about how they can volunteer to help the mammals.
A Department for Environment, Food and Rural Affairs spokeswoman said: "The Government is concerned about the decline of the iconic water vole.
"Through our 25-year environment plan we will provide opportunities for species recovery as we develop our Nature Recovery Network, creating or restoring 500,000 hectares of wildlife-rich habitat to provide benefits for species such as the water vole."
PA
Register for free to continue reading
Registration is a free and easy way to support our truly independent journalism
By registering, you will also enjoy limited access to Premium articles, exclusive newsletters, commenting, and virtual events with our leading journalists
Already have an account? sign in
Join our new commenting forum
Join thought-provoking conversations, follow other Independent readers and see their replies