Waziristan? No, it's west Wales...
The project to build a British drone aircraft has enraged local people, spooked by the incessant whining of test flights
Jerome Taylor
Thursday 01 November 2012 01:00 Comments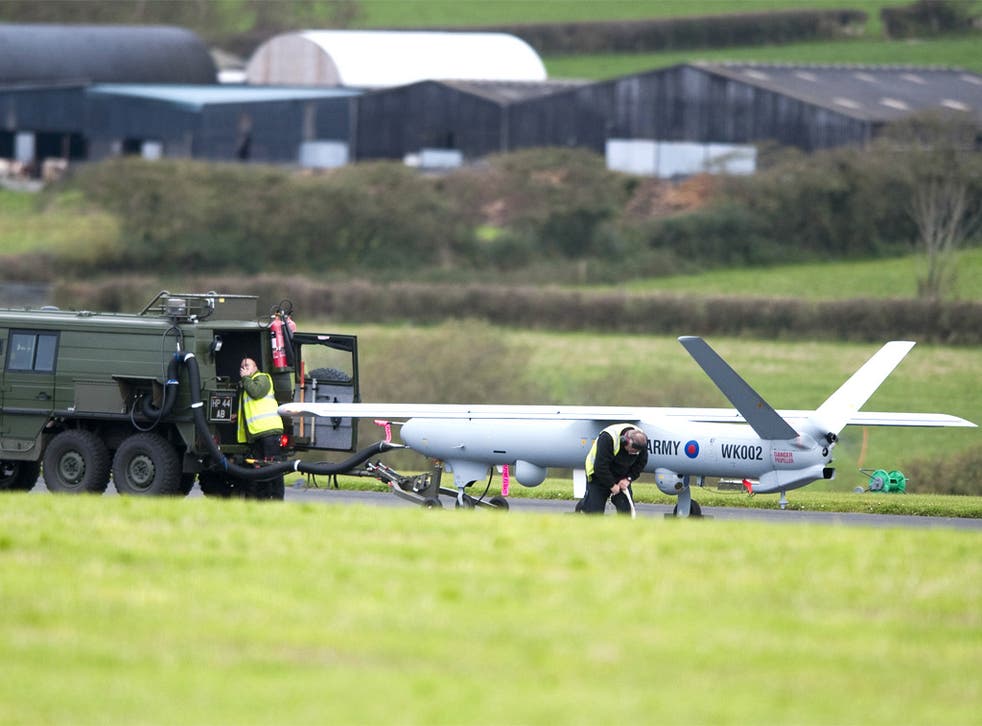 You hear the drone long before you see it. It's a constant high-pitched whirring noise that increases dramatically as the aircraft tries to gain height and travels around the valley, even when it has long become just a dot on the landscape. As it passes overhead, its unmistakable shape and the two small domes on its belly holding a vast array of surveillance equipment are visible.
Click HERE to view graphic
For villagers in remote tribal regions of Pakistan, Afghanistan and Yemen, it's an all too familiar sound and one that often precedes the onslaught of carnage. But Eirian James is no Taliban fighter or Islamist militant – she is an opera singer from Wales. But she nonetheless has to live with the near constant sound of drones flying above her house.
"It's reason for being is remote killing, and I think that's why the noise upsets me so much," she says, serving a freshly baked coconut loaf in her conservatory. "I can shut out the noise from the road. But when I hear the drone I think about the poor people out there and how that's the last thing they heard before they were blown to smithereens."
The small seaside town of Aberporth, nestled on the clifftops in Ceredigion on the west coast of Wales, is the headquarters for Britain's drone development programme. Its airport, a former RAF station above the town, and its neighbouring technology park, are the only places in Britain where drones can be tested. The area is covered by a special restricted airspace that allows unmanned vehicles to be flown without fear of crashing into other aircraft.
Although the park is open for civilian developers, the military has been the only regular customer. For much of the past five years the main drone that has been tested at Aberporth is the Watchkeeper, a joint venture between an Israeli and French company to build Britain's military a new fleet of surveillance drones.
The Ministry of Defence initially hoped that Watchkeeper would be in the skies above Afghanistan by summer 2010, but the vehicle is still in its testing phase. It remains to be seen whether it will be fully operational before troops begin pulling out.
As the trial flights have increased, locals have slowly become more aware of what is happening – and many are not happy. Some, like Mrs James, oppose the drone research on moral grounds and are horrified by the increasing use of unmanned and automated weapon systems by militaries around the world.
Jeremy Clulow runs Bro Emlyn for Peace and Justice, a local website and campaign group that is opposed to what they see as the pernicious use of drones by the military to kill without consequence.
"If it was civilian drone technology they developed I wouldn't mind so much, but this is another piece of Wales that is being used by the military for a very unpleasant technology that reduces killing to the level of a computer game," he says.
Others are more tolerant of drone development, but are disappointed that the research base has not resulted in more jobs. Around £20m of public money was sunk into Parc Aberporth in the hopes of creating a centre of excellence. But jobs have not materialised.
According to a letter released earlier this year by the Welsh Government, around 45 people are employed by the facility – 35 on Watchkeeper, four with Qinetiq (the privatised wing of the military's research and development wing) and six on the airport itself. Of the five units built for the technology park, only one has been continuously occupied. The rest currently stand empty.
"The whole thing has been a dog's dinner," says Des Davies, an Aberporth local who has been opposed to the airport primarily on economic, rather than moral grounds. "They'd have been better off giving 40 people half a million each to start a local business. At least one of them might have survived and we'd have had some jobs. As it is we've got nothing."
Dave Pitcin, 65, is out for a walk along the cliffs. The recent night flight tests have kept him and his wife awake but he recognises drones have to be tested somewhere. "I find them irritating but they help our troops and keep them safe," he says. "It's a balancing act, isn't it?"
The owners say that as drone technology becomes cheaper and more civilian uses are found, there is a potential for many more jobs. In a recent BBC interview Ray Mann, the airport boss, denied suggestions that the park had become a white elephant. "I think a white elephant is one that never gets used," he said. "This site is being used. It is active and it is delivering services for people who need it and that will continue in the future."
And one thing is for sure: we are going to see more drones. More than 51 countries are known to use them for military purposes and the civilian uses – from search-and-rescue to monitoring crops – are likely to increase. Aberporth could be well placed to benefit from the civilian gold rush if it happens. But it will inevitably be the military that leads the way in terms of research and development. The Drone Wars website estimates that Britain alone has spent £2bn developing drones in the past seven years.
The race is now on for the next generation, a fleet of unmanned vehicles far more powerful and deadly than the Predators and Reapers above Afghanistan. It is likely that the F35 and Typhoon fighters, the two most recent Western jets, are going to be the last to be flown by pilots in cockpits that are part of the plane. Instead Lockheed Martin, Boeing and BAE Systems are all feverishly developing their own versions of super-sonic drones.
"It's all very worrying," says Professor Noel Sharkey, an expert on artificial intelligence from the University of Sheffield. "We are heading towards the total automation of warfare and we have no idea where it's going with very little debate in military circles over the ethics of it all. Body bags are big inhibitors.
"The deaths of soldiers stop us from going to war. If we begin to use more automated weapons, what will hold us back?"
Register for free to continue reading
Registration is a free and easy way to support our truly independent journalism
By registering, you will also enjoy limited access to Premium articles, exclusive newsletters, commenting, and virtual events with our leading journalists
Already have an account? sign in
Join our new commenting forum
Join thought-provoking conversations, follow other Independent readers and see their replies