We don't want to freeze beside the seaside
Having to walk back to your hotel through snow is not what you usually expect during a spring break on the south coast. Charlie Cooper visits Eastbourne to find out how it's coping with the cold
Charlie Cooper
Friday 05 April 2013 19:52 Comments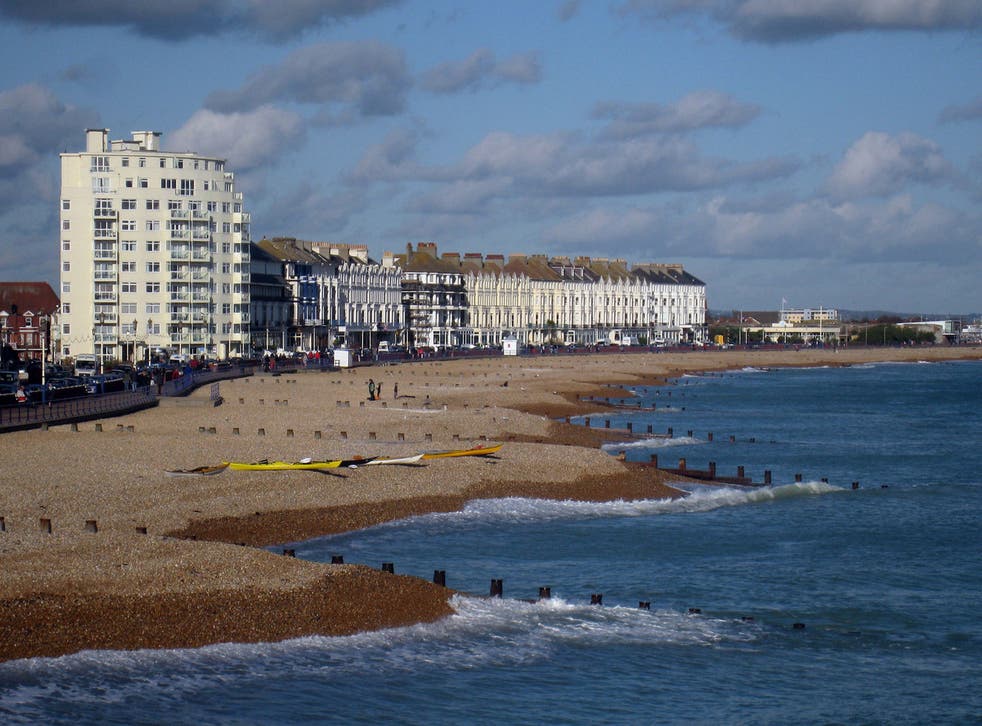 It's the Thursday after Easter weekend and British Summer Time has begun – but gazing down the promenade at Eastbourne, you really wouldn't think it.
A bitter wind buffets the white and yellow stucco fronts of the Victorian hotels, and the handsome pier is near-deserted, surrounded by an iron-grey sea. The tourism office here says Eastbourne is the sunniest place in the UK. Not today.
Last spring, a mini heat wave sent grateful citizens flocking to England's traditional seaside resorts – of which Eastbourne is one of the finest. Five lean years since the economic downturn have hurt nearly every aspect of British life, but the seaside towns have proved surprisingly resilient. Some, like Eastbourne, have even benefited – after decades of decline – from the rise of the "staycation", as those who could once afford a holiday abroad have increasingly sought their annual dose of sunshine closer to home.
But then came the weather. Two washout summers have been followed by one of the coldest Easter weekends in living memory. With the British weather becoming ever more unpredictable, the fear is that far fewer people will bother booking for this summer.
"When you have a bad summer, like in 2012, the real effect is often felt the next year," said Annie Wills, Eastbourne Borough Council's tourism development manager. "So far accommodation bookings are on a par with last year, but it will be interesting to see if we are still in that position come August."
This year's freezing spring certainly won't have helped. Ironically, hotel bookings for the Easter weekend were actually up in Eastbourne by 26 per cent – with many people betting on another spring heat wave. In the event, holidaymakers who booked their accommodation months ago have been left struggling through blizzards to reach their seaside hotels.
"We haven't bought any sunscreen or straw hats yet, but we have invested in woolly hats and gloves," said holidaymaker Eleanor Smith, 54, whom The Independent encountered braving the wind on the Eastbourne promenade on Thursday. She and her husband, John, 58, from South Wales, booked their stay on the south coast before Christmas, in the depths of winter, but the weather has hardly improved since. "We spent three days in Seaford just down the coast," she said. "We had to walk back to the hotel through snow the other night."
Anything that spooks holidaymakers is seriously bad news for the "seaside economy". Tourism brought in £346m to local businesses in Eastbourne in 2010, according to Tourism South East. It is the crucial thing that keeps the communities in such places working. For the shopkeeper and café owner, fewer visitors means fewer people hitting the streets, fewer ice creams, fewer sticks of rock – and less money in the till. With so many people employed in the sector, that soon has a knock-on effect which can lead to widespread decline in the local economy.
"We are down 45 per cent on last year for the Easter weekend," said Jimmy Keeley, who runs Bobster's gift shop, on Terminus Road, which at the moment acts as a bracingly effective wind tunnel for chilling blasts from the nearby seafront. His shop is decked out with all the staples of the traditional British seaside holiday: buckets, spades, windmills and a handsome array of dubious postcards.
Working with his nephew Michael, he opened little more than a year ago and has seen things get progressively worse since. His chief nemesis has been the weather, but the Olympics didn't help either. Fears of overcrowding meant that tourist numbers were down 5 per cent last summer, and of those who did come to the UK, few diverted from their Olympic itinerary to visit humbler destinations such as Eastbourne. The Keeleys and their supplier, Ricky Webster, who often pops in for a chat, are also slightly sceptical about reports of the rise of the staycation.
"When the economy slowed down, people just downgraded where they were going. Those who used to go to America go to Europe, those who went to Europe go to a seaside town, and those that went to seaside towns don't take holidays," theorises the elder Keeley. "So overall it's been the same."
But this year has been a shocker. Mr Webster, who supplies more than 250 gift shops like Bobster's all along the south coast and has been in the business for years, said he has never seen an Easter weekend so bad. He is down 80 per cent on last year, because the shops he supplies just aren't selling their wares fast enough.
"There was a time when we wouldn't worry about a bad spring," he said. "You could always rely on the summer. With the past two summers we're not too sure. But my old boss used to say: 'The bucket-and-spade business is recession-proof – all it takes is for the sun to come out and you're selling again.' "
Which more or less sums up the hopes of every seaside town everywhere. "In the UK we're used to bad weather, of course," said Tabitha Aldrich-Smith, of the British Hospitality Association. "It has been tougher for seaside towns the last couple of years because the weather has seemed to be worse. We were hopeful before Easter that people would brave it, and many have, but we're hearing that bookings have been down."
One place where things are stable is the Mansion Hotel on Eastbourne's promenade, owned by Sheikh Abid Gulzar – a man who wears his wealth on his sleeve with three golden rings and a gold-trimmed black Land Rover, but has a passion for the simple joys of a British seaside holiday. His customers – mostly elderly people and coach parties – appear not to be so worried about the weather. "Our visitors love a good breakfast, a warm room, a good English dinner and a 1960s sing-song in the evening. I love it too," he says. "We will not be praying to God for better weather. We'll just do our job, and He'll do his. I said to some English visitors recently – don't knock the English weather, it's the only country in the world to have green grass all year."
Now all hopes rest on the coming summer, but many remain doggedly optimistic. Eastbourne is not a town low on confidence. Next year it is set to begin work on a £70m redevelopment of the town centre and a £40m investment in its conference facilities – another string in a seaside town's bow. The town also boasts an international tennis tournament – the Wimbledon warm-up Aegon competition – and a popular new art gallery, the Towner, which has been pulling in refugees from the windswept promenade since Easter weekend.
But for the traders and, most importantly, the punters, there's really only one thing that can pierce the gloom down by the sea: sunshine.
Cold coast: Around the country
Great Yarmouth
Today's low: 5C
Snow flurries in East Anglia have halved tourist numbers, according to the manager of the Hadleigh Gables Hotel, Paul Rodrigues.
"Guests aren't coming and there have been cancellations because of the weather," he said. "They're finding it harder to travel, and what are they going to do here in this weather? This time last year we had 100 people in the house, this year 50 at the most."
Whitby
Today's low: 4C
Colin Stonehouse, the owner of The Station Inn pub, said: "The weather was bad during the early Easter weekend – so even though it's brightened a little now it's too late, and people can't be bothered to come."
Morecambe
Today's low: 4C
The Lancashire resort has been "much quieter than normal", according to the manager of the Westleigh Hotel. "On the third week of March last year we had 50 rooms booked – this year just 27. No one wants to come while the weather's so bad."
Margate
Today's low: 3C
Richard Wolfe at the Warwick Guesthouse said: "People have delayed coming down for a week because of the weather. So in terms of hotel bookings our bank holiday isn't as full as it would normally be."
Register for free to continue reading
Registration is a free and easy way to support our truly independent journalism
By registering, you will also enjoy limited access to Premium articles, exclusive newsletters, commenting, and virtual events with our leading journalists
Already have an account? sign in
Join our new commenting forum
Join thought-provoking conversations, follow other Independent readers and see their replies