'We heard four shots, a high-pitched scream, then grunting, then silence...': On patrol with badger cull protesters
In the dead of the Exmoor night, Claire Colley joins the saboteurs on a nocturnal mission to save badgers from the cull
Claire Colley
Friday 13 September 2013 21:05 Comments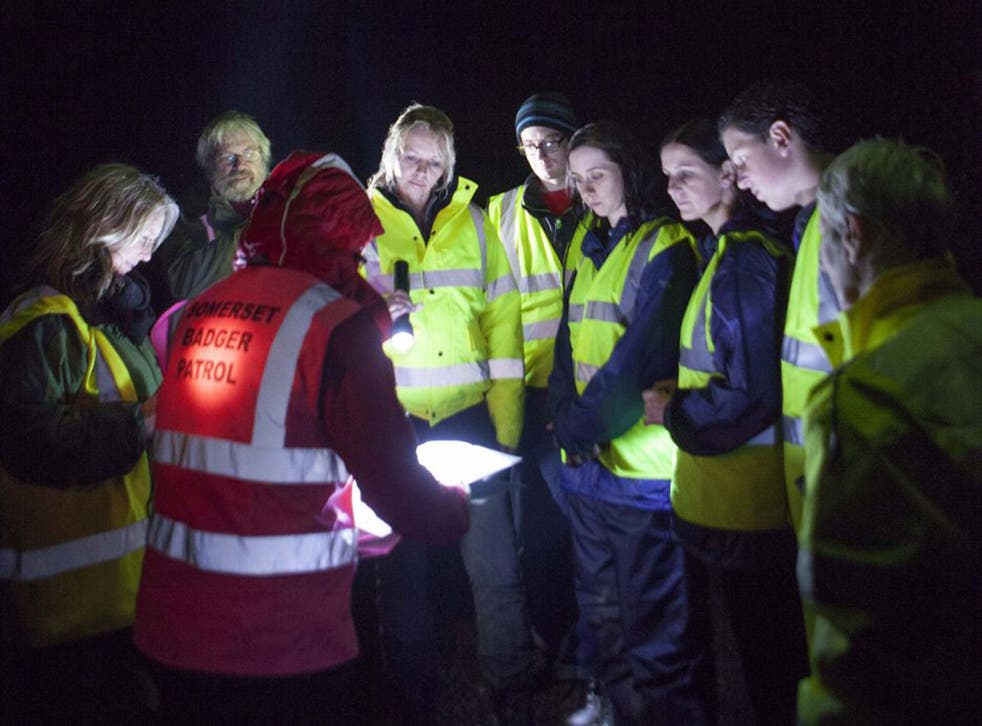 They gather on Exmoor after dark, their maps illuminated by moonlight. Dozens of ordinary people – teachers, office workers, labourers – with one common aim: stopping the badger cull.
Some are first time protesters, some experience hunt saboteurs, but all have signed up to spend their nights on the cull front line, protecting badgers and disrupting the marksmen.
"Chaos has broken out in the countryside" says Amanda Barrett, a former BBC wildlife filmmaker and one of the activists. "It's a divisive policy and this cull is splintering communities".
The Government has introduced the pilot cull of 5,500 badgers in West Somerset and Gloucestershire in an attempt to eradicate bovine TB, which can be passed from badgers to cattle. This trial isn't to test how much bovine TB is reduced by culling badgers, but is instead designed to test whether badgers can be shot "effectively, humanely and safely".
Just 240 will be collected for post mortem. None of the badgers killed in this pilot cull will be tested for TB.
Like most of the people who volunteer for the badger patrols, normal life has been put on hold for Amanda and her husband Owen, as they come out to the Somerset cull zone every night. "We live near Bristol and it takes two hours to get to the zone but we just can't sit by and let this slaughter happen".
Walking the lanes and public footpaths, they scan badger setts and baiting areas with infra-red cameras, keeping an ear and eye out for the marksmen.
And then they wait, for minutes, hours. "Suddenly the peace is disrupted by the sharp crack of the rifle, and then you hear a hiss, and we know that's another life gone, another badger wounded. It's bloodcurdling, and what's the reason? There is no scientific justification at all" she says.
The science behind the cull is controversial. Defra states that culling over four years could lead to an average 16 per cent reduction in bovine TB. This position was taken after a report by the Randomised Badger Culling Trial, led by Professor John Krebs, Britain's leading expert on bovine TB. The National Farmers Union strongly supports the cull, although just 18 per cent of UK farmers are NFU members.
Not everyone is convinced by the evidence. Thirty independent scientists, including Professor Krebs, have challenged the Government's policy, stating that the complexities of TB transmission mean that culling risks increasing cattle TB. Some critics say that the large numbers of badgers displaced by the cull risks spreading TB to wider areas, and it is claimed that the free shooting of badgers at night will cause significant animal suffering.
"We heard 3 or 4 shots, a high pitched scream, which lasted 3-5 seconds, then grunting, then silence. It was definitely a badger," says Withial, a local man on the badger patrol joined by The Independent this week. "I know what death sounds like."
A cabinet maker by trade, Withial is doing everything he can to stop the cull: "We also see distressed badgers after shootings. We saw a small cub on its own tonight. Why? Had its mother been killed?"
"This slaughter makes me so, terribly sad," Withial adds. "But it only confirms that all this talk about killing the badgers humanely is rubbish." Withial has never demonstrated against anything in his life before, but says: "I've been out every night since this started and I intend to carry on until the end."
Indeed, what began as a largely disparate group of anti-cull activists has now evolved into a networked and responsive unit.
Michelle Gunn, 31, a vet nurse, co-ordinates the Somerset Badger Patrol: "When I got involved, I researched a lot. There was no sentimentality, 'oh poor badger'. I'm a nurse, I've seen it all. But the more I learnt about this cull, the more I knew it's fundamentally wrong. Culling is more expensive, perturbation occurs, bio security on farms is lax spreading disease, intensive farming results in animals prone to disease, badgers are not responsible for bovine TB in cows, I felt compelled to help."
The Somerset Badger Patrol meets nightly in Williton, a small town in West Somerset. They stay strictly within the law, walking public byways. They are tightly organised. "Every evening I speak to a contact about which areas are 'hot', so tonight we had 3 patrols out, on Saturday we had 6, and we've heard 4 shots tonight," Michelle says.
On patrol, if they see or hear shots, they move towards them, blowing whistles, shining torches and by law, the shooters must stop: "There's no doubt we're having a massive impact on the cull" she adds.
However, tensions in the area are running high and West Somerset feels changed: police roadblocks are set up in once peaceful lanes, infra-red beamed Land Rovers are parked up near fields, torchlight flickers on paths at four in the morning. Reports of harassment of badger activists are common.
Maria, one member of the patrol, claims shots were fired in the air around her in a field. Withial also claims he was surrounded by four men shouting: "We shoot fucking badgers and you're next." Tez says he was stopped 11 times in one day by the police, and Anne adds she was full beam tailgated as she patrolled alone at night: "It won't stop me going out though", she says with vehemence.
Many self-confessed saboteurs are also in the zone – people willing to employ more furtive, guerrilla methods to stop the cull.
Sean is a labourer from Sheffield, and has "sabbed" for 4 nights this week before returning to work, and Lee, a soft-spoken web consultant from London felt compelled to come to Somerset: "I'd tried everything, written to my MP, signed the petition, organised a march in London, nothing had worked. Nobody wants to be here, but what can you do, they're murdering our badgers" his exhaustion evident. "We've been set monitoring since midday, guarding against shooters and have done this for two weeks." It's 5am, rainy, misty and cold, and Lee and his group are off to Williton to watch over a vulnerable sett until dawn.
The anti-cull activists don't know how many lives they're saving, although some estimate they're stopping between two and six shoots a night. And the shooters' tactics seem to be altering as a result. There appears to be less free shooting now, with the activists seeing more indications of cage trapping and shooting at close range.
Defra have refused to comment on how many badgers have been killed, but a local landowner has claimed that fewer than 100 badgers were culled in the first 10 days of the six-week cull in Somerset
But Amanda, the former BBC filmmaker, is pessimistic about the future, even if the cull companies don't meet the target of killing at least 70 per cent of badgers in the zones.
"If the Government wants to roll this policy out nationwide as Owen Paterson often states, I think they will make a move to gassing as the only way of removing large numbers of badgers in the TB hotspots," she says.
"The Government may well have unleashed a monster that will not be put back in its cage and have given it legitimacy in order to satisfy political expediency".
Register for free to continue reading
Registration is a free and easy way to support our truly independent journalism
By registering, you will also enjoy limited access to Premium articles, exclusive newsletters, commenting, and virtual events with our leading journalists
Already have an account? sign in
Join our new commenting forum
Join thought-provoking conversations, follow other Independent readers and see their replies