UK weather gets even freakier: After storms, floods and gales - a bog fire raged
And more freak weather is about to lash the country - more gales and downpours into Saturday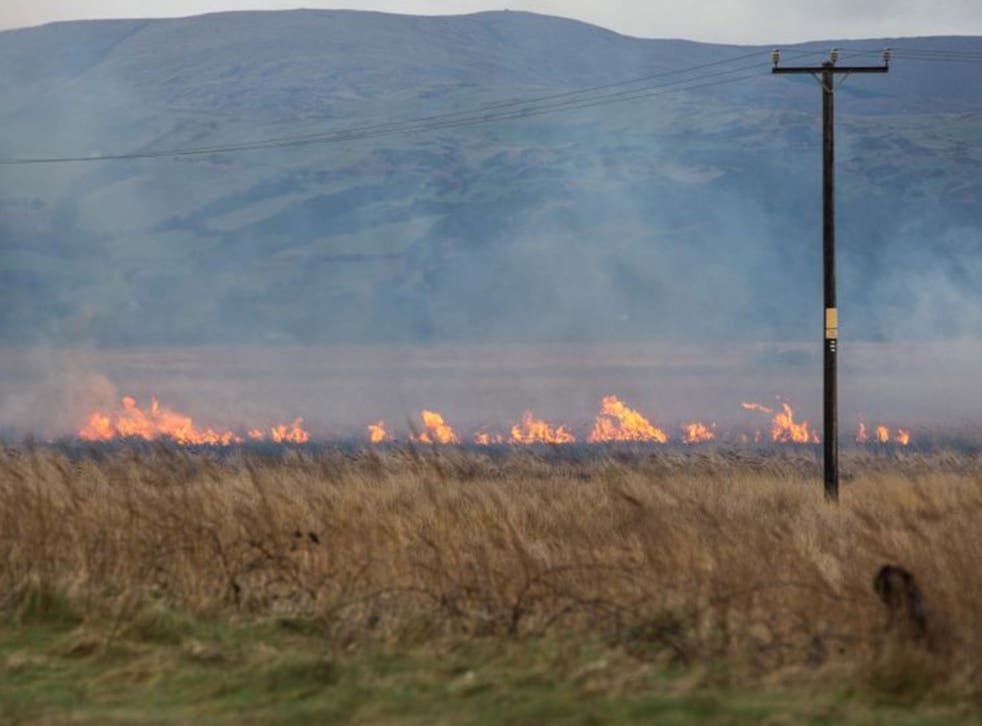 Despite being drenched by storms, powerlines torn down by winds reportedly started a bog fire in a Welsh coastal town, as a fresh round of extreme weather wreaks havoc across Britain.
Smoke billowed across the Welsh village of Borth, as a fire raged across peat bogland. Fire crews were called to Borth bog, near Aberystwyth, at around 5am on Friday.
The fire has since burned itself out, and Natural Resources Wales said minimal damage was caused by the flames, the BBC reported.
Residents told the BBC that the scene was "incredible" considering the extreme wet and windy weather.
Officials from Mid and West Wales Fire and Rescue Service said the fire covered a 2.5 hectares (25,000 square metres) of land.
A spokesperson said the fire was subject to controlled burning at the moment, and it was not immediately known what caused it to start.
Bangor University wetland science and conservation expert Dr Christian Dunn told the BBC that the scale of the fire is "very surprising".
"Peat can burn incredibly well," he said adding: "But usually these are in the summer as the peat has to be dry to burn well, so to see the scale of these fires now is very surprising.
"It may be that the area of peatland has drainage channels cut into it and the strong winds have helped dry off the top layer.
"There's no way of knowing at the moment though how it started. It could have even been from a lightning strike during the storms or perhaps the elusive will-o'-the-wisp," he added.
The news comes as tens of thousands of households remain without power, with 13,500 of those in mid and north Wales and 17,000 in north-west England, after gusts of up to 108mph battered parts of the country in the "Wild Wednesday" storms, which left one man dead.
An 85-year-old man died on Friday when a freak wave battered the cruise ship he was on, causing water to crash through the windows.
The Met Office has warned already ravaged communities to expect more heavy rain on Friday and Saturday, in what it has described as a "multi-pronged attack", as the number of severe flooding warnings issued across the UK rose throughout the day.
Rain is already falling heavily in the South West of England, where up to 40mm (1.6 inches) of rain is set to fall in just six hours, while gusts of up to 80mph are expected to blast through parts of the country.
15mm of rain has already fallen in the Isles of Scilly, and 17mm in the far southwest of Cornwall.
In Dorset, members of the public are being urged to stay away from coastal areas this weekend as violent storms batter the county's beaches, cliffs and promenades.
Waves up to 33ft (10m) high are set to crash into coastal areas, putting lives in danger if people get too close.
At 11pm on Friday, the Environment Agency (EA) had issued 22 severe flood warnings - meaning there is a risk to life - across southern England.
There were also 208 flood warnings in place across England and Wales and 320 flood alerts, meaning flooding is possible, be prepared.
Residents in the Chiswell area of Portland - where a severe flood warning is in place - are being contacted directly about the possibility of tidal flooding through Friday night to Saturday morning and an emergency rest centre is on stand-by in case people need to evacuate their homes.
In pictures: Storms batter the UK

Show all 35
Windsor, Maidenhead and communities along the Thames in Surrey are also at high risk of flooding from the River Thames, with significant flooding of homes and businesses expected.
Flooding continues on the Somerset Levels and Moors, and there is still a high risk of coastal floods in Dorset.
There are now also flood warnings in place for West Bay and Lyme Regis.
More than 1,000 homes have already been evacuated in the Thames Valley and the West Country.
The EA said the scheme would reduce the flood risk in the villages of Northmoor and Saltmoor by reducing the water levels on the River Tone.
High-volume pumps imported from the Netherlands have been set to work in the Somerset Levels in an attempt to alleviate the sodden ground.
Two of the 13 high-capacity Dutch pumps have been located at Dunball while others have been installed in Beerwall.
It total the EA has 96 pumps in use and is pumping from the Levels enough water a day to fill Wembley Stadium three times.
Meanwhile, 160 troops have been at Imjin Barracks in Innsworth to pack 20,000 sandbags for distribution to affected residents in Tewkesbury.
A delivery of 250 tonne of sand and 20,000 empty sandbags arrived at the base this morning and the soldiers will be in Tewkesbury using the sandbags to protect homes from the rising river levels.
Major General Patrick Sanders, the Assistant Chief of the Defence Staff (Operations), said 2,200 armed forces personnel were taking part in the flood relief operation overall, with a further 3,000 on stand-by.
An RAF Tornado GR4 reconnaissance aircraft has been providing aerial imagery of the Thames Valley while a specialist surveillance aircraft has been providing radar mapping to enable emergency service commanders to identify where problems may occur. Eleven helicopters are also on stand-by.
EA programme director Toby Willison told a press briefing: "I expect we will see hundreds of properties looking to flood." He asked people to remain vigilant and take action where necessary.
As well as surface water problems, the rain could also affect already full-to-bursting rivers, while some coastal areas could be at risk as blustery conditions could bring large waves.
In the highlands of Wales, northern England, Northern Ireland and Scotland, snow is expected with 5cm to 10cm (2-4 ins) falling above 300 metres and perhaps as much as 20cm (8 ins) above 400 metres.
Prime Minister David Cameron said that, while the country was in the grip of the severe weather, it remained the Government's immediate priority to do all it could to help affected local communities and coordinate the emergency response.
"We are doing everything we can to help people and businesses deal with the flooding and get back on their feet. And through this new Cabinet committee we are doing all we can to ensure resilience in the future," he said.
Asked whether he would repeat Communities Secretary Eric Pickles' apology for the Government's early response to the crisis, Mr Cameron told ITV's Daybreak: "Of course I am very sorry for any way that people have suffered.
Mr Cameron said that the Government's Cobra emergency committee had met before Christmas to deal with the impact of the tidal surge on the east coast and soon after Christmas as the Somerset Levels were flooded.
"Obviously, we are facing a very difficult time because we have got the wettest start to the year for 250 years and these are extraordinary weather events, but we are fighting on every front to help people," he said.
Meanwhile, plans for hundreds of redundancies at the EA have been put on hold because of the floods crisis sweeping the country.
The agency's chief executive has sent an email to staff saying that response to the flooding is taking priority over other work.
Unions have warned that 1,700 jobs are at risk at the agency, with 550 under immediate threat before the floods started.
Since early December, 5,800 properties have been flooded across the country, with high winds causing further problems yesterday.
Margareta Wahlstrom, the UN secretary general's special representative for disaster risk reduction, said that the current problems showed that the UK Government should give a higher priority to preventing floods.
Ms Wahlstrom told BBC Radio 4's Today programme: "The flood management legislation that you introduced in this country about four or five years ago is actually very comprehensive, but it's not covering all the angles that you now see."
Additional reporting by Press Association
Register for free to continue reading
Registration is a free and easy way to support our truly independent journalism
By registering, you will also enjoy limited access to Premium articles, exclusive newsletters, commenting, and virtual events with our leading journalists
Already have an account? sign in
Register for free to continue reading
Registration is a free and easy way to support our truly independent journalism
By registering, you will also enjoy limited access to Premium articles, exclusive newsletters, commenting, and virtual events with our leading journalists
Already have an account? sign in
Join our new commenting forum
Join thought-provoking conversations, follow other Independent readers and see their replies