Wedding between Sikh bride and non-Sikh groom stopped by 'thugs' at London temple
Members of the Sri Guru Singh Sabha Gurdwara said a group of around 20 men opposed the 'mixed marriage' and forced it to be stopped on Friday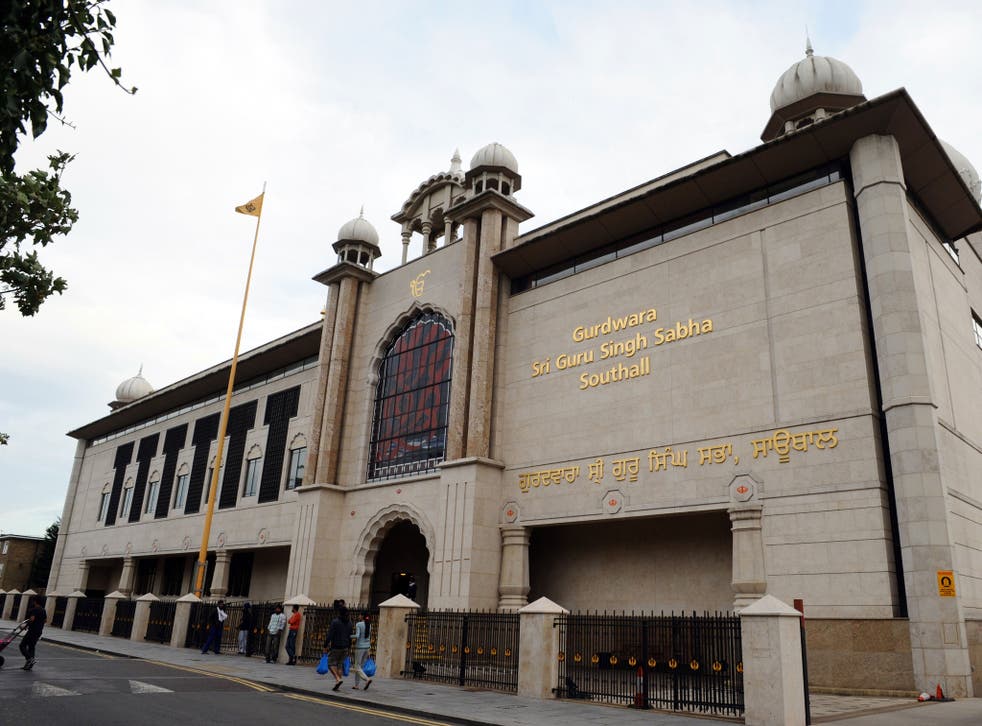 A group of men have stormed a Sikh temple in London to stop an inter-faith marriage, forcing the couple to cancel their wedding day.
Members of the Sri Guru Singh Sabha Gurdwara, in Southall, said the final preparations were underway on Friday when the men arrived.
Sohan Singh Sumra, vice-president of the temple, told The Independent a group of up to 22 people arrived shortly after 8am.
"They were all thugs," he added. "None of them were recognised by any of the Sikh groups here.
"It was because it was a mixed marriage…they just came here to spoil it and intimidate us."
Mr Sumra said police were called to remove the "threatening" men and that the gurdwara, which was inaugurated by Prince Charles, is now considering hiring private security.
He said the men had threatened to stop the wedding (Anand Karaj), between a Sikh woman and her white, non-Sikh, fiancé in a phone call the night before.
Members of the Havelock Road gurdwara contacted the bride's family and they chose to go ahead, he said, but they could not continue after the temple was stormed on the wedding day.
"I've been in this temple since 1994 and I've never seen this sort of thing," Mr Sumra said. "We will always listen to people's suggestions but there was no reasoning with them. It was a sad day."
Mr Sumra said he had attended many marriages between couples of different religions and races, and that the vast majority of the Sikh community had no issue with it.
"We are living in this country and we work with couples – if they are happy we're fine with it - Sikhism is a liberal religion," he added, despite acknowledging the existence of "splinter groups".
"We had a meeting with local temples on Saturday because we don't want anything like that happening to any other couples."
Sunny Hundal, a freelance journalist and author, originally reported on the incident on Friday and posted videos on Facebook appearing to show the "hypocritical and fanatical thugs" arguing with fellow Sikhs inside the gurdwara.
"I'm raising (this issue) because I want people to realise what is happening under our noses before it gets too late," he wrote, saying wedding "disruptions", were becoming increasingly common.
"This gang-mentality puritanism will end up with the Sikh version of the Taliban and destroy the community. Don't tolerate it."
In October last year, the UK's Sikh Council released guidelines on inter-faith marriages saying that gurdwaras must ensure the "genuine acceptance of Sikh faith" in both partners, proposing the use of signed delarations.
Update:
A statement released on Wednesday on behalf of the protesters by the Sikh Press Association said the men were conducting a peaceful protest.
"Some gurdwaras in the UK are simply ignoring rulings by Sikh authorities, so protesting is our only option," protester Jaspal Singh said.
"Blocking the wedding is always our last resort…people of all faiths and backgrounds are always welcome in any gurdwara.
"However, it has been made clear the Anand Karaj (marriage ceremony) is specifically for Sikhs.
"We have no grievances with any of the couples, nor any problem with mixed race or inter-faith marriages. Our issue is with those in charge of our gurdwaras."
The Sikh Council UK is holding a meeting of UK gurdwaras on 23 August on the issue and said it wants to develop a "consistent approach towards marriages where one partner is not of Sikh origin".
Register for free to continue reading
Registration is a free and easy way to support our truly independent journalism
By registering, you will also enjoy limited access to Premium articles, exclusive newsletters, commenting, and virtual events with our leading journalists
Already have an account? sign in
Register for free to continue reading
Registration is a free and easy way to support our truly independent journalism
By registering, you will also enjoy limited access to Premium articles, exclusive newsletters, commenting, and virtual events with our leading journalists
Already have an account? sign in
Join our new commenting forum
Join thought-provoking conversations, follow other Independent readers and see their replies