Dead whale removed from East Yorkshire beach following England's largest recorded mass stranding
Ocean giant was one of seven 20-tonne mammals that washed up on Christmas Eve
Colin Drury
Yorkshire
Friday 08 January 2021 10:20 Comments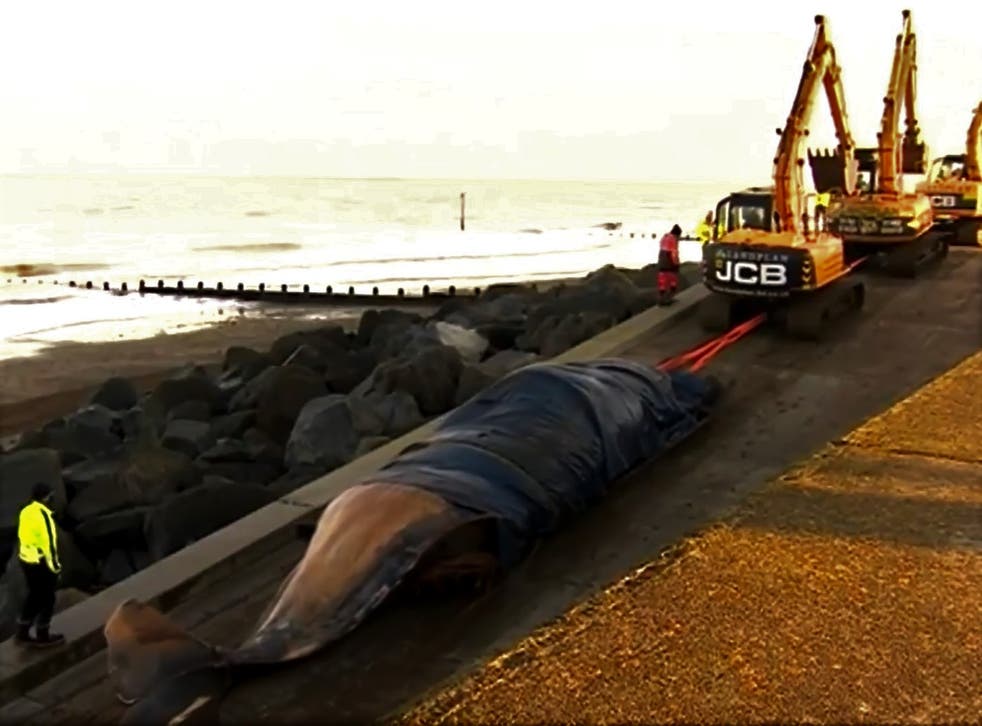 The body of a 40ft long sperm whale which was among seven that washed up on an East Yorkshire beach on Christmas Eve has finally been removed.
The pod of ocean giants was the largest such mass stranding event ever recorded in England, experts have said.
They died between Withernsea and Tunstall after an apparent navigational error brought them into the perilously shallow waters. Makeshift autopsies show none had eaten recently and one had been struck by a ship.
Two of the 20-tonne bodies have already washed back into the North Sea while four others are on such an isolated and inaccessible part of the shore line that they will be left to decompose naturally.
But the seventh, which beached close to to Withinsea's South Promenade, was removed on Thursday using a specially created metal sledge and heavy plant vehicles.
A tractor will pull the body around the town to a rendering plant on Friday morning.
Joe Russell, from contractors Landplant, said the operationhad been inspired by the way ancient Egyptians transported materials to build the pyramids.
"We couldn't move it with anything with a wheel as that would have just sunk in," he said. "We looked at trying to get netting round it and that we had to dismiss.
"I think the Egyptians had it right. It was that process where they had to move very heavy objects a long way across sand."
Speaking to the BBC, he added: "We took it from them and it worked."
The stricken pod was initially said to have been 10-strong by the British Divers Marine Life Rescue charity but the number later was revised down to seven.
It nonetheless constitutes the biggest cetacean mass beaching in England since records began in 1913.
The four that will now be left to decompos are all located on remote Crown Estates land.
A spokesperson said: "They are located in areas with limited public access and where their removal would be practically very difficult.
"We would therefore echo the advice of the authorities that members of the public should continue to keep away from the whales."
Register for free to continue reading
Registration is a free and easy way to support our truly independent journalism
By registering, you will also enjoy limited access to Premium articles, exclusive newsletters, commenting, and virtual events with our leading journalists
Already have an account? sign in
Join our new commenting forum
Join thought-provoking conversations, follow other Independent readers and see their replies