What is the point of the National Trust?
That's the question Stephen Bayley will ask its chairman, Sir Simon Jenkins, in a debate at the Hay Festival tomorrow. This is his argument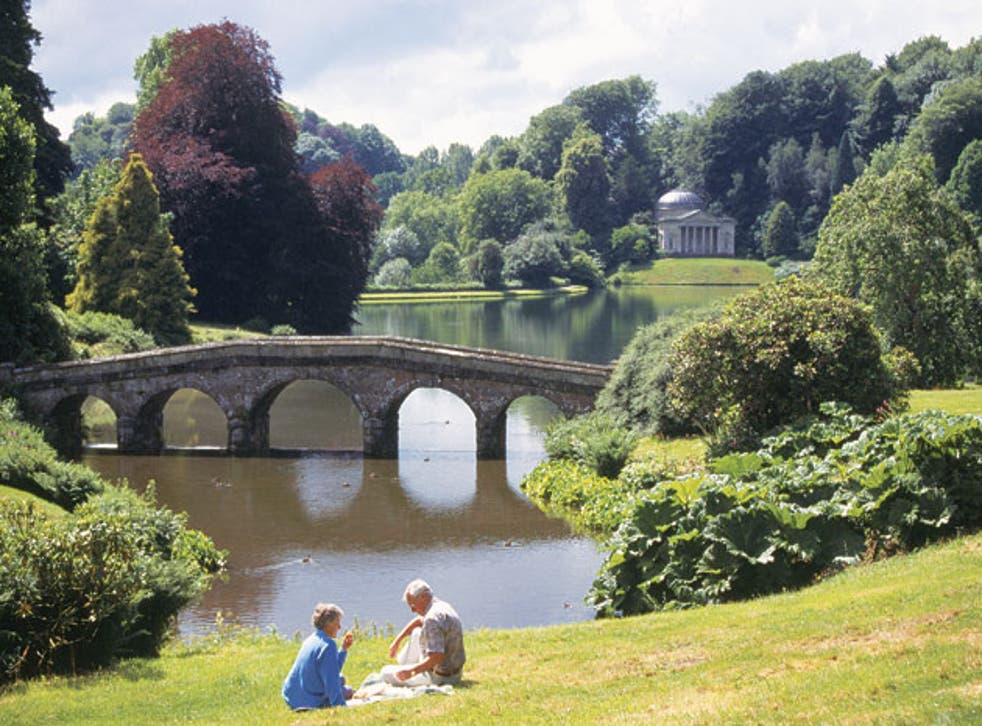 Who would dare to attack The National Trust? Let's see. There's a conventional critique of the Trust which is popular among "progressive" historians. Indeed, it's one I have made several times myself. This is that the Trust takes a very particular view of both architecture and history: its preservation of the fabulous treasures it holds presents one version and one alone of our past. And you can argue that it is a distorted version, skewed by intellectual prejudice, pre-lapsarian, anti-urban nostalgia, survival bias, patronising sentiment and class-based taste.
Exactly whose "nation" is on display for our delectation and edification? Why would a second-generation Bangladeshi living in Dagenham want to be instructed about the golden Ham Hill stone of Barrington Court in Somerset? (There is, of course, a very good answer to that question, but it's one a politically correct National Trust is reluctant to make explicit.)
This argument continues with the line that, since the great bulk of the Trust's holdings are country houses from the great period of country house building – say 1500 to 1900, the implication is that the National Trust believes these are unquestioned exemplars of architectural rectitude and appropriate patronage. Certainly, these great houses are this country's outstanding contribution to world architecture. The social order in stone. Or, to put it another way : rich white men's indulgences bought with the sweat and blood of the oppressed. Wightwick Manor? Osterley Park? Knole? You could very nearly park the case right here on the gravelled drive.
And the argument goes on that the settled gravity of the Trust's magnificence has tended to retard national taste. We find the contemporary world so repulsive, escape routes are necessary from it – even if they lead to a nihilistic dead-end where we eventually discover that happy civilisations are ones with the confidence to tear down old houses and build anew. Just as the Georgians did.
So, the National Trust is a vast, persuasive and very popular organisation which feeds the unhealthy anti-industrial sentiments of the middle-class who, in their German estate cars, enjoy a voyeuristic engagement with the mythic utopia that was England before the dreadful soot and pistons of the Industrial Revolution created our dirty, sprawling (and now often defunct) cities. Symptoms of the "English disease" are not an interest in flagellation, but counter-factual yearnings and picturesque myopia. We look at the view around Polesden Lacey and pretend for a delicious moment that Smethwick does not exist.
While there is some truth in this argument, it's not one that quite works today. In recent years, the National Trust has, with some real success, modernised itself. True, there is still a rather smug, unreflective, low-brow anti-intellectualism among many of its older membership. But, perhaps, that's England for you. True, the meretricious tat that you find in its shops is beyond parody and should be illegal. What right to direct our patrimony does any organisation which sells cute junk have? (Mischievously, I'm inclined to answer: quite a good one).
On the other hand, the Trust's interests are now more eclectic. Since the Cold War dystopia of the weapons-testing establishment at Orford Ness became a part of the portfolio, it has been impossible to argue that contemporary realities are being ignored. And since John Lennon's Liverpool semi was acquired, the argument that the charmed tastes of milord take precedence over suburban pop culture has lost some of its force.
Instead, the argument against the National Trust today is a rather different one. For all the distortions it imposed on our view of history, the National Trust has done a magnificent job of maintaining a superlative collection of buildings. This it has done with fastidious scholarship and meticulous craftsmanship, encouraging professional standards of interior design and restoration that are unrivalled. It is entirely true and a source of great pride that nothing quite like the National Trust exists in any other country. It's a marvellous example of our idiosyncratic genius.
And now its chairman, Sir Simon Jenkins, wants to wreck it with a sort of cretinised vulgarity that would bring Walt Disney into disrepute. In pursuit of an undefined and unquantifiable populist (which is to say "patronising") target, Sir Simon now intends to insert elements of retro-kitsch fantasy into the Trust's great houses. There will be chewed chicken drumsticks on kitchen floors, guttering candles on mantelpieces. You will find Bess's ripped bodice in Hardwick Hall together with the discarded cod-piece of a husband, a moment "preserved" from an unhealthily imagined Elizabethan copulatory frenzy. There will be four-posters with linen stained as if by an incontinent Jacobean Tracey Emin.
Sir Simon says these tableaux vivants will bring buildings to life. No one, as they say, ever went bust underestimating the public's taste. But a line between instruction and entertainment has been crossed. And it's a dodgy sort of entertainment. What utterly disdainful view of the public's intelligence requires the sauce of infantile costume drama to aid the contemplative digestion of great architecture?
This is not elegant instruction or an invitation to meditate on the vanity of human desires, it's an insult. And, as for entertainment, I doubt a generation brought up with the excitement, spatial and conceptual subtleties of Grand Theft Auto will be moved to hysteria by the addition of a plate of picked-over ptarmigan in the laundry at Knole.
At the same time, there are critical rumblings from volunteers about creeping political correctitude. They have been told to be "friendly" and not wear suits or check tickets since these might intimidate. A correspondent from Norfolk told me about a "workshop" on dealing with the public and wrote that to say "the content and level of professionalism were disappointing would be substantially to understate the real feeling". Someone who had just visited Petworth was dismayed by the offers of vulgarian fun.
The tragedy of Jenkins' avowed populism is that it disguises a horrible sort of snobbery. It is low-brow because it accepts no capacity for imagination or for abstract thinking. And, once again, it shows the National Trust insisting on a very peculiar take on history. Architecture is already alive and does not need gussying up with knick-knacks. The greatest truth ever spoken about it is "you don't finish a building – you start it". But if you are Sir Simon, you just want to make cute additions of clothing and bio-matter to it.
Why freeze the perception of Hardwick Hall at the moment Bess's lover undid her tight-lacing and snuffed the candle? Why not have the Ocado man delivering taramasalata or the cable guy installing high-capacity fibrox? That's history, too. And if you want to have a gnawed chicken limb, why not include period smells? You do wonder where it will end.
But perhaps Sir Simon's born-again vulgarity betrays the de-haut-en-bas sensibility that is ever the foundation of the National Trust. It was created by well-meaning Fabians to protect the landscape and coastline for the pleasure of urbanised working folk. Only in 1936 was it influentially diverted into architecture when James Lees-Milne, at the recommendation of Vita Sackville-West, joined the Trust's Country House Committee.
Lees-Milne was a caustic snob who enjoyed taking tea with dukes. Denied the chance to go to university because his father had heard there were "three niggers at Balliol", he trained at Miss Blakeney's Stenography School for Young Ladies. "I am acutely conscious of and amused by class distinctions" he wrote in his 1970 autobiography. "I love them and hope they endure forever." Well, he did his best.
This was the spirit in which a bicycling and motoring Lees-Milne began to collect country houses for the National Trust, a process helpfully accelerated by the economic distresses of the Second World War. He "saved" Petworth, Nostell Priory, Felbrigg Hall and West Wycombe Park. And then the National Trust saved them for us.
Never mind that Lees-Milne's father thought the country house scheme "socialist", what with having the proles traipising over the ducal Wilton and gawping at the gilt falderals – it is a very fine thing that great architecture remains for us to enjoy. And great architecture, like all great art, speaks plainly and profoundly to all who are prepared to look and listen. It does not need accessorising with platitudinous garbage.
Who but a brainless voyeur wants to see his lordship's cigar butts when you have pargeting and corbels to look at? After one acquisitive visit to a country house, James Lees-Milne noted: "hideous, pretentious, genteel, over-restored fake, just like its inhabitants". How very surprised he would be to find his own words being applied to the National Trust's latest whimsy.
Register for free to continue reading
Registration is a free and easy way to support our truly independent journalism
By registering, you will also enjoy limited access to Premium articles, exclusive newsletters, commenting, and virtual events with our leading journalists
Already have an account? sign in
Register for free to continue reading
Registration is a free and easy way to support our truly independent journalism
By registering, you will also enjoy limited access to Premium articles, exclusive newsletters, commenting, and virtual events with our leading journalists
Already have an account? sign in
Join our new commenting forum
Join thought-provoking conversations, follow other Independent readers and see their replies