Police watchdog 'slanted advice in favour of Patel protest crackdown' says whistleblower — report
'Your findings will help me,' home secretary reportedly responded to HMICFRS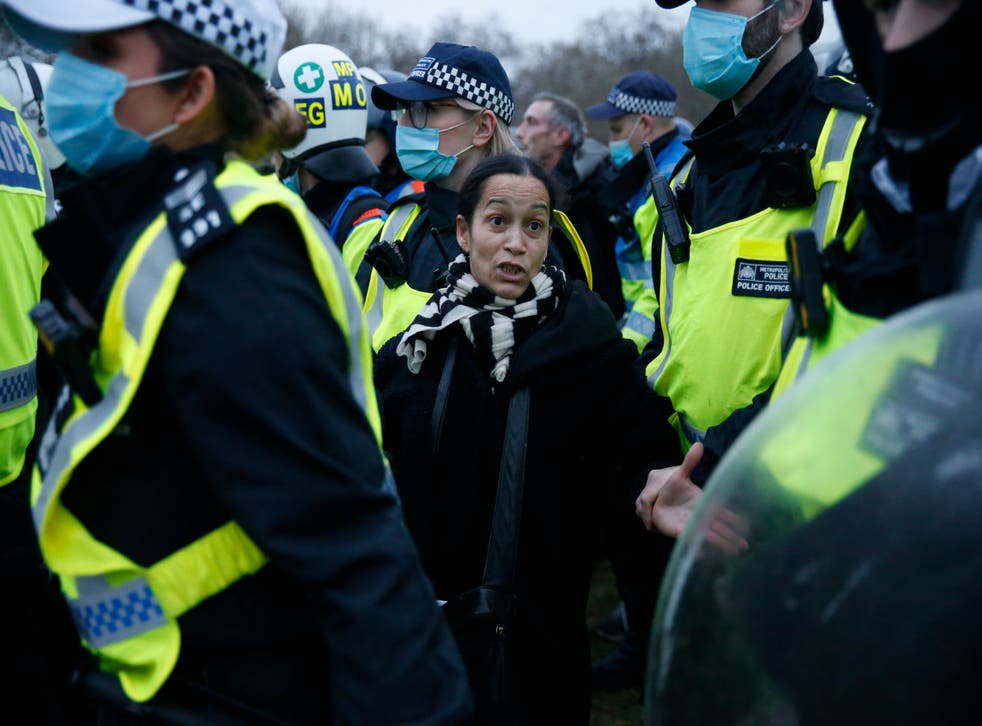 A watchdog is investigating claims by a whistleblower that advice to home secretary Priti Patel on public protests was slanted in favour of police, it has been reported.
One of the contributors to a Her Majesty's Inspectorate of Constabulary and Fire and Rescue Services (HMICFRS) report on how police deal with protests, published on 11 March 2021, alleges conclusions were sbumitted before the evidence was compiled, according to The Guardian.
Alice O'Keeffe of HMICFRS, who worked on the report as an associate editor, wrote in her formal complaint that HMICFRS told the Home Secretary that it supported a change in protest laws, five months before the report was published.
She also alleges that the civil service code of conduct on impartiality was breached.
The newspaper said a letter of advice sent from HMICFRS to Priti Patel reads: "We believe all five proposals would improve police effectiveness … moreover, measured legislative reform in these respects would send a clear message to protesters and police forces alike about the limits of the right to protest."
It said Ms Patel responded in December 2020, saying: "Protests have proved a significant challenge over the last year and I am keen to ensure that the police have the powers and capabilities they need to help address the disruption they face. Your findings will help me to do that."
Her complaint reportely also argues that some members of the enquiry team likened peaceful protests to the likes of the IRA.
HMICFRS did not immediately respond to an inquiry from The Independent but told The Guardian that it is "evaluating" the complaint.
It said: "Following the recent protest inspection, Ms O'Keeffe, one of our associate editors, made a number of observations which are being evaluated. As an editor, she was not privy to all the work which assessed and weighed the evidence in the inspection. The final judgment was made by one of the inspectors of constabulary, and approved by the board of the inspectorate."
Commenting on the timing of submissions to Ms Patel, it added: "The work on the inspection was in two parts. The first part concerned the legal sufficiency of existing police powers. The fieldwork on that part of the inspection was a legal analysis, which was thorough and carried out by external legal counsel. It was complete by the time the letter to the home secretary was written.
"The part two fieldwork concerted how police powers were being used in protests, and no judgment was made until the end of the part two fieldwork. Indeed, it was made clear to the home secretary that our part one judgment was provisional and would be affected by conclusions reached in part two."
According to The Guardian, Ms O'Keeffe has worked for HMICFRS on a freelance basis for five years and assisted in compiling the reports produced by the policing inspectorate.
Register for free to continue reading
Registration is a free and easy way to support our truly independent journalism
By registering, you will also enjoy limited access to Premium articles, exclusive newsletters, commenting, and virtual events with our leading journalists
Already have an account? sign in
Register for free to continue reading
Registration is a free and easy way to support our truly independent journalism
By registering, you will also enjoy limited access to Premium articles, exclusive newsletters, commenting, and virtual events with our leading journalists
Already have an account? sign in
Join our new commenting forum
Join thought-provoking conversations, follow other Independent readers and see their replies