White House Farm murders: The horrifying true story of how Jeremy Bamber massacred his family then told obscene jokes at the funeral
Killer slaughtered parents, sister and nephews in night of extraordinary violence – then made dirty jokes at funeral, writes Colin Drury
Thursday 01 January 1970 02:00 BST
Comments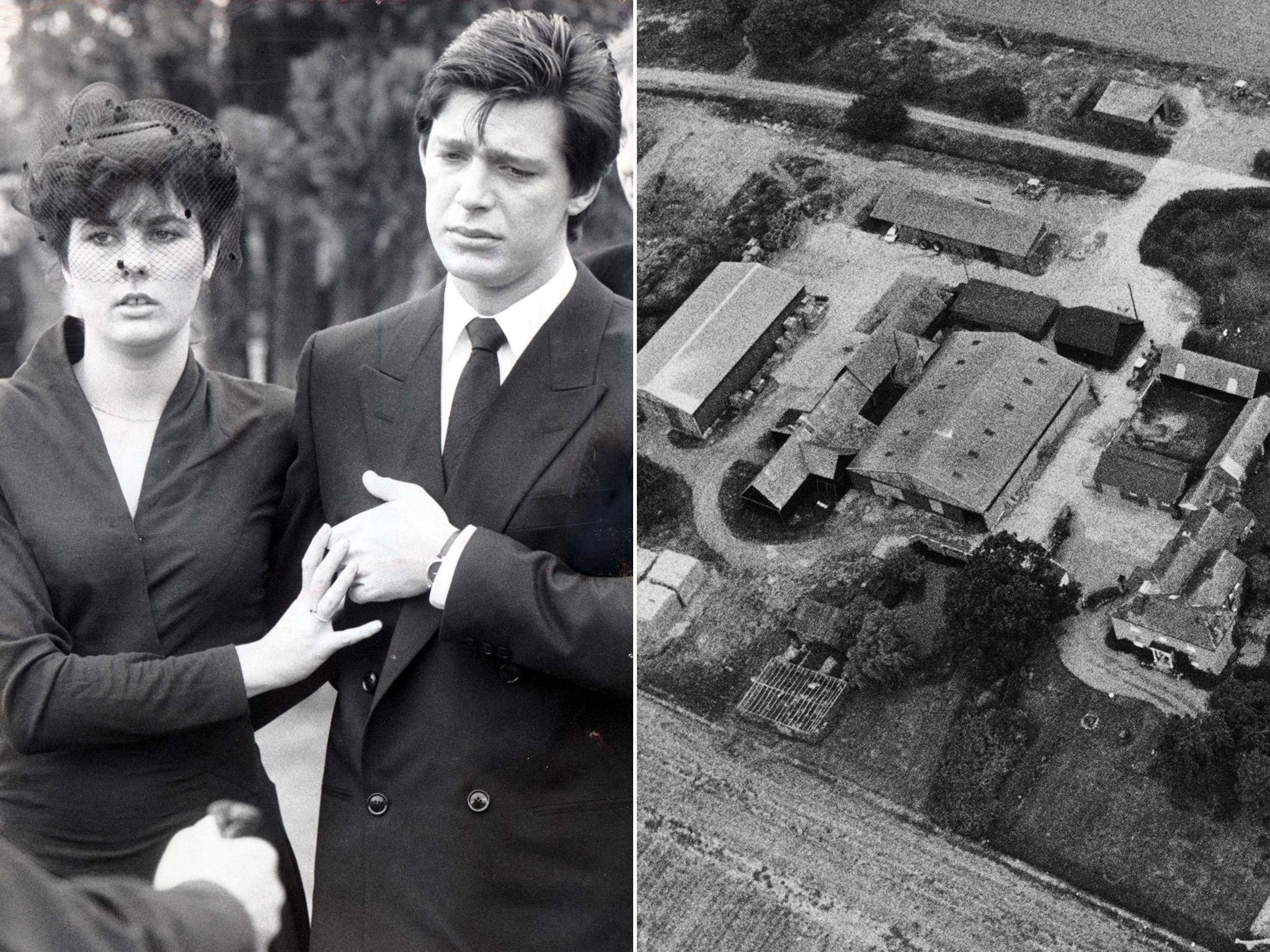 It was the smutty jokes Jeremy Bamber cracked during the funeral of his parents and sister that first raised alarm bells. Thirty-five years ago, in a crime that horrified and fascinated the nation in equal measure, three generations of his family were murdered in a farmhouse in rural Essex. The infamous White House Farm massacre saw the then 24-year-old's adoptive parents Nevill and June, sister Sheila Caffell and her twin sons Nicholas and Daniel, both six, all shot dead at the isolated Georgian property.
Yet while police quickly declared it a case of murder-suicide committed by Caffell – a former model suffering schizophrenia – others soon started to have suspicions about her brother Jeremy. A famous piece of news footage showed the former public school boy struggling through his family's funerals, his faced etched with apparent grief. But, says Colin Caffell, ex-husband of Sheila and father of the murdered twins, as soon as the cameras stopped rolling, Bamber's whole demeanour changed.
"Jeremy started cracking jokes and laughing," he wrote in his 1994 book In Search of the Rainbow's End, telling The Telegraph later that his former brother-in-law had started to make lewd comments about how "he couldn't wait to get back to the house with Julie [Mugford, his then girlfriend] and have some fun".
It was the first crack in a facade that would soon come crumbling down – and end with this handsome, charismatic young man found guilty of wiping out his whole family during a summer's night of extraordinary violence. The whole grim story concludes on Wednesday evening with the finale of a six-part ITV drama called simply White House Farm.
The Most Notorious Serial Killers
Show all 20
"I think almost everyone who was around at the time still remembers it," says Carol Ann Lee, whose 2015 book The Murders At White House Farm inspired the new series. This was a wealthy family living what appeared to be an idyllic life in the countryside, and that ended in what was essentially a blood bath. It was shocking."
Police were first alerted something tragic had occurred at the family home, near the village of Tolleshunt D'Arcy, in a call from Bamber himself in the early hours of on 7 August 1985. He phoned Chelmsford Police Station from his home in the nearby village of Goldhanger reporting that he had received a desperate call from his father who told him: "Your sister's gone crazy and she's got a gun".
The line had gone dead, he told officers, after the sound of a shot.
The scene that greeted armed police who attended the property was one of unimaginable horror. Nevill, 61, had been beaten and shot eight times – four of them in the head – in his own kitchen, while his wife June, also 61, was found to have seven bullets riddled throughout her body in the master bedroom. One was right between her eyes, fired at point blank range. Blood smeared across the floor and covering the carpets suggested she had made a futile attempt to drag herself away from her killer.
Her daughter Sheila – Bamber's sister – had been gunned down in the same bedroom. The children had both been killed in bed while they apparently slept. Daniel still had his thumb in his mouth. Blood, contemporary reports suggested, was everywhere. The house was turned red.
Yet, despite this treasure trove of forensic evidence, police, influenced by Bamber's call, almost immediately pinned the blame on Caffell. Her body was found holding a semi-automatic .22 rifle, along with a bible. "Model goes berserk and massacres her family," ran one headline soon after.Yet, within days, such a theory was falling apart.
Bamber's behaviour at the funeral did not just raise suspicions with Caffell, a sculptor now aged 66. Police watching the footage were also not convinced by his teary performance. Neither, for what it's worth, were many people viewing it on that night's news. "I remember seeing Jeremy Bamber at the funeral and feeling uneasy about the way he was behaving," Mark Addy, the actor who plays Detective Sergeant Stan Jones in the new drama, said earlier this week.
At least two attendees later recalled that the young man's suit that day was a Hugo Boss number. "Back at the farmhouse, he is said to have come down the stairs and opened his jacket to show guests," Lee tells The Independent. "'Boss,' he said. 'That's what I am from now on'."
More pertinently, perhaps, an inspection of the farm house by Bamber's own cousins days after the service uncovered vital evidence police had missed: namely a silencer for the murder weapon.
Because this had traces of Caffell's blood on it and because experts agreed she could not have placed it in the cupboard after shooting herself, it cast doubts on if she was really the killer. No traces of gun oil were found on her nightdress.
Bamber's behaviour again came under scrutiny some weeks later, meanwhile, when he contacted The Sun newspaper hoping to sell topless modelling shots of his dead sister. The newspaper declined – and instead ran a story about the bizarre approach. But it was only a month later when Mugford – the now ex-girlfriend who had accompanied Bamber to the funeral – got in touch with police that the case against him really started to build.
She told officers he had previously spoken of killing his family to inherit the sprawling £500,000 farm estate. On the night of the crime itself, she said, he had called to say: "It's tonight or never". At about 3am, he phoned her again. "Something is wrong at the farm," he said. "I haven't had any sleep all night."
The pair's relationship had fallen apart by this point and Bamber has always maintained Mugford made up the allegations as revenge for him ending their relationship. A jury in 1986 did not believe him. He was found guilty of the five killings and sentenced to life in prison without the possibility of parole. The Judge, Justice Drake described him as "evil, almost beyond belief". Subsequent appeals have all been rejected. Lawyers attempts to have this week's drama blocked from being aired have also failed.
"I have studied this case for years and never seen anything to suggest he is not the killer," says Lee, 50. "It is a compelling case but I am certain the right person was found guilty."
Join our commenting forum
Join thought-provoking conversations, follow other Independent readers and see their replies