White Lives Matter UK happened and it was as much as a joke as you'd think
Local residents waving flags saying refugees welcome outnumbered protesters
Ishaan Tharoor
Tuesday 25 October 2016 14:38 Comments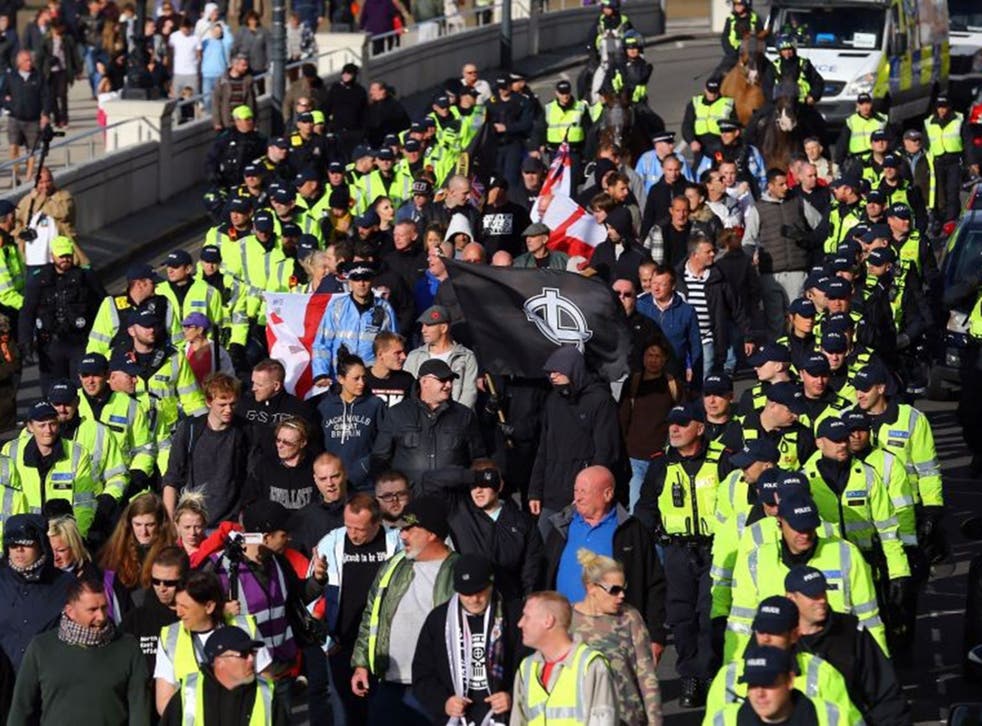 On Saturday, Britain witnessed its first "White Lives Matter" protest, organized by a far-right group that called on supporters via a Facebook page to march through the southeastern seaside town of Margate. But they were greeted by an even larger counter-protest in a town that had mobilized against the neo-fascist activists.
"Margate is over 95 per cent white and yet a third of the children live below the financial poverty line, 30 per cent of neighborhoods are in the poorest 10 per cent of those in the country," the group said on its Facebook page. "The lives of these white people matter."
In a YouTube video used to promote the event, a punk rock song declares, "We'll never be enslaved by a Zionist master plan," with white pride iconography running in the background. In the United States, a "White Lives Matter" organization has been deemed a hate group.
The "All Lives Matter" slogan — a controversial response to the Black Lives Matter movement — is perhaps a more euphemistic way of making a similar point.
The British contingent, about a few dozen strong, trudged through Margate on a sunny day, surrounded by throngs of police officers and crowds of counter-protesters, who jeered at the neo-fascist "Nazi scum" and waved banners saying refugees are welcome in the Kent town.
The White Lives Matter Twitter hashtag — #WLM — was hijacked by opponents to read "We Love Margate" and otherwise heap scorn on the far-right event.
Across the pond, there's a deeper history of far-right movements being physically confronted by leftist anti-fascist (or "antifa") groups.
Earlier this month, Sadiq Khan, London's first Muslim mayor, commemorated the 80th anniversary of the Battle of Cable Street — in which Irish laborers, Jews and others in East London skirmished with police and eventually forced the cancellation of a planned British fascist march into their neighborhood.
The legacy of the incident — which occurred before the horrors of World War II and the Holocaust — is being channeled by those seeking to oppose today's xenophobic populists in the West.
Far right and anti-fascists clash in Dover, January, 2016

Show all 6
"It's so important to recognize that history tells us there are people who would divide our communities — and history tells us the roadmap to defeat them," Khan told the Jewish News, on the sidelines of an event hosted by the London Jewish Forum.
"Solidarity, people coming together, building bridges rather than walls. Some of the people we met today were there and we should recognize the huge contribution to London as we know it now."
Copyright Washington Post
Register for free to continue reading
Registration is a free and easy way to support our truly independent journalism
By registering, you will also enjoy limited access to Premium articles, exclusive newsletters, commenting, and virtual events with our leading journalists
Already have an account? sign in
Join our new commenting forum
Join thought-provoking conversations, follow other Independent readers and see their replies