'White nationalist' from infamous Charlottesville protest now reportedly studying at LSE
Student who inadvertently became face of 'Unite the Right' march thought to have enrolled at London university 
Tom Barnes
Thursday 04 October 2018 17:46 Comments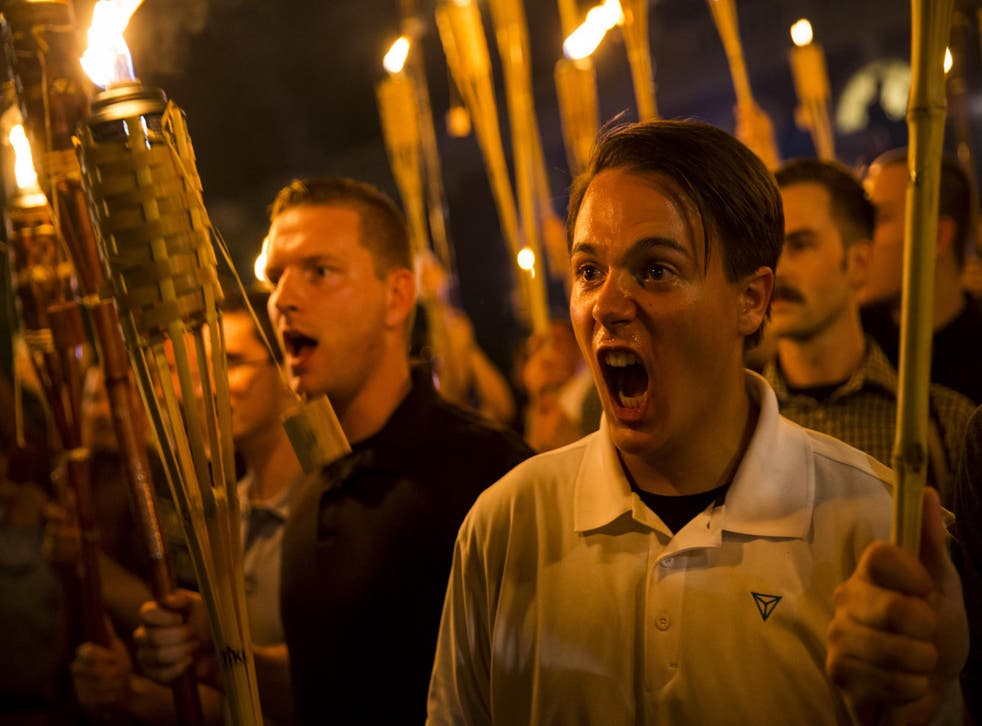 Students have a right to hold their own views, the London School of Economics (LSE) has said, after it emerged that a participant in the infamous "Unite the Right" white supremacist rally reportedly enrolled on one of its courses.
Peter Cvjetanovic's was filmed as he shouted and held a flaming torch at the event in Charlottesville last year as street brawls erupted between white nationalists and counter-protesters.
Heather Heyer, 32, was killed when a car drove through a crowd of counter-protesters. James Alex Fields Jr has been charged with her murder.
Mr Cvjetanovic, a 20-year-old former University of Nevada student is thought to have gained a place to study a master's in political theory at LSE. Details on a Twitter account in his name appear to confirm this.
LSE said in statement that it did not comment on individual students or on complaints relating to students.
"Nevertheless, we take any complaints that are received very seriously and have robust procedures in place to ensure that all issues of concern raised are dealt with promptly and fairly," it added. "LSE is committed to equity, diversity and inclusion for all members of the school community.
"Students and staff are free to hold and express their own views, however, we expect everyone within the LSE community to treat each other with respect at all times. Graduate selections are made on the basis of the strength of an individual's application, with an experienced selector assessing each application, including personal statement and references, alongside agreed criteria set by the department."
In interviews with the Reno Gazette Journal and Channel 2 News in August 2017, days after the Charlottesville rally took place, Mr Cvjetanovic described himself as a "white nationalist".
However, he later appeared to backtrack on this claim when he told another interviewer that he no longer identified with the label and calling himself such was his "biggest mistake".
Violence on the streets of Charlottesville

Show all 9
At the time, the University of Nevada refused calls to expel the then-undergraduate despite considerable pressure from other students to do so.
It cited Mr Cvjetanovic's right to free speech in the first amendment of the US constitution.
The Unite the Right rally saw various factions of white nationalist and far-right activists gather in Virginia to oppose the removal of a statue of Confederate general Robert E Lee.
Dozens of people were injured in clashes with counter-demonstrators, while one woman who attended to oppose the march died after a car was driven into a crowd of protesters.
Dennis Farrington, co-author of The Law of Higher Education, told the Times Higher Education magazine that institutions in the UK "have the unqualified right to admit or refuse to admit anyone as a student provided they act within the law and do not discriminate on grounds set out in the Equality Act".
Dr Farrington said employment case law suggests political beliefs can be considered philosophical beliefs and are therefore protected, but stressed this was in the "context of statutory employment protection."
He added: "If the institution feels that the person concerned is a risk to fellow students in terms of a common law or health and safety duty of care then arguably it should take time to consider that risk before admission."
Register for free to continue reading
Registration is a free and easy way to support our truly independent journalism
By registering, you will also enjoy limited access to Premium articles, exclusive newsletters, commenting, and virtual events with our leading journalists
Already have an account? sign in
Join our new commenting forum
Join thought-provoking conversations, follow other Independent readers and see their replies