#WhoIsSue? Mystery of giant field message solved
Sparked widespread bewilderment on social media after it was spotted by a police helicopter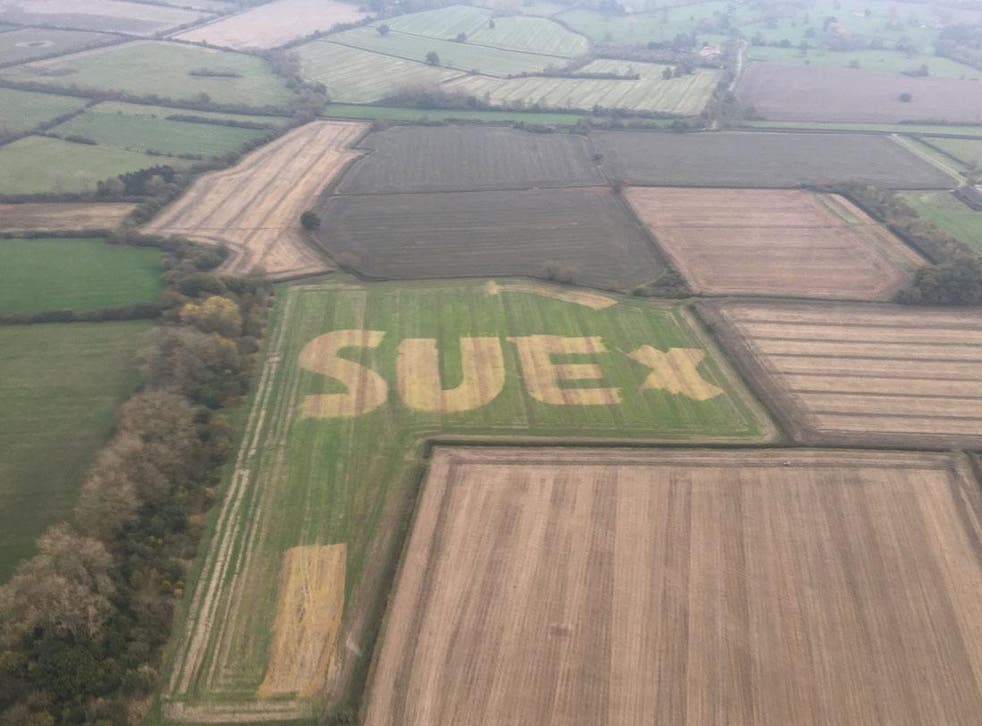 The creator of a mysterious message which sparked widespread bemusement when it was spotted in an Oxfordshire field has been revealed.
Social media was flooded with speculation after a police helicopter spotted the letters "SUE x" etched in huge letters on a field in Tetsworth, near Thame, earlier this week.
"Does anyone know Sue just south of £Tetsworth, the other side of the M40?! £WhoIsSue £p1526," the National Police Air Service wrote alongside the image which they posted on social media.
Conspiracy theories soon began to emerge, including suggestions it was even an iPhone X advertising campaign - or an alien invasion.
But the reality was much more mundane than beings from outer space or outlandish marketing campaigns.
The handiwork belongs to farmer Murray Graham, who wrote the message out in huge letters as a way of "apologising to his wife" Sue for "being grumpy".
He told the BBC that he used a GPS-operated tractor to spray the crops in the shape of her name.
Murray's son George, a pilot, was meant to take a photo and show it to his mother as an apology from Murray, but the police helicopter captured the images first.
"I'm not quite as grumpy and old as perhaps I make out occasionally," he said. "As ever, everything has its ups and downs, so I thought I'd try and make a gesture at some point, and that was the one I chose."
UK news in pictures

Show all 51
According to George, Mr Graham had been in his wife's bad books for not "pulling his weight" around the house.
"I suppose Dad wanted to express his love in the most creative way he could," the pilot said. "I don't know if what he's done is sufficient appeasement for Mum, but it certainly caused a stir on social media."
Join our new commenting forum
Join thought-provoking conversations, follow other Independent readers and see their replies