WHSmith accused of exploiting vulnerable patients over prices in its hospital stores
If costs are higher than on high street why do Costa charge the same?
Simon Neville
,
Alexandra Ball
Monday 24 August 2015 20:16 Comments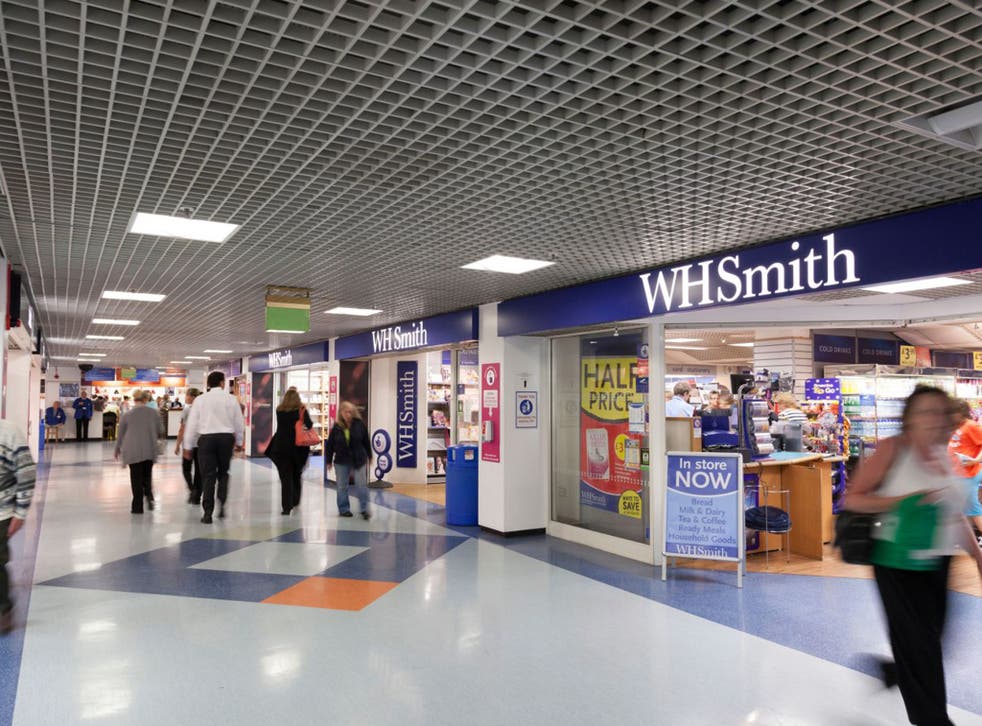 WHSmith has been accused of exploiting vulnerable patients by charging significantly more for some products at its hospital stores. The retailer, which has come under fire this month for demanding boarding cards at airports without passing on VAT savings to passengers, has been found to charge extra for water and notepads at hospitals.
The Independent found that a 750ml Evian bottle of water at WHSmith's Hammersmith, west London, store is £1.39 while in its store at St Thomas' Hospital, Westminster, the same bottle was £1.69 – a 22 per cent mark-up.
An A4 notepad in the hospital store was 44 per cent more expensive, at £12.99 compared with £8.99; however, it was also discovered that the company's train station stores charge even higher prices. The 750ml Evian bottle was £1.99 in Waterloo station.
The Labour MP Paula Sherriff, who sits on the health select committee and used to work for the NHS, said she has written to the company demanding it explain why goods in hospitals cost more than in WHSmith stores on the high street.
Bosses claimed the costs at hospitals were far higher, with longer opening hours and agreements with hospitals to hand over a percentage of sales, rather than paying ground rent. They also blamed the fixed prices of newspapers and magazines, meaning they must increase prices elsewhere in stores.
However, The Independent understands that Costa Coffee, which also has sites in various hospitals around the country, does not charge any more for its products than on the high street. Ms Sherriff told The Independent: "It's exploitative and completely unfair. People are at their lowest ebb in hospital and it is simply taking advantage."
In Leeds, a survey by local BBC radio found that WHSmith was charging £1.89 for a 750ml bottle of water at Pinderfields Hospital, Wakefield, while charging £1 in a Leeds city centre shop.
There were also examples in South Wales, where customers were charged £2.99 for a pack of Minstrel chocolates, which usually cost around £2 on the high street.
The chain, which recently moved into Morriston Hospital, in Swansea, was also charging 99p for a can of coke, which costs 65p in a high street store, the South Wales Evening Post reported.
A spokesman for WHSmith said: "Occupation costs in our hospital locations can be up to 40 per cent of sales, materially higher than the fixed margins we make on newspapers and magazines. In Pontefract hospital our occupancy costs are almost 60 per cent of sales resulting in a material loss in that store. Despite this we are committed to continuing to serve our customers in locations such as this."
Ms Sherriff added: "WHSmith is saying it is to do with costs, which doesn't wash with me. They have stores on elite high streets and I'm sure hospitals don't exceed costs there."
Katherine Murphy, chief executive of the independent charity the Patients Association, told the BBC that the prices were "just morally wrong". "I am shocked because they are targeting the wrong people: poorly paid staff and patients," she said. "It is wrong to take advantage of a captive audience."
When Parliament returns from its summer recess, Ms Sherriff, the MP for Dewsbury and Mirfield, said she will be raising the matter with ministers, as well as pushing for an inquiry by the health select committee.
Opening stores in hospitals, train stations, service stations and airports is a lucrative business for retailers because there is often little competition, meaning prices can be far higher.
WHSmith has spent the past decade focusing most of its efforts in opening at these kind of locations, as its high street stores fall into decline. The company has pushed for bigger profits at the cost of sales falling, and last year raked in £72m in profits from its travel operations – which are now bigger than its high street business. Bosses also boasted in their last full-year results that profit margins had risen 100 basis points, or by 1 per cent, last year through its hospital stores.
In numbers: the NHS crisis

Show all 7
The latest revelation comes as the company was heavily criticised for profiting as much as £50m over the last five years from VAT collected at airport stores, which should have been passed on to customers. The company claims the true amount is "substantially" lower but has not given a precise figure.
Bosses insisted it would be "impossible" to implement a dual pricing system, despite several high-street lunch chains already adjusting airport prices depending on whether customers are eating in or taking out their food.
WHSmith has previously said that "any [VAT] relief obtained is reflected in [its] single price and extensive promotional offers".
It added that many of its items, including books, magazines and newspapers do not attract VAT and that any VAT relief "associated with the identification of customers travelling outside of the EU is reported in accordance with UK legislation".
Register for free to continue reading
Registration is a free and easy way to support our truly independent journalism
By registering, you will also enjoy limited access to Premium articles, exclusive newsletters, commenting, and virtual events with our leading journalists
Already have an account? sign in
Join our new commenting forum
Join thought-provoking conversations, follow other Independent readers and see their replies