Why are so many Westerners homeless in Thailand?
The idyllic beaches have long attracted Brits but a growing number find themselves living rough, with drink problems and expired visas. Stephen Finch and Jamie Merrill report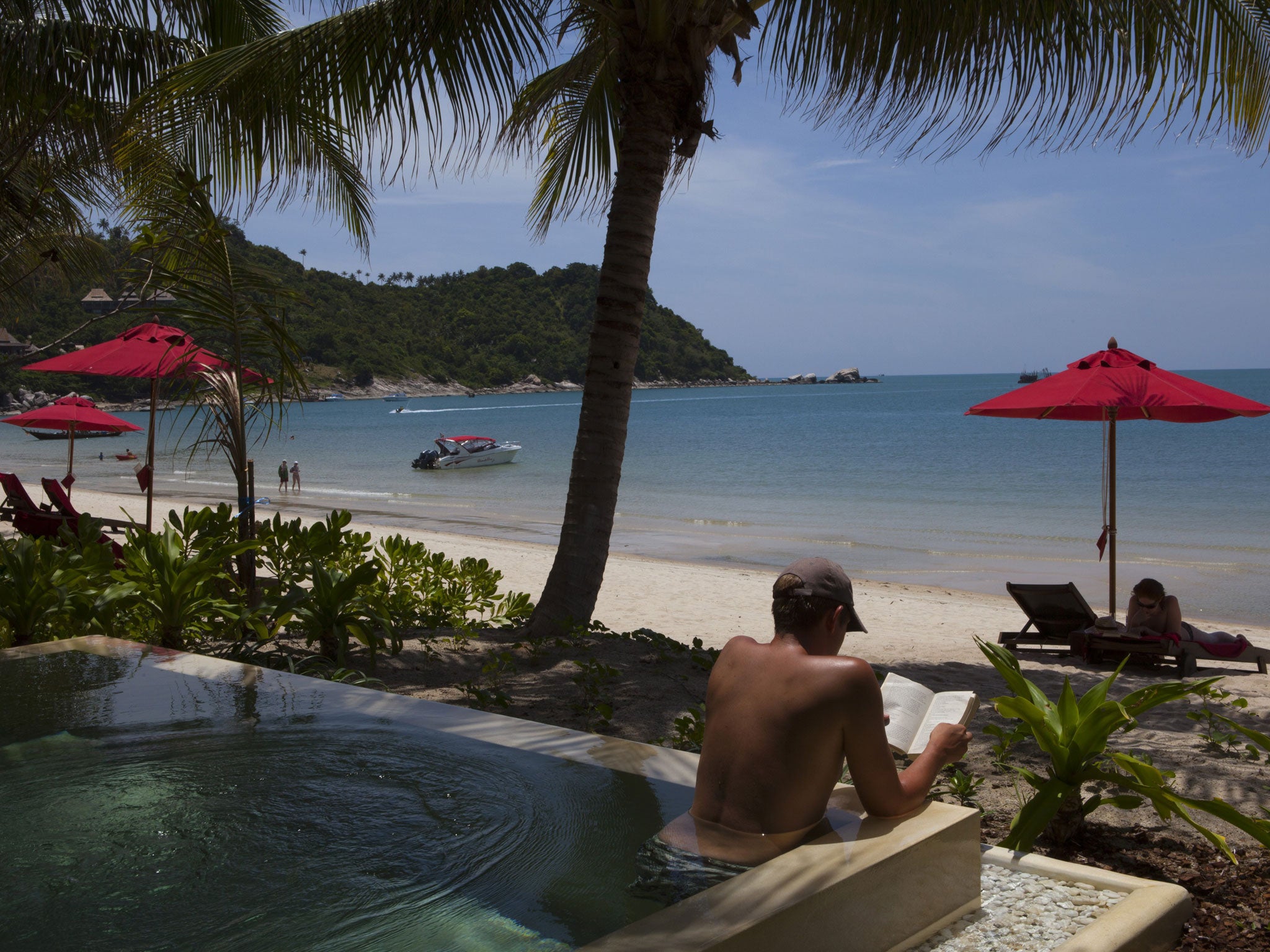 Steve is homeless. The 59-year-old isn't living rough on the streets of London or his home town of Manchester though. He's sleeping rough thousands of miles away in Thailand. For most people, spending months on a Thai beach sounds too good to be true. But the dream has turned sour for some foreigners in this popular South-east Asian destination.
A growing number of Europeans and Americans are living homeless in alleyways and on white sandy beaches in tropical Thailand, say charities in the country, with foreign embassies accused of failing to help their own nationals when they get into trouble.
Steve, who declined to give his surname over fears that his long-expired visa could land him in jail, said he has spent two years sleeping rough on Jomtien Beach, a 90-minute drive from Bangkok. "I've gone 14 days without food before. I lived off just tea and coffee," he told The Independent.
After his marriage of 33 years ended seven years ago, Steve began regular visits to Thailand before setting up permanently in Pattaya, a seaside resort with a sleazy reputation close to Jomtien.
"I'm a bit of a sexaholic," he says, also admitting a fondness for alcohol. When a business venture failed, Steve ended up sleeping on the beach. "I sent emails to friends in England just asking for a fiver but no one replied. That made me really sad," he says.
Sunanta Kaewmuangphet said she has seen about 25 Westerners in a similar situation in Pattaya alone since she started a homeless charity, Shelter Centre, a year ago. Since then, she has helped people from the UK, Italy, Austria, Holland, Scandinavia and the US, almost all of them men. "These people need help but no one is helping them," says Sunanta.
The Issarachon Foundation, a homeless organisation based in Bangkok, recently estimated that there could be as many as 200 foreigners living rough across Thailand, along with 30,000 Thais. The organisation said that while 40 per cent of homeless Thais suffer from mental health problems, most foreign homeless people are men with alcohol problems.
To get by, many homeless Westerners have to eat leftovers at food courts or beg on the streets. Others have been seen busking outside major train stations in the county's capital.
"The problem is worse now than it was 10 years ago," said Lieutenant- Colonel Vasu Sangsuksai, Tourist Police deputy for central Thailand, which includes Pattaya. It's a problem without a solution, he said. Overseas visitors caught with an expired visa face fines of up to 20,000 baht (£400) but homeless foreigners typically cannot afford to pay. The next step is prison, according to Thai law. "Many times I speak to embassies and they say that they can't do anything," says Lt-Col Vasu.
Afraid of the Thai authorities, Steve says he went to the British consulate in Jomtien every week day for seven months but staff told him that they could not help. "They felt sorry for me but they do nothing," he said.
The Jomtien consulate was closed in November after Whitehall targeted £240m in Foreign Office spending cuts by April, 2015. The British consul in Bangkok, Michael Hancock, said: "The consular team provides an increased level of assistance to these most vulnerable people in order to help them resolve their difficulties and resume their lives in Thailand or return to the UK." Last year, the Bangkok embassy provided assistance to 1,141 British nationals, a record for the UK mission in Thailand.
Paul Garrigan, a long-time Thai resident, isn't surprised by the growing problem of homeless and stranded Westerners. The 44-year-old spent five years "drinking himself to death" in Thailand before giving up alcohol in 2006 and writing a book called Dead Drunk about his ordeal and the expats who have fallen on hard times in the country. He told The Independent: "I'd been living in Saudi Arabia where I worked a nurse but I've been an alcoholic since my teens and, after a holiday to Thailand in 2001, I decided I may as well drink myself to death on a beautiful island in Thailand. Like many people I taught English at a school but spent much of my time on islands such as Ko Samui where I could start drinking early in the morning at not be judged.
"I was very lucky I put myself on the straight and narrow before I became homeless myself. Many others don't."
Homeless Westerners are a shocking sight for Thais who generally see Western residents and backpackers, known locally as "farang", as relatively affluent. This has made them the focus of local media reports and last month The Bangkok Post highlighted the case of Sylvester, a 61-year-old African- American who sleeps on the beach in central Pattaya and resorts to using public washrooms to stay clean.
"I have shorts and T-shirts in my backpack for a change of clothes. On the beach, I sleep on a mat and my backpack is my pillow." He told the newspaper that he used to work as private contractor in Iraq before falling for a bar girl in Pattaya in 2009. The relationship ended in 2011 when he lost most of his saving invested in a lorry in her name. Despite his visa expiring he decided to stay on in the county: "I do not have anyone is the US," he said.
This sort of story isn't uncommon said Garrigan, "It can be very hard to admit to family back home – if you have any – that your dream life in Thailand has gone wrong or that your heart has been broken and that you are desperate to come home."
Other homeless Westerners may be suffering from legal problems. Bruno Min, the direct assistance co-ordinator for Fair Trials, said foreigners facing charges aboard "are often subject to a travel ban for lengthy periods, leaving them stranded in a foreign country, with few sources of basic financial and welfare support, and very vulnerable to destitution".
Join our commenting forum
Join thought-provoking conversations, follow other Independent readers and see their replies