Why Historic England is hailing the charm of Coventry
Some might struggle with the idea that the city's centre should take its place as an exemplar of civic architecture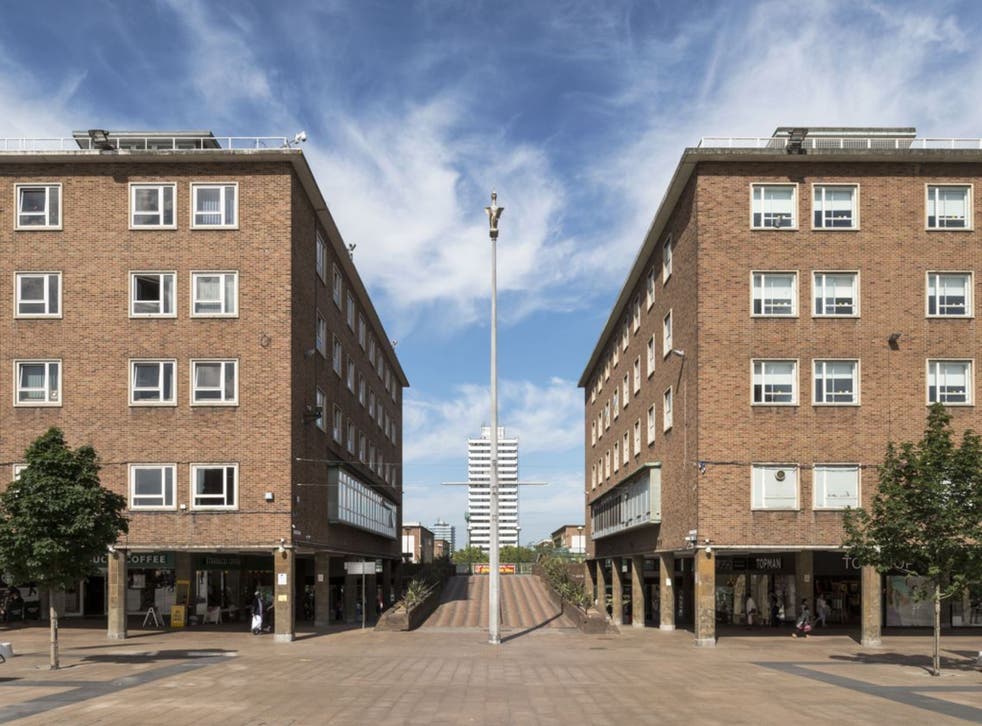 Barely three weeks after German bombers had obliterated the medieval core of Coventry and killed nearly 570 people in November 1940, its chief architect announced that the Nazi atrocity had presented the city with a long-needed opportunity.
Prior to the outbreak of the Second World War, the Labour leaders of the Midlands city had commissioned their young, visionary civic architect, Donald Gibson, to come up with a plan to overhaul the cramped and traffic-choked centre as Coventry blossomed from a quiet Victorian market town into a burgeoning industrial hub.
It failed to make much progress until, with impressive chutzpah, Gibson and the city's elders saw a silver lining in the cataclysmic intervention of the Luftwaffe.
At the end of the war Gibson wasted no time in finalising his plans for revolutionising central Coventry – mingling high-grade architecture with civic art and building Europe's first pedestrianised shopping centre – to create a blueprint for a civic reinvention that once complete by the early 1960s brought admirers flocking from across the world.
But while the other centrepiece of Coventry's post-war resurrection, Sir Basil Spence's pared-back cathedral, continues to attract plaudits and appreciative crowds some five decades after its completion, conservationists are concerned that the equally pioneering work of its reimagined city centre – much of it already listed – is in danger of becoming obscured and lost.
Historic England, the government's conservation watchdog, this week published a book chronicling the rebuilding of Coventry. Its aim was to alert residents and officials alike that, far from having inherited another concrete carbuncle of the sort that many argue inflicted more damage on Britain's post-war cities than the Luftwaffe, they are the custodians of revolutionary architecture.
It has raised particular concern about the fate of the "civic zone" of council offices created by Gibson and his successors, whose future is unclear while a new headquarters for the city council is built on the edge of the centre.
With its boarded-up shopfronts and much of the original 1950s architecture obscured by later additions, some might struggle with the idea that central Coventry should take its place alongside Brazil's Brasilia or England's new towns as exemplars of 20th-century civic architecture.
But campaigners are eager to highlight the radical nature of Coventry's makeover, which its creators hoped would encourage something of a socialist paradise, with features including the Precinct – the traffic-free galleried shopping area inspired by Chester's medieval Rows where citizens were expected to gather for activism and morris-dancing.
The Independent was this week taken on a walking tour of Coventry's unsung treasures, including its circular Central Market, decorated with murals by art students from Dresden, and its centrepiece Broadgate Square, originally intended to be decorated with a monumental arch now in-filled with a branch of a building society.
Jeremy Gould, emeritus professor of architecture at Plymouth University, who co-authored the Historic England book with his architect wife Caroline, said: "These are such an important set of buildings. Coventry was at the forefront of post-war reconstruction and it was the first time that an architect had produced an example of how you make a new town or city centre. It was built with the best materials to stand the test of time. It was viewed as hugely successful – architects and planners rushed from across the world after the war to see how it was done. It could and should be preserved."
With façades of Travertine marble and Westmorland slate, the key buildings in the centre were designed to form long avenues with the spire of the firebombed cathedral – a symbol of post-war reconciliation along with Spence's new church – at their apex. Each major structure also featured works by leading British artists, including a tiled mural by illustrator Gordon Cullen and a row of extraordinary semi-relief concrete panels by sculptor William Mitchell, which currently provides a façade for a chicken shop.
Coventry City Council last year unveiled a regeneration plan for its core area, which pledged to maintain the listed post-war buildings, including the Central Swimming Baths, and acknowledged that later additions to Gibson's design had "spoilt its clarity".
But Historic England said it wanted to shine a light on buildings in Coventry, which "may have fallen out of favour", including the Scandinavian-influenced City Architect's office from which Gibson and his successors conducted their work.
Prof Gould said: "It wasn't a glitzy or a showy architecture, it was supposed to be rooted in a sense of place. It would be good if that could be rediscovered."
---
Five things to see in Coventry
1) Broadgate (1948-53)
The centrepiece of Donald Gibson's vision for Coventry, the wide square was designed to have a monumental arch, a hotel and a department store. It still retains its "Peeping Tom" clock with Lady Godiva riding out on the hour.
2) The Precinct (1953-55)
Europe's first pedestrianised shopping area was the key to the redesign, offering traffic-free shopping on a long axis in line with the spire of the city's bombed cathedral.
3) City Market (1956-58)
The circular market hall was the creation of Gibson's successor, Arthur Ling. With its concentric rows of stalls and Socialist realist murals, it remains one of Coventry's best-loved buildings.
4) Belgrade Theatre (1955-58)
The first new municipal theatre to open since the war, it was intended as a venue for left-wing productions to "explore issues of cultural, social, political and moral significance". It was named following a gift of beech wood for its ceilings from the capital of then Yugoslavia.
5) Bull Yard sculptures (1966)
The Aztec-inspired concrete sculptures by William Mitchell were designed as the facade for a city centre pub. They now adorn a fast-food restaurant.
Register for free to continue reading
Registration is a free and easy way to support our truly independent journalism
By registering, you will also enjoy limited access to Premium articles, exclusive newsletters, commenting, and virtual events with our leading journalists
Already have an account? sign in
Register for free to continue reading
Registration is a free and easy way to support our truly independent journalism
By registering, you will also enjoy limited access to Premium articles, exclusive newsletters, commenting, and virtual events with our leading journalists
Already have an account? sign in
Join our new commenting forum
Join thought-provoking conversations, follow other Independent readers and see their replies