'Your wife is hot' advert that was banned on buses reappears on billboard
'It's like something out of the 1950s', say locals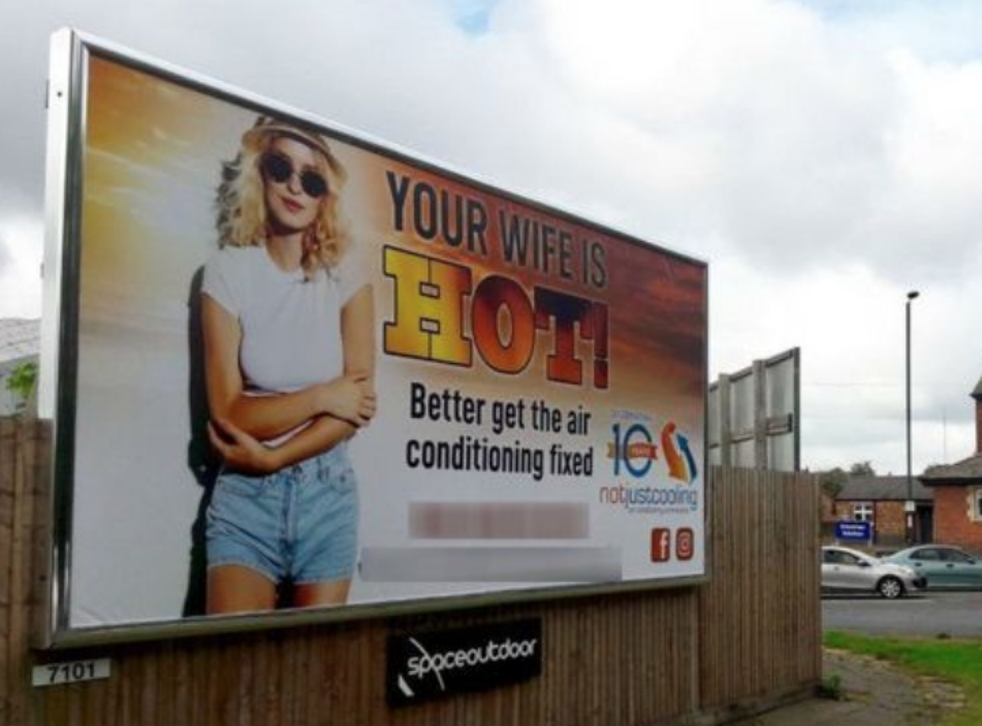 A "sexist" advertisement banned from a fleet of buses after it was ruled inappropriate has reappeared on an enormous billboard.
The air conditioning advert, which says "Your wife is hot", and has a photograph of a woman on it, was rejected by transport bosses in Nottingham but now covers a billboard in the city.
Lee Davies, who designed the ad, told the BBC "air conditioning was a hard thing to advertise", and the billboard was meant as "a little bit of harmless fun".
He said he had run the idea past his team of engineers, who are all men, and who had supported it, and that his mother and wife had also both approved of the promotion.
But the advert is near a school uniform shop and some people have called for it to be removed.
Robert De Niro appears as bagel gangster in Warburtons' advert

Show all 5
Professor Carrie Paechter, director of the Nottingham Centre for Children, Young People and Families, told the BBC she thought the advert was "like something out of the 1950s" and should be removed.
"If I had young children, I wouldn't want them passing that on the way to school, because of the messages it gives them about society," she said.
"The subliminal message about society is that it's ok to comment on women's bodies, and comment on women's bodies as if they are the possession of someone else – 'your wife'."
She added: "I don't want to demonise the company or the company's owner but it is a foolish advert and it needs to come down."
The debacle comes just one month after new rules set out by the Advertising Standards Authority (ASA) banned adverts which show harmful gender stereotypes
It means companies can no longer depict scenes which promote gender stereotypes, such as women doing household chores while their male partners relax with their feet up.
Mr Davies said: "I don't mean to offend anybody.
"I saw an advert like this in America, I chuckled to myself and thought 'why not?'. Air conditioning is a very hard thing to advertise."
But staff in the school uniform shop were unimpressed.
"It's a bit sexist really," said Alison Marshall.
"It's like in the '70s and '80s when they used to have girls modelling with cars. To say 'Your wife is hot' is aiming it at men.
Her colleague Rebecca Morris said the picture of the woman had been put on the advert "for no reason".
"I don't see how it's relevant to air conditioning at all," she said.
The ASA said it had received two complaints about the advert since the publication of the BBC story.
A spokesperson told The Independent it was a "pretty low level", and said the ASA will assess it, but there had been no decision as yet over whether they would begin an investigation.