Wild white storks hatch in UK for first time in six centuries
Hopes the species can now be reestablished in south of England after break of 600 years
Colin Drury
Saturday 16 May 2020 19:09 Comments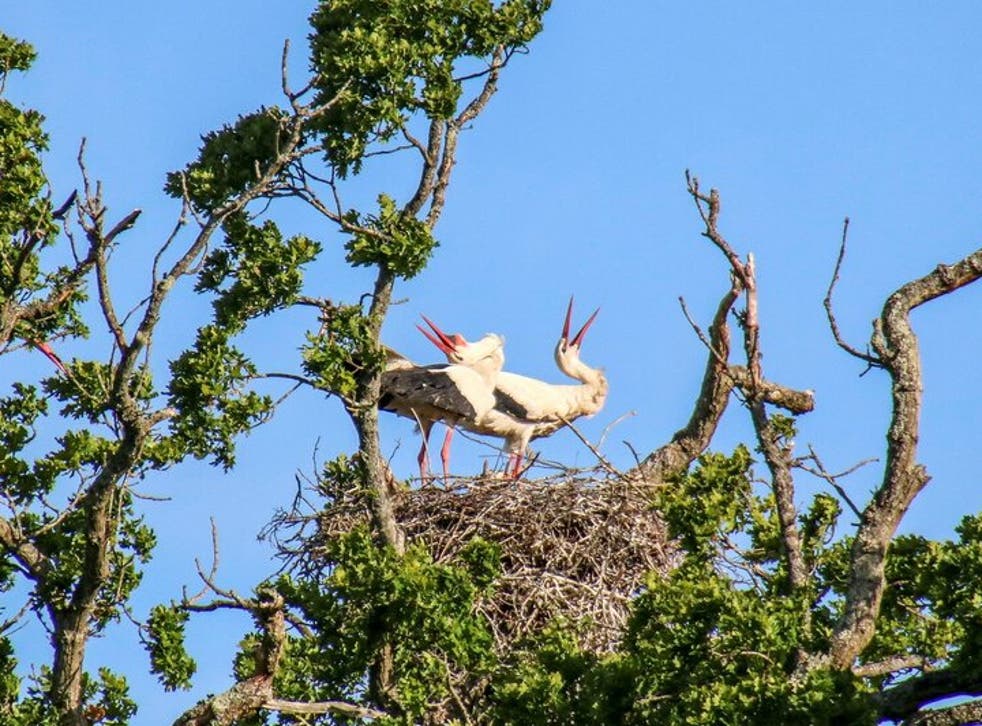 White stork chicks have been hatched in the wild in the UK for the first time in what is thought to be more than 600 years.
The birds cracked out of their eggs at the Knepp Estate in West Sussex.
Observers witnessed the parents removing eggshells and then regurgitating food for the babies, the White Stork Project announced on Saturday.
It is hoped the successful hatching will be the first step towards establishing the species in the south of England once again after a break of almost six centuries – the last chick to hatch on British soil is believed to have been born atop Edinburgh's St Giles' Cathedral in 1416.
Lucy Groves, project officer with the initiative, said: "After waiting 33 days for these eggs to hatch it was extremely exciting to see signs that the first egg had hatched on 6 May.
"The parents have been working hard and are doing a fantastic job, especially after a failed attempt last year."
UK news in pictures

Show all 50
She added: "These are early days for the chicks, and we will be monitoring them closely, but we have great hopes for them.
"This is just one step towards establishing this species in the south of England. It may be a small step, but it is an exciting one.
"This stunning species has really captured people's imagination and it has been great following the sightings of birds from the project during the period of lockdown and hearing about the joy and hope they have brought to people."
The project to breed wild white storks in the UK is a partnership of private landowners and conservation organisations including Cotswold Wildlife Park and Durrell Wildlife Conservation Trust.
It aims to restore a population of at least 50 breeding pairs across the south of England by 2030.
Isabella Tree, co-owner of Knepp – where large swathes of the 1,400 hectare site have been given over to such rewilding – said: "When I hear that clattering sound now, coming from the tops of our oak trees where they're currently nesting at Knepp, it feels like a sound from the Middle Ages has come back to life.
"We watch them walking through the long grass on their long legs, kicking up insects and deftly catching them in their long beaks as they go – there's no other bird that does that in the UK.
"It's walking back into a niche that has been empty for centuries."
Register for free to continue reading
Registration is a free and easy way to support our truly independent journalism
By registering, you will also enjoy limited access to Premium articles, exclusive newsletters, commenting, and virtual events with our leading journalists
Already have an account? sign in
Join our new commenting forum
Join thought-provoking conversations, follow other Independent readers and see their replies