World's most powerful wind turbine goes up off Scottish coast - despite Trump's opposition
US President had opposed massive development near his golf course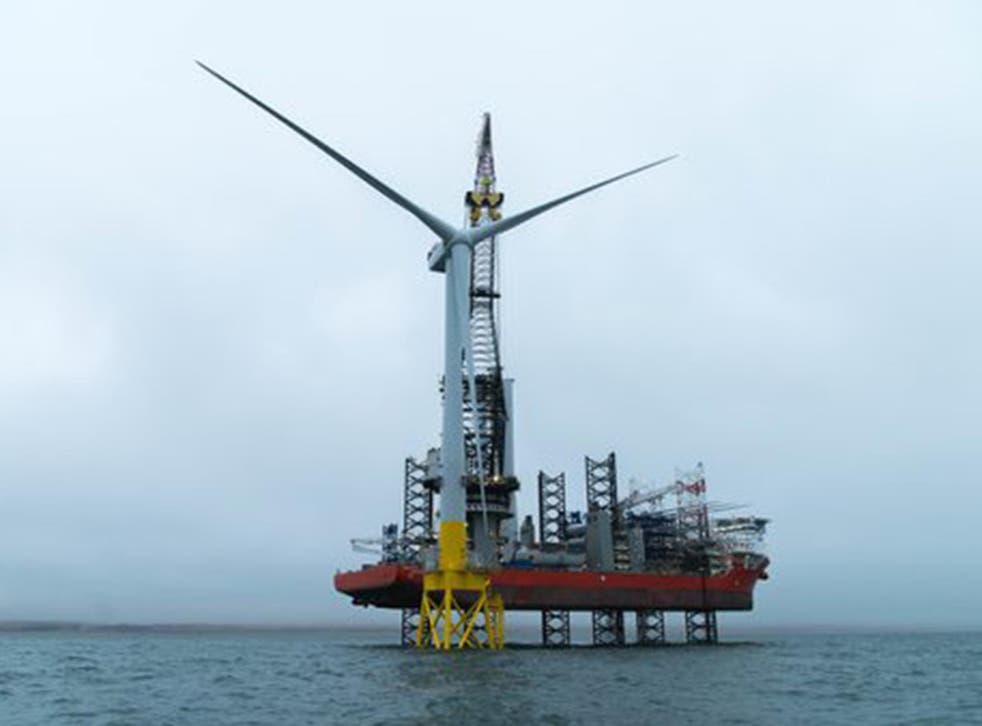 The world's most powerful wind turbine has been successfully installed off the coast of Aberdeen - despite opposition from Donald Trump.
The first of 11 planned superstructures, is so powerful that developers say a single rotation of its blades could power an average UK home for a day.
Before he was elected president, Mr Trump launched a legal challenge opposing the development labelling it "ugly".
He said the turbines would ruin the view from his multi-million pound golf development at Balmedie and called for the plan to be scrapped.
In a letter to then First Minister Alex Salmond in 2012, the tycoon-turned-Commander-in-chief said: "Don't destroy your coastlines and your countryside with the monstrous turbines. Your country will become a third world wasteland that global investors will avoid."
However, the Scottish Government approved the plans with the UK Supreme Court eventually rejecting Mr Trump's legal challenge in 2015.
After completing the installation with a giant floating crane, Adam Ezzamel, project manager with Swedish developers Vattenfall said it was a "momentous" moment.
"We are very excited by the cutting-edge technology deployed on all the turbines," he added.
It is the first time a 8.8 MegaWatt model has ever been deployed commercially. Its 164 metre rotor has a circumference that is larger than that of the London Eye.
And it is hoped the whole 11-structure project – called the European Offshore Wind Deployment Centre – will eventually produce more than 70 per cent of Aberdeen's domestic energy.
UK news in pictures

Show all 50
Jean Morrison, chair of the the city's Renewable Energy Group, said: "It's a real coup for the region to have the world's most powerful turbines on its doorstep and cements Aberdeen's position as a major global energy city. It also will lead us to a greener future."
Stephanie Conesa, policy manager at Scottish Renewables, said: "Scotland is home to approximately 25 per cent of Europe's offshore wind resource and projects like this promise to harness this potential on a massive scale.
"This ground-breaking facility leads Aberdeen's ongoing transition from fossil fuels to renewables, and reinforces Scotland's global energy status. As the windiest country in Europe with some of the deepest waters, we should be proud of Scotland's burgeoning offshore wind industry.
"With many more promising offshore wind sites on our doorstep, we hope to see similar facilities deployed in Scottish waters in future so we can fully utilise our country's natural resources."
Register for free to continue reading
Registration is a free and easy way to support our truly independent journalism
By registering, you will also enjoy limited access to Premium articles, exclusive newsletters, commenting, and virtual events with our leading journalists
Already have an account? sign in
Register for free to continue reading
Registration is a free and easy way to support our truly independent journalism
By registering, you will also enjoy limited access to Premium articles, exclusive newsletters, commenting, and virtual events with our leading journalists
Already have an account? sign in
Join our new commenting forum
Join thought-provoking conversations, follow other Independent readers and see their replies