Windrush man says he wouldn't have been wrongly detained if it weren't for his race
'I hate to say it, but I don't think I'd have this problem if I had come from Canada instead of coming from Jamaica,' says Anthony Bryan
May Bulman
Social Affairs Correspondent
Thursday 17 May 2018 19:09 Comments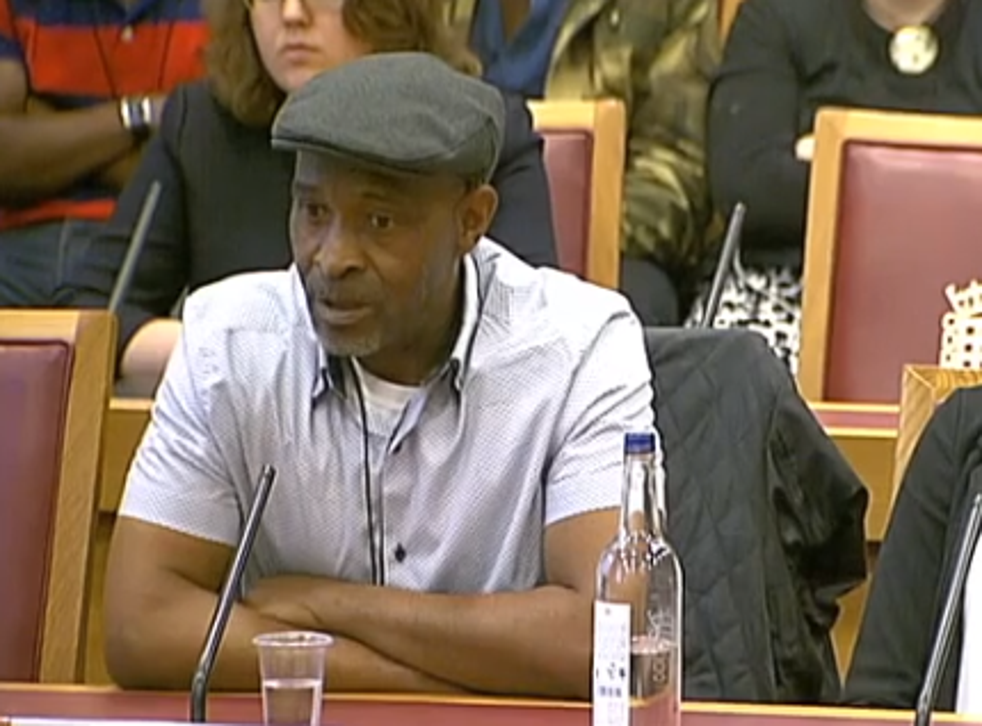 A member of the Windrush generation who was wrongly detained and threatened with deportation said he does not believe it would have happened had he been a different race.
Anthony Bryan, who has lived in the UK since he was eight years old, told MPs that had he come from Canada and not Jamaica, he thinks that he would not have faced such problems.
Speaking before the Human Rights Committee, he added that he thought racial discrimination was a problem in the Home Office.
"I hate to say it, but I don't think I'd have this problem if I had come from Canada instead of coming from Jamaica," the grandfather from north London said, as he described his experience of being classified as an illegal citizen, despite having lived in the country for decades.
Sitting next to him was his wife Janet, who added that it was "because of the colour of your skin".
Baroness (Doreen) Lawrence of Clarendon, whose son Stephen Lawrence was murdered in a racially motivated attack in 1993, asked whether he believed race played a big part.
"In the Home Office, yeah," he said.
Mr Bryan was held in a detention centre twice, for almost three weeks, last year.
"I didn't believe they could do anything because I had been here so long. I was in primary school here," he told MPs. "I didn't believe it until they came banging on the door to take me into detention."
Windrush generation: threat of deportation from UK

Show all 15
Paulette Wilson, who was also detained for a week in a centre and narrowly avoided deportation despite having lived in Britain for 50 years, also gave evidence.
"I had the feeling I was going to be put on the plane the next day," she said, adding: "I would be in Jamaica all alone. I didn't know anyone over there. I thought they were sending me to die."
The pair were both members of the Windrush generation – people who arrived from the Caribbean between the late 1940s and early 1970s.
The name is a reference to the ship MV Empire Windrush, which arrived at Tilbury Docks, Essex, in June 1948, bringing workers from Jamaica, Trinidad and Tobago and other islands, as a response to post-war labour shortages in the UK.
Although they have every right to be in the country, some have been targeted by immigration officials.
As a result some have lost jobs and homes for failing to have the right paperwork, while others have reportedly been denied critical medical treatment and been targeted for deportation.
Their testimony came after home secretary Sajid Javid revealed earlier this week that the Home Office was investigating 63 cases involving people of Caribbean descent, who may have been removed from the country despite living in the UK legally for decades.
He told MPs: "The department has been going back and checking its records from 2002 onwards looking at all removals and deportations of Caribbean nationals aged over 45, meaning they could have potentially benefited from the 1971 Act. So far, we have found 63 cases where individuals could have entered the UK before 1973."
Of the 63 cases, Mr Javid said 32 were foreign national offenders and 31 were administrative removals – of which he said all but one were voluntary removals, meaning they left because they received letters saying they must leave.
Register for free to continue reading
Registration is a free and easy way to support our truly independent journalism
By registering, you will also enjoy limited access to Premium articles, exclusive newsletters, commenting, and virtual events with our leading journalists
Already have an account? sign in
Register for free to continue reading
Registration is a free and easy way to support our truly independent journalism
By registering, you will also enjoy limited access to Premium articles, exclusive newsletters, commenting, and virtual events with our leading journalists
Already have an account? sign in
Join our new commenting forum
Join thought-provoking conversations, follow other Independent readers and see their replies