Windsor council set to fine homeless people sleeping rough before royal wedding
Penalty 'inhumane', says homelessness group
Harriet Agerholm
Tuesday 13 February 2018 13:25 Comments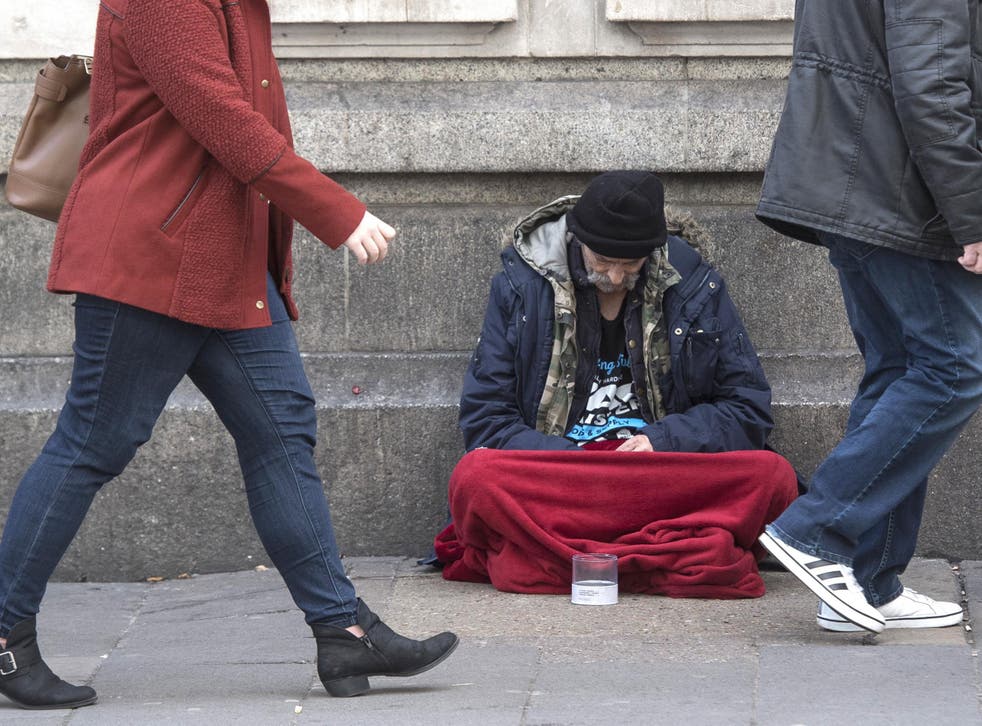 People sleeping rough in Windsor could be fined up to £100 under proposed measures to reduce the visibility of homelessness in the borough ahead of the royal wedding.
Windsor and Maidenhead Council wants to ban people from begging and from leaving their belongings, including their bedding, "unattended" on the street.
The council hopes the "robust strategy" will reduce rough sleepers by 50 per cent by the end of March, ahead of Prince Harry and Meghan Markle's wedding at Windsor Castle on 19 May.
The proposals come after Windsor council leader Simon Dudley said the number of rough sleepers would put Windsor in a "sadly unfavourable light" when it hosts the wedding.
He demanded police use legal powers to clear the area of those sleeping rough, claiming homeless people chose to sleep on the streets and there was "high-quality housing" available to them.
Mr Dudley survived a vote of no confidence and now the council is preparing a consultation on measures to get the borough's 14 long-term rough sleepers off the streets.
Proposals include increasing support available for rough sleepers, including accommodation and specialist services for issues such as addiction and mental health.
But those who refuse to engage with the services in a 56-day window will be issued with a Community Protection Notice requiring them to attend or face a fine of up to £100.
The fine will be cut to £50 for early payment, but offenders could face a summary conviction and a £1,000 fine if they do not pay.
The council said the measures were needed to tackle what it called "aggressive or proactive begging" such as begging near a cash machine or in a manner "reasonably perceived to be intimidating or aggressive".
Other proposals under consideration are banning any verbal, non-verbal or written requests for money, and leaving bedding, personal belongings and other material in public places.
A spokesman for the council said that no date for the consultation to begin had been set, or for when any future strategy may start, but the proposals could be implemented within a matter of months.
The report said: "It is proposed that the strategy be developed quickly so that the benefits for the vulnerable individuals can be realised as soon as possible."
The report said any future strategy aimed "to both strengthen the current offer of support afforded to those rough sleeping, and at the same time ensuring there are consequences for those who behave antisocially and or fail to engage with support offered".
It proposed a multi-agency approach including outreach workers, housing support officers and community wardens.
The spokesman said: "Every rough sleeper has complex and personal needs that we work to address on an individual basis.
"As part of the developing strategy we will look at what support is offered by the borough and other organisations."
UK news in pictures

Show all 50
Murphy James, from the Windsor Homeless Project, was sceptical of the plans or how the council proposed to fine someone "who quite evidently, has no money".
He told the BBC: "Criminalise real criminals, not those that are forced into a situation by circumstance and left to survive. That is quite simply inhumane."
In January it emerged the number of people sleeping rough in England was at a record high – after a 73 per cent increase over the last three years.
Official government data shows that on any given night in autumn last year, 4,751 people were recorded sleeping on the streets, more than double the number who were in 2010.
Press Association contributed to this report
Register for free to continue reading
Registration is a free and easy way to support our truly independent journalism
By registering, you will also enjoy limited access to Premium articles, exclusive newsletters, commenting, and virtual events with our leading journalists
Already have an account? sign in
Join our new commenting forum
Join thought-provoking conversations, follow other Independent readers and see their replies