Woman attacks Jeremy Hunt after daughter dies at end of junior doctors' strike
'How dare you Mr Hunt... Our NHS is amazing and deserves to be supported and saved'
Alexandra Sims
Tuesday 03 May 2016 10:28 Comments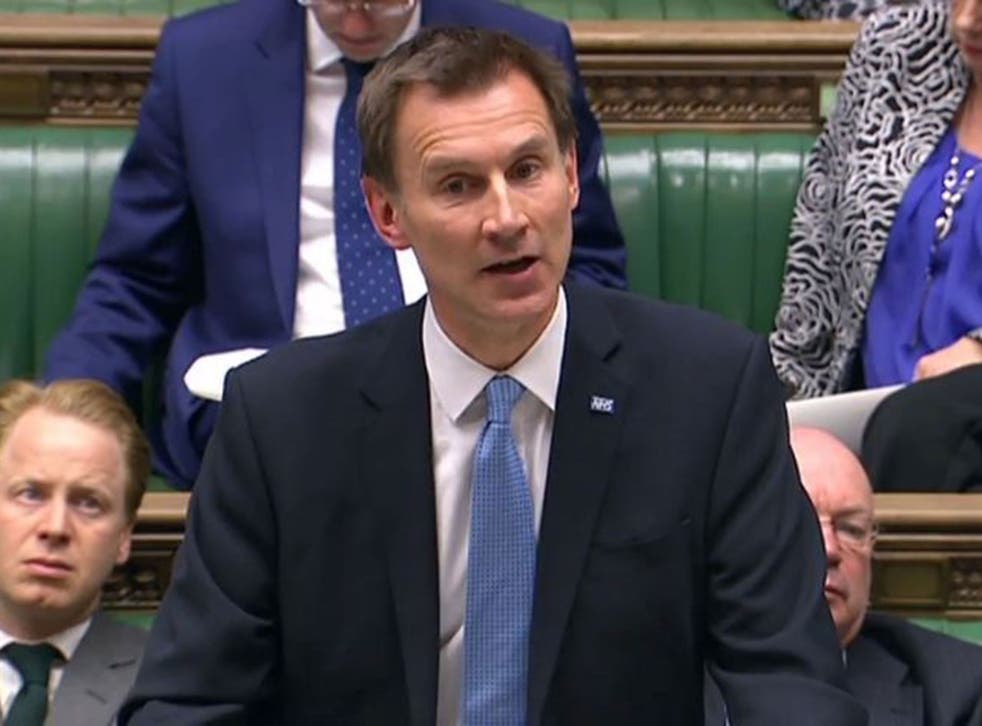 A woman has lambasted Jeremy Hunt for attempting to "destroy and discredit" NHS staff after her daughter died in hospital, hours after the conclusion of the latest junior doctors' strike.
Julie Ann Lovell's daughter, Karen, died at Wythenshawe Hospital in Manchester at 9pm on Wednesday; just four hours after the strike over proposed doctors' contracts came to an end.
The 33-year-old had been in critical care for several weeks following a heart operation.
In a Facebook post addressed to Mr Hunt, Ms Lovell said she "fully support[s]" the junior doctors' actions, saying her daughter "did not die due to this strike".
The 51-year-old said she would not "accept" her daughter's death being included in "any statistics" aimed at demeaning striking doctors, praising the staff at Wythenshawe Hospital for their "care and attention".
The Health Secretary warned last week's strike action, which was the first all-out stoppage to include NHS emergency medical care, would create an "unacceptable" risk of patient deaths and labelled the strike as a "very, very bleak day for the NHS".
Ms Lovell's post, which has been shared over 53,000 times, reads: "Jeremy Hunt. How dare you! My darling daughter passed away at 9pm Wednesday evening in Wythenshawe hospital at the end of the two day strike by the young doctors whom I fully support. She did not die due to this strike and I will NOT accept her name included in any statistics saying it was.
"Every member of the doctors and nurses who looked after and worked tirelessly for the 4 weeks she was in there were and remain amazing people. How dare you Mr Hunt. I challenge you to sit quietly in intensive care and watch the staff treat patients with so much care and attention. Both nurses and doctors at all levels. 12 hour shifts 16 hour shifts and more.
Leading Junior Doctor quits live on air
"Our NHS is amazing and deserves to be supported and saved.
"My daughter Karen had many procedures some surgical and Mr Hunt even on Sundays! How dare you Mr Hunt! Karen and every other patient in that Critical Care Unit received expert care and treatment day and night and 7 days a week despite your attempt to destroy and discredit these wonderful people who I know did everything in their power to save my beautiful daughter.
"How dare YOU Mr Hunt. And thank you everyone at Wythenshawe."
In pictures: Junior doctors first all-out strike

Show all 10
A survey for the Independent found a majority of people supported last week's all-out strike by junior doctors, with 58 per cent of the pubic agreeing doctors were right to strike over the Government's decision to impose a new contract on them. Three in 10 people (31 per cent) disagreed with this statement, while 11 per cent replied "don't know".
Doctors say the new contract will harm patient safety by incentivising unsafe shift rosters. The Government says it will help improve care at the weekends.
A Department of Health spokesman said monthly and weekly death statistics would be published online as usual, however there is no indication data specific to the doctors' strikes would be gathered.
Register for free to continue reading
Registration is a free and easy way to support our truly independent journalism
By registering, you will also enjoy limited access to Premium articles, exclusive newsletters, commenting, and virtual events with our leading journalists
Already have an account? sign in
Join our new commenting forum
Join thought-provoking conversations, follow other Independent readers and see their replies