Woman calls passengers 'Isis bitches' in racist rant filmed on London bus - video
Police say they are aware of the incident which occured on a bus in Brent, north London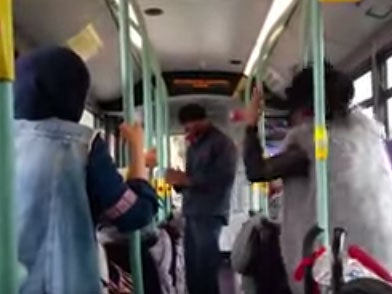 A woman's racist outburst on a London bus against a group of Muslim women has been caught on camera and shared on the internet.
The video, apparently filmed on the 206 bus in north London, shows a woman shouting at the group of women. According to the BBC, one was pregnant.
The woman, who is stood with a pram, can be heard in the video repeatedly calling them "Isis bitches", "dirty whores" and telling them "go back to your f*****g country".
She is also heard issuing physical threats, including: "I will kick you in the uterus so you never have kids again".
WARNING: THE VIDEO BELOW CONTAINS FREQUENT SWEARING AND OFFENSIVE LANGUAGE
During the video, the bus driver stops the bus and is seen telling the women to "relax".
A Facebook user originally posted the video on the social networking site but it was later taken down. Other versions of the video have since surfaced online.
A spokesperson for the Metropolitan police said: "Officers from Brent Safer Transport Team are investigating video footage which shows a racist incident taking place on a route 206 bus at around 10:30am on Tuesday 13 October. The bus was travelling along Knatchbull Road, Brent at the time of the incident. Enquiries are ongoing."
Mike Weston, Transport for London's director of buses said: "This behaviour is completely unacceptable and will not be tolerated on our network. Passengers who use our services should be allowed to do so without fear of abuse and we are working closely with Metroline and the police to fully investigate this incident."
Police advise anyone who has information that may assist investigation, or was on the bus when the footage was taken to call 101 or Crimestoppers anonymously on 0800 555 111.
Join our commenting forum
Join thought-provoking conversations, follow other Independent readers and see their replies