Woman willing to spend £15,000 on designer to make dress out of dead mother's hair
'The material I'd like to create it from is admittedly quite weird'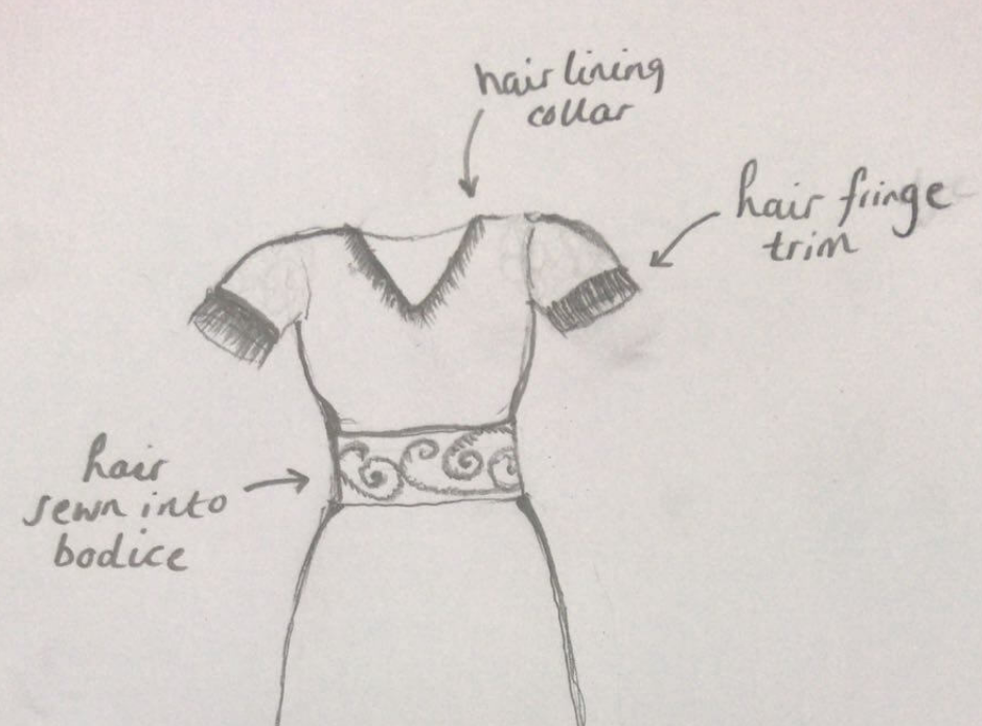 A woman is searching for a dressmaker who is able to create a "bespoke ball gown" with design features using her dead mother's hair.
The 61-year-old woman from Bristol, who wants to remain anonymous, collected her mother's hair over a four-year period, and is willing to pay a skilled designer up to £15,000 to manufacture the garment.
She posted the unusual request on fashion design website Sewport, where she admitted her request was "quite weird".
She wrote: "I'm looking for someone to recreate my mother's wedding dress from 1953 which she wore when she married my father. My mother passed away recently and I'd like to create a special memento of her life. The dress will serve as this, however I need a specialist as the material I'd like to create it from is admittedly quite weird."
She added: "I found out my mother was ill in 2014 and from that point onward I began to collect her hair. At the time I wasn't sure why I was collecting it, however now I think I do."
The post includes a sketch of the floor-length gown which will feature human hair on the collar, sleeves and at the hem, and with a central frieze of patterned hair around the midriff.
She said she would like "the bodice around the midsection of the dress to have a lacy, floral design made with the hair."
Ideally the dress will be ready to wear by August 2019 for the anniversary of her mother's death, she added.
Boris Hodakel, founder of the Sewport website, told the BBC most design requests were typically snapped up by manufacturers within six hours.
He said: "We deal with quirky and wonderful designs every day - that's fashion."
But human hair is a tricky substance to use as a fabric.
Social designer Alix Bizet, a former designer in residence at the Design Museum London, who has previously made a clothing collection from human hair, told The Independent: "It is hard to use human hair as a fibre to create garments, as hair is not adapted to the textile technique we have today. It required a lot of research (and still does) to reach the quality to make wearable material."
Bride surprises grandmother by wearing her wedding dress

Show all 12
She added: "Hair is full of keratin and does not have the natural bond that wool has, like microscopic hooks that help the material to be stable and strong like in a classical felt."
Ms Bizet, whose work focuses on material and identity, said she empathised with the woman's decision to remain anonymous.
Support free-thinking journalism and attend Independent events
"Using human hair is often perceived as gross and unethical, due to the past history in Europe (the Nazis used murdered Jews' hair to make various items during the Second World War) but also because it has been associated with cannibalism," she said. "All this said, hair is a highly emotional subject that for some people is closely linked to the identity of a person - like an extension of their existence. It can be almost spiritual.
Support free-thinking journalism and subscribe to Independent Minds
"We often forget that in the Victorian time it was normal to have the hair of a loved one or lost one turned into objects like jewellery or just worn as ornaments on clothes, such as a braid on a brooch."
She added: "I think making this dress will be a quite emotional process that might feel a little odd at first but which will make her dress very special and giver her a unique bond with her mother."
Join our new commenting forum
Join thought-provoking conversations, follow other Independent readers and see their replies