Woman bitten by mystery insect has legs and fingertips amputated after contracting flesh-eating disease
Great-grandmother Susan Buttery spent three weeks in a coma after contracting lethal sepsis and fleash eating disease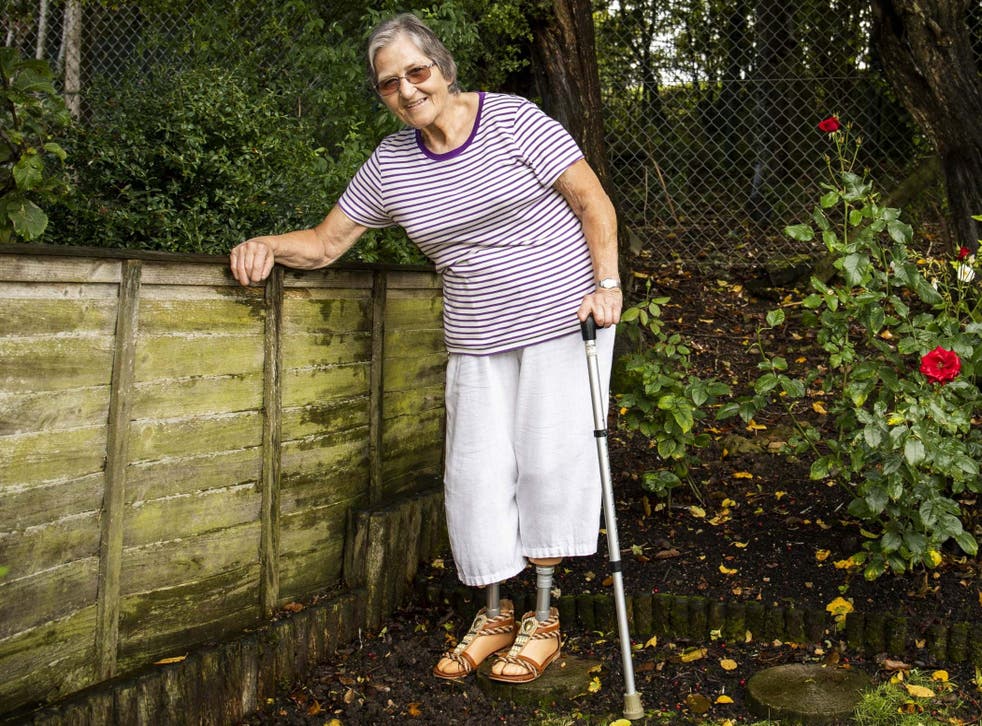 A great-grandmother bitten by a mystery insect while she was gardening was left needing both her legs and fingertips amputated to stop the spread of a flesh-eating disease.
Susan Buttery, from Highworth, Wiltshire, required a total of 60 operations to save her life after she suddenly became ill with flu-like symptoms and vomiting.
The 68-year-old had been bitten by an insect on the back of her head, which had caused a lump she believed would go back down, and had forgotten about it.
Doctors initially suspected Ms Buttery to be suffering from an allergy to an unknown substance, after her husband dropped her off at the hospital. But when he returned the next day, she had been put in an induced coma.
Ms Buttery was kept in the coma for three weeks and doctors at the Great Western Hospital in Swindon are said to have struggled to treat her as her condition deteriorated.
Wellness, health and wellbeing tips

Show all 6
When she was eventually brought round, she was told she would have to have her toes amputated.
Five days after she was admitted, doctors found the bite on Ms Buttery's head. Despite multiple tests, they never discovered what species of insect had been responsible.
She had developed streptococcal septicaemia and the flesh-eating disease necrotising fasciitis, causing her skin to go black.
"The skin came out necrotic, the more they were cleaning and trying to keep the infection out, the more it got into it. So, I had 60 operations and in hospital for eight months," she told the Swindon Advertiser.
"I remember the day when they said that the things will have to start going. I didn't think that it was that bad.
"When they said they had to take my legs, I just talked to myself 'Well they've got to go, otherwise I'm going to die,' and I just wanted to try to get back to as normal as possible, as soon as possible."
She was transferred to a Bristol hospital for the amputations on her legs and fingertips.
Ms Buttery has regained the ability to walk using prosthetic legs, and goes to the gym twice a week.
Before the infection she had been warned by doctors she was overweight and at risk of developing type II diabetes.
Three years ago she weighed 15 stone 9lbs, but started a six-week weight loss programme and is now 88lbs (six stone) lighter.
She has returned to gardening, but has said she is much more aware of the risks of infection.
Join our new commenting forum
Join thought-provoking conversations, follow other Independent readers and see their replies