Woman to marry homeless man she first saw 'ferreting' through bins 40 years ago
The couple have been close friends since 1975, but only decided to get married last year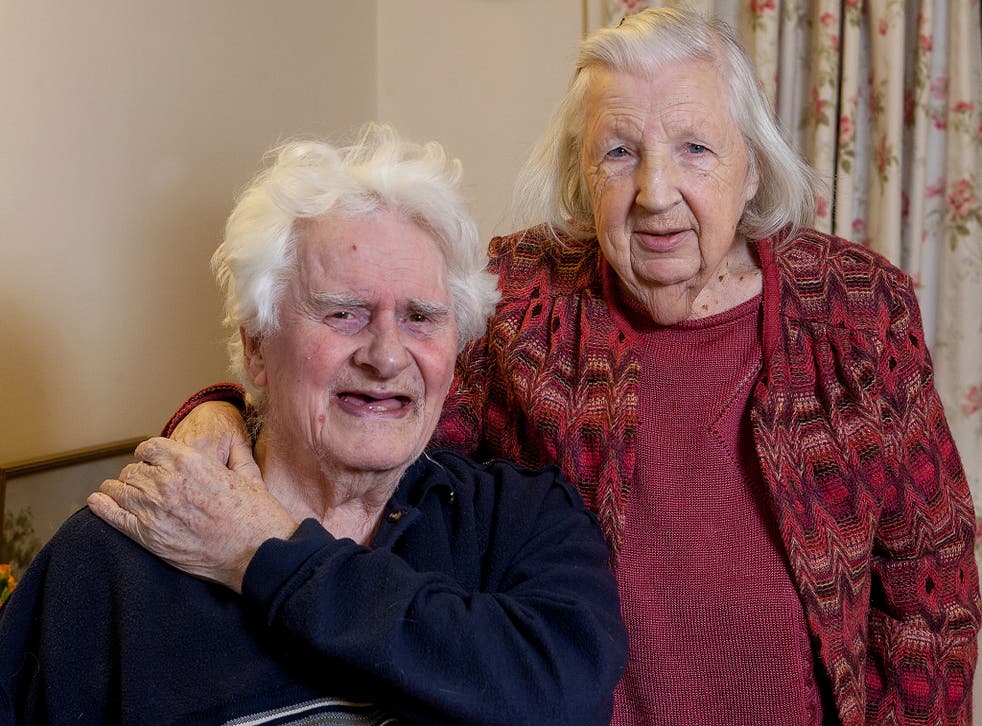 A widow is preparing to marry a homeless man she befriended after she spotted him sifting through her bins for food.
The octogenarian pair began to bond after Joan Neininger, now 88, started to leave carefully wrapped sandwiches for Ken Selway, 89, outside the bookshop she managed in Gloucester in the Spring of 1975.
Over the years the pair gradually became close friends and she has supported him as he struggled with schizophrenia.
"When I saw him ferreting through the bins outside a fish and chip shop near my bookshop, I never thought for a minute it would end like this," said Ms Neininger.
"But although he was living on the streets, I knew straight away that Ken was a lovely man with a beautiful soul."
Mr Selway was smartly dressed, in a belted grey mac, and "drank only milk", she said. She assumed he was staying in a B&B and had nowhere to go in the day time because of the negative stereotypes she had built up about homeless people, she said.
But after reading Jeremy Sandford's 1971 book about homelessness, Down and Out in Britain, she realised he could be one of many ordinary people slipping through the welfare state safety net.
Soon she had developed a strong emotional attachment to Mr Selway.
"The man haunted me like a spectre and it was dreadful to see him slowly deteriorate," she said. "The first time I saw him searching for food in a rubbish bin, it silently broke my heart."
Although he accepted the sandwiches, Mr Selway would not take any money from Ms Neininger.
Eventually, she persuaded him to have dinner with her and her husband, Norman, with whom she had three children.
Mr Selway gradually opened up about his life, telling the couple he had been born in London but sent to Wales as a child during the war, where he was conscripted to work in the coal mines.
When the Welsh man he had come to regard as a father died, he returned home. But his mother could not cope with his mental health problems so he left home sleeping in railway stations and shop doorways.
He had travelled to Gloucester in the hope of finding relatives of the man who had brought him up.
On his arrival he had stumbled across a derelict house to sleep in. His only belongings at the time were a set of clean clothes, a radio, a fossil he once mined and a few personal pieces that he kept in hidden behind a brick in a wall.
As he got to know them better, he told them that he frequently considered suicide.
Over the next few years, Mr Selway came in and out of Ms and Mr Neininger's lives.
Generally the three got on well, and at times lived happily together.
Ms Neininger admitted that she eventually fell in love with Mr Selway. But she said the pair never had sex because of his illness and as a result, Mr Neininger did not view him as a threat.
"I married at 16 and Norman was a wonderful man and a lovely husband and father," Ms Neininger said. "Because there was no sexual jealousy it was fine and Ken and Norman were like brothers. It was like a little paradise, just Ken, Norman and me."
But at times Mr Selway's mental health problems, which made his behaviour unpredictable, caused problems.
At one point, Mr Neininger issued an ultimatum, telling Mr Selway could not stay anymore. So Ms Neininger moved into a caravan for a period of time.
"People with schizophrenia are imprisoned by the voices," said Ms Neininger, who left her bookshop job to become a mental health campaigner. "Ken believed everything these voices were telling him so it was very difficult to have a relationship. I did not know anything about it but I soon learned."
After Mr Neininger died of a heart attack in 1983, the pair became even more inseparable.
When Mr Selway developed health problems and had to move into a care home, Ms Neininger, who is now a great grandmother, missed him so much she joined him there.
On 29 February 2016, the leap year day when tradition dictates that men can propose to women, she proposed and Mr Selway accepted.
They will now become husband and wife on Ms Neininger's birthday, four days after Valentine's Day, at Cinderford registry office.
She said her three children are delighted and her grandchildren all want to be bridesmaids.
The causes of homelessness

Show all 7
Mr Selway said his mental health has improved significantly since he started to get professional help and he is a lot happier now.
"When I met Joan I was sleeping rough and wanted to kill myself," he said. "I probably would not be here now if wasn't for her leaving those sandwiches in the bin. She's a really kind person."
But Ms Neininger said she could not take credit for rescuing Mr Selway.
"People say I saved Ken," said Ms Neininger. "But it was actually Jeremy Sandford's book that made me look twice at the men sleeping rough and see him as the person he was.
"The sad thing is that it's still happening today, in fact it's getting worse."
Join our new commenting forum
Join thought-provoking conversations, follow other Independent readers and see their replies