Giant billboard falls from a wall in Tooting crushing woman beneath it
The woman suffered leg and hip injuries and has been taken to St George's Hospital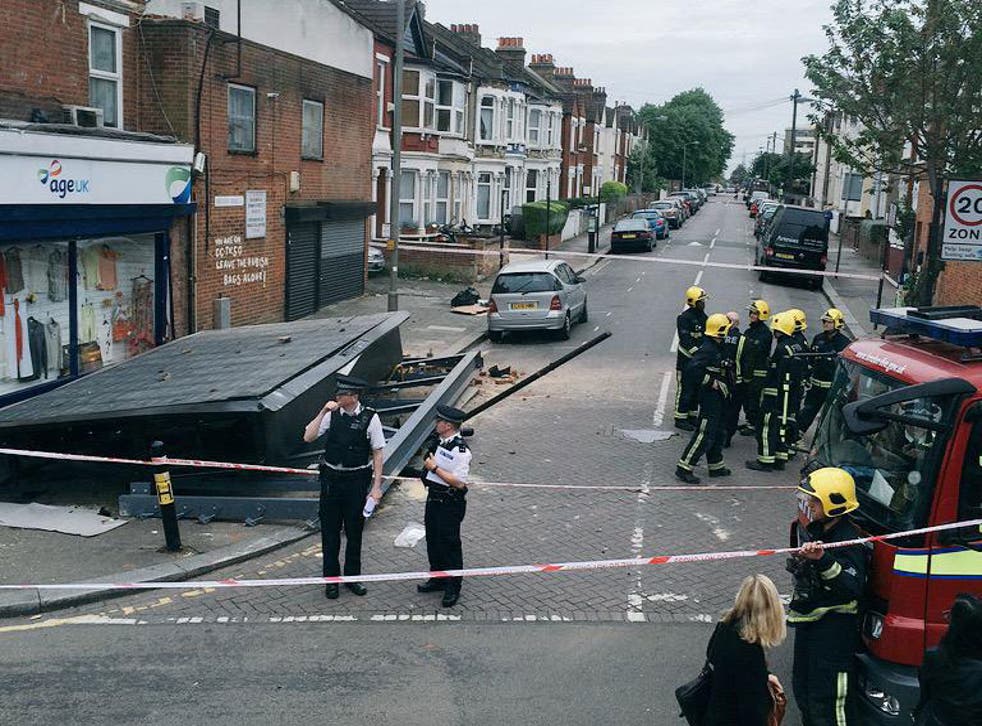 A woman has been rushed to hospital after she was crushed when a large advertising billboard fell from a wall.
Witnesses heard a "thunderous noise" before the giant display structure tore off the wall and trapped the woman underneath it, only just missing her head.
The woman, who is described as being in her 30s, is believed to have been walking to work when the board fell from its position on a wall above the Age UK charity shop at the junction of Mitcham Road and Mellison Road, near Tooting Broadway, south London.
Witnesses rushed to the scene and tried to comfort the woman as she lay trapped. Jason Carter said on Twitter that people were "walking past crying while some tried to comfort her".
Ambulances and police soon arrived to treat the woman. She is believed to be being treated for non-life threatening injuries at St George's Hospital.
Many people tweeted pictures of the billboard lying on the ground after the woman had been taken to hospital, apparently unaware of the accident, sharing messages of "hope no one was hurt!".
A spokesperson for the London Ambulance Service said: "We sent a number of resources to the scene including a responder by car, two duty station officers and our hazardous area response team.
"We treated a woman reported to be in her 30s for leg and hip injuries. She was taken to St George's as a priority."
A Metropolitan Police spokesman said: "We were called at 7:30am to reports of a billboard falling on a street.
"The woman was taken to hospital with injuries that are not thought to be life threatening."
Register for free to continue reading
Registration is a free and easy way to support our truly independent journalism
By registering, you will also enjoy limited access to Premium articles, exclusive newsletters, commenting, and virtual events with our leading journalists
Already have an account? sign in
Register for free to continue reading
Registration is a free and easy way to support our truly independent journalism
By registering, you will also enjoy limited access to Premium articles, exclusive newsletters, commenting, and virtual events with our leading journalists
Already have an account? sign in
Join our new commenting forum
Join thought-provoking conversations, follow other Independent readers and see their replies