Woman suing man cleared of raping her 'thought she was going to die'
Alleged victim describes panics, flashbacks and night terrors following 2013 encounter
Hilary Duncanson
Wednesday 13 June 2018 22:55 Comments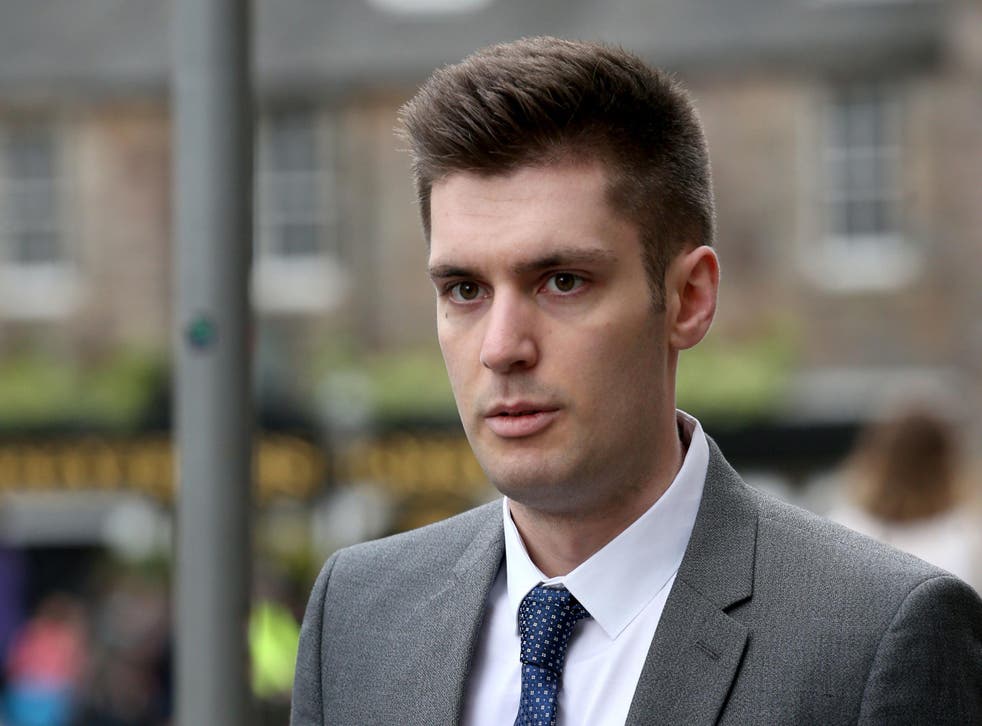 A woman suing a man cleared of raping her has said she thought she was going to die during the alleged attack.
"I was just so afraid," the witness said in court.
She described how she has suffered panics, flashbacks and night terrors, for which she has been prescribed a range of medications, in the wake of the alleged assault after a night out in 2013.
The 23-year-old woman, who cannot be named for legal reasons, said she went on to became more reclusive and that her drinking in an attempt to block out thoughts "spiralled out of control".
Stephen Coxen, 23, from Bury in Lancashire, is being sued for nearly £100,000 in damages by the woman who accuses him of raping her in St Andrews, Fife, that year.
Mr Coxen denied the charges and in November 2015 a jury found the case against him not proven, a verdict of acquittal.
The alleged victim began her evidence at the Personal Injury Court in Edinburgh earlier this week.
Representing her, Simon Di Rollo QC asked her about an earlier statement she had made in which she said she "thought that was it" during the alleged attack.
She said: "I think it was a reference to the next day as well. I thought that was it... I was so afraid, I suppose. I didn't know how it was going to end, I suppose. I was just so afraid, I didn't know what was going to happen next."
Pressed to explain what she had meant by the phrase, she replied: "I thought I was going to die."
She listed a variety of drugs she said she has been prescribed, including those to help with anxiety and depression.
"(One), like a beta-blocker, stops when I panic. I can feel the heart rate in my neck. It stops me panicking too much if I'm having flashbacks or triggers," she told the court.
UK news in pictures

Show all 50
She also described taking another tablet "because the night terrors have been getting quite bad now".
"I'd wake up in the night and feel I couldn't breathe," she said.
She added that she has been known to sleepwalk and said: "I don't sleep very well, I often wake up. Maybe once a week I wake up in a panic."
The woman told how her memories of the alleged events return to her and she said she finds it quite difficult to talk about them.
The witness said her friends would describe her as "reclusive" and that they became concerned about her drinking in the past.
"It got quite bad. My friends were quite worried about my level of drinking. It sort of spiralled out of control," she told Sheriff Robert Weir QC.
The woman described waking up to find a stranger having sex with her after a night out.
The court heard that she had been drinking alcohol earlier in the night, but her memory was blank for parts of the evening.
Questioned on Wednesday by Stephen O'Rourke QC - representing Mr Coxen, who contests the action - she agreed that she had consumed significantly more alcohol that night than she would have been used to.
Asked whether she might have "overstated" the amount she had consumed, she replied: "I disagree with that."
Press Association
Register for free to continue reading
Registration is a free and easy way to support our truly independent journalism
By registering, you will also enjoy limited access to Premium articles, exclusive newsletters, commenting, and virtual events with our leading journalists
Already have an account? sign in
Join our new commenting forum
Join thought-provoking conversations, follow other Independent readers and see their replies