Woman who left damning restaurant review on TripAdvisor facing legal action
Eatery claims it was victim of libellous campaign of poor reviews after it banned customer from making bookings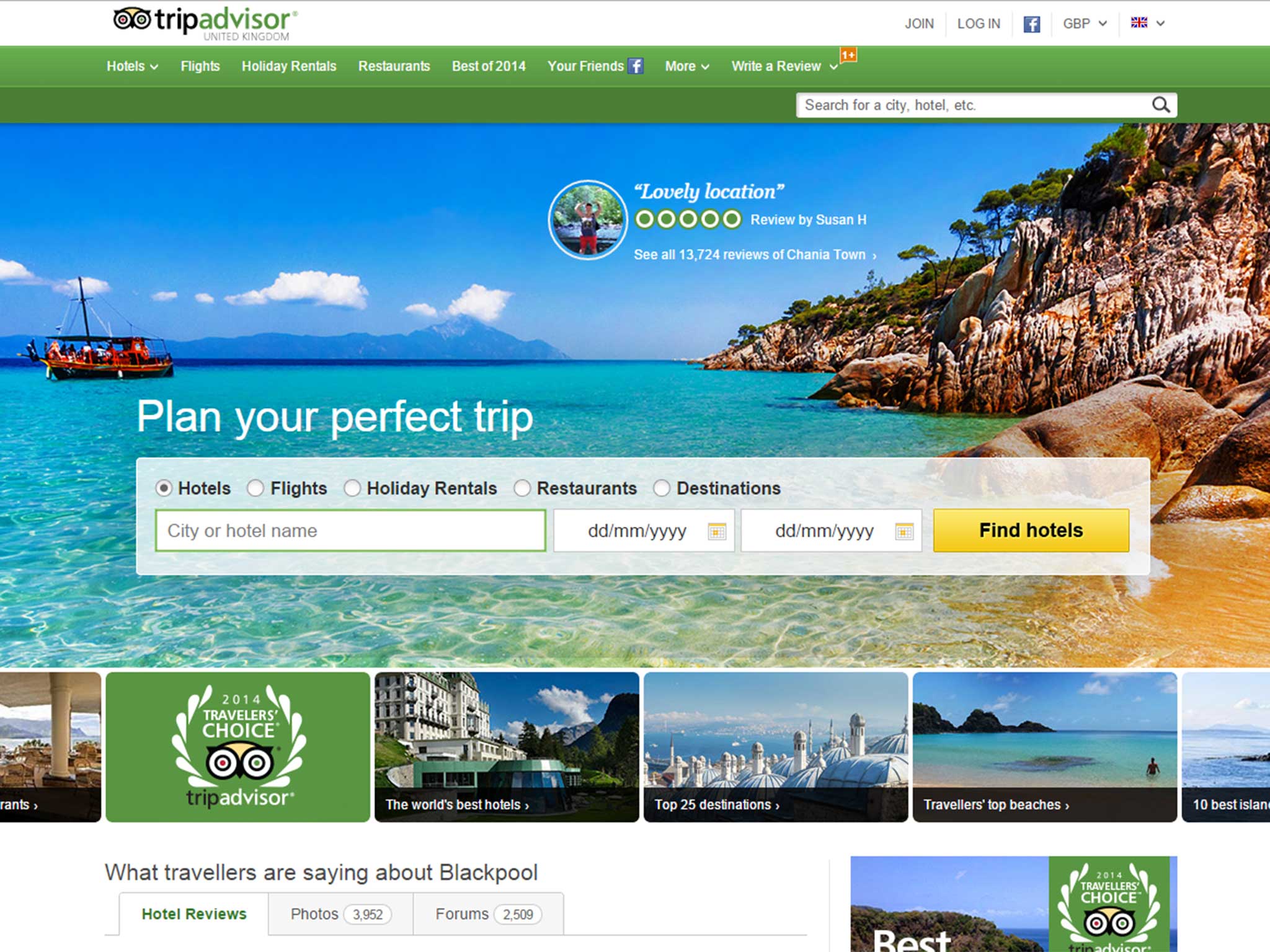 A woman may face legal action for leaving negative reviews on TripAdvisor.
Sarah Gardner, 44, left The High Rocks restaurant and wedding reception venue, near Tunbridge Wells, Kent, one star feedback on the popular travel website, claiming the staff were" rude" and the food was "mediocre at best".
Shortly afterwards she was contacted by a London law firm who claimed her comments were illegal.
"The material you have posted about our client on TripAdvisor.com is defamatory and therefore unlawful," Cohen Davis Solicitors wrote in an 11-page letter to the nurse, the Mirror reports.
The firm claimed in the letter that her comments had caused "financial harm worth tens of thousands of pounds".
It said: "Our client will pursue you for aggravated damages to compensate it for the full extent of its financial lorysses".
Ms Gardner told the Mirror she was extremely upset by the threat.
"I'm a nervous wreck," she said, describing her initial review as "pretty innocuous".
However she said she stood by her comments.
"I posted an honest review," she said in a reply to the lawyers.
"Your client could have chosen to engage with it and leave their own comment beneath, which would have given their version of events.
"Instead they pursued the nuclear option of threatening litigation."The firm replied that it noted her "purported defences of 'honest opinion' or 'truth'" — adding: "This, of course, is a matter for you to prove."
In addition to recommending she obtain legal advice, the firm demanded the dates of all Ms Gardner's visits to the venue, the details of her fellow guests, and her meal receipts.
High Rocks denies any rudeness, and the majority of its other reviews online are positive.
But according to the Daily Mail other people have also been forced to edit or remove reviews.
Earlier this year, Felicity Gallagher took her seven-year-old son to the restaurant for lunch and ordered spaghetti bolognese.
In a Facebook review, posted on The High Rocks' page she described the the dish as "slop".
Manager Giuseppe Cappellazzi, 67, reportedly checked CCTV footage of Ms Gallagher eating her meal and replied to her post to say that it looked like she "enjoyed" her food.
James Batup, who considered the venue for his wedding, claimed he was told to edit a negative review on Google about the restaurant.
He told the Mail: "We had previously left a review and further details as to why, in our opinion, we would not recommend getting married here, setting out issues that arose on the day and our opinion as to the service provided.
"However, we were then sent a letter before action by High Rocks' solicitors threatening to bring proceedings against us for malicious falsehood.
"As a consequence, we felt we had no option but to remove the full review. We have therefore done so, without any admission as to liability and whilst reserving all our rights."
The 50 best Wedding venues
Show all 50
A spokesperson for Cohen Davis Solicitors, the restaurant's lawyers, told the Independent a different version of events.
"Ms Gardner falsely claimed, in three separate TripAdvisor reviews, to have attended our clients' establishment in March 2017 when, on her own admission, she had not," the lawyers said.
"For this reason, her reviews cannot be described as a fair and accurate review of her experience or an honestly held opinion.
The solicitors added: "Ms Gardner's false reviews came about because she was banned from booking our clients' establishment having been extremely rude and offensive to staff over the telephone.
"Her false reviews were noted by many potential clients of our client's business and were therefore very damaging to our client's business."
The firm insisted that its clients, like other small business owners, "respect the right of customers to publish online reviews of their experiences with the business".
However, it said, when these reviews are false and not based on true experience "those business owners are entitled to protect their good reputations and that of their employees".
In a statement the firm added: "It is our understanding that since we contacted Ms Gardner and pointed out the falsity of her reviews, she has deleted the majority of her defamatory statements from the internet. It is important for all consumers across the UK to know that when they read online reviews in relation to a business, those reviews are based on a genuine experience, otherwise the integrity of the review system will fall apart."
The firm added it was preparing a High Court claim against Ms Gardner, which it intended to serve "very shortly".
Responding to the claim she had not attended the restaurant on dates she had posted reviews for, Ms Gardner told the Mail she was writing about her general experience, rather than a specific date, as she was a regular to the venue.
Join our commenting forum
Join thought-provoking conversations, follow other Independent readers and see their replies