Female army veterans pushed into homelessness and destitution by 'abysmal' pensions rules
Exclusive: 'It is a disgrace. There were girls who missed out on a lot of things because they wanted to start a family. They are still being punished due to not having a pension,' says Elaine Hanson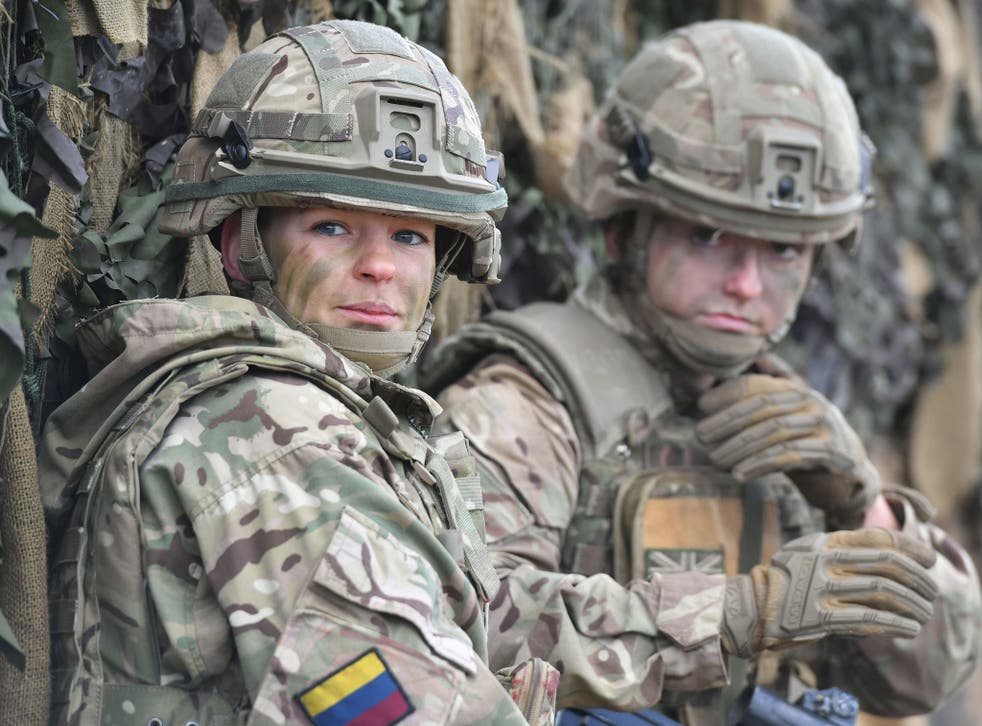 Women who served in the army are being pushed into homelessness and destitution due to "abysmal" rules which stop women getting army pensions, the Women's Royal Army Corps Association has warned.
Females were forced to leave the army if they fell pregnant and barred from returning until 1990. Such rules meant many women who served in the army now do not receive pensions because soldiers had to serve a full 22 years before they qualified for an army pension, while officers had to serve for 16 years.
The Women's Royal Army Corps Association, a charity which supports female army veterans which was set up in 1919, said they were struggling to afford food and being forced to turn to payday loan companies.
The organisation, who issued the warning to coincide with Remembrance Day, argued the government was failing these women and raised concerns females who left the army longer ago will receive scant or zero help from the newly created Office For Veteran's Affairs.
Campaigners called for the government department, which Boris Johnson created to deliver lifelong support to military personnel back in July, to support women of all generations who have served in the army.
Army recruitment posters target millenials

Show all 6
Alison Brown, vice president of the Women's Royal Army Corps Association, noted that until the 1970's women had to leave the army if they got married as well.
The former colonel, who was in the army for 30 years, said: "Women used to have to leave the army because of marriage and pregnancy. The rules around marriage changed in the 1970's but the ones around pregnancy did not change until 1990. A lot of them thought it was very unfair they were forced out and had to choose between their career and children.
"Women found their careers were shortened by the rules and very few women have army pensions. Once in their sixties, seventies and eighties, they find they don't have the financial security which their male counterparts have. I'm sure people don't know about this issue. We also did not have equal pay for women and men in the army until the late 1980s.
"We have women coming to us because they can't bury family members and we have family members who don't have money to bury female vets as they had no savings. We also have women coming to us with debt. It is normally for things like rent, council tax or utility arrears. It takes its toll on both their mental health and on family members as they are having to support them."
Ms Brown, who served in the First Gulf War, Bosnia and Kosovo, said some women approach them who have been forced to go to payday loan companies and they also hear from retired female soldiers who are in "very insecure housing" and are at risk of being made homeless.
She said they come across women who would be evicted if her charity did not intervene and pay their rent arrears.
Ms Brown said the "most heartbreaking cases" involve women who served in the Second World War in the Auxiliary Territorial Service who are now in their nineties – explaining they have no income apart from their old age pension and struggle to afford food.
She argued a "so-called sandwich generation" of women are caring for dependents and attempting to work – hitting out at the fact women who "showed courage, loyalty and comradeship" are not being supported.
The charity provides such women with both maintenance grants and food vouchers – as well as providing others with mobility scooters.
Ms Brown said cuts to benefits and local authorities are exacerbating the situation for former female vets and women have requested help in adapting their houses for disabilities – arguing such measures might have previously been done by the local council.
Some 154,000 women are estimated to be eligible for support from the association. One in five former service people aged 55-64 has no formal qualifications.
Roxanne Macauley, a 60-year-old from Guyana in South America who was 17 years old when she joined the army, said she has been threatened with homelessness since leaving the army.
She said: "At age 20, I got married to an ex-soldier who had been my penfriend. He was an ex-paratrooper. I was under great pressure to break off the engagement by the army, as they wanted to promote me to the youngest sergeant in the army if I stayed on. That was when I had my first nervous breakdown. I even offered to find accommodation near the barracks so I could keep on working, but they said no.
"I'm very unfortunate as I get older – my children are grown up and I have grandchildren, but I've been carrying an injury. An MRI scan showed damage to a spinal disc which was protruding into my body, causing bladder control issues and others.
"I don't have any pension or back-up. I'm now restarting my life, and as I've turned 60, I'm trying to find accommodation. Up until the beginning of October, I was threatened with homelessness. I have since been provided with permanent accommodation. My universal credit recently just suddenly stopped. If I hadn't been away on a veterans' trip away just beforehand, which offered me an escape and a break, I honestly don't know how I'd have been able to cope."
Elaine Hanson, a 50-year-old from Staffordshire who served in the army for seven years, said she was massively struggling for money.
Ms Hanson, who was the only woman in a unit of 50 chefs, said she was medically discharged from the army after getting accidentally knocked down some stairs while in an army camp but was given no money from the state because she was technically on a day off when the accident happened.
She was diagnosed with having severe spinal damage and found herself homeless after her two first rounds of surgery.
"I sofa-surfed for a while and moved back down to my parents," Ms Hanson said. "I was homeless for 10 months. On quite a few nights, I thought I might be on the streets."
She approached armed forces charity SSAFA four years after leaving the army who told her she should be receiving an "invalidity pension".
Ms Hanson, who served in the army from 1988 until 1992, said: "The Women's Royal Army Corps Association fought for that for me. I'm in constant pain which I'm on some pretty hardcore drugs for. It has triggered PTSD and stereotypic movement disorder.
"I can't do exercise. I've got a mobility scooter and a car. I can only walk very short distances because the pain in my back is so severe. I've also just had a blood clot on the lung. I am struggling to survive. It has been a struggle to buy food at times. I had my state benefits cut."
Ms Hanson, who is a case-worker at an armed forces charity, hit out at the old rules forcing women to leave the army if they got pregnant.
"Quite a lot of my friends had to leave and they didn't want to," she said. "They were very good soldiers. They were very angry. It was upsetting. It laid a bad path for the females in the army and put women off joining. It is a disgrace. There were girls who missed out on a lot of things because they wanted to start a family. They are still being punished due to not having a pension. It is absolutely abysmal. They have done their time, they should get their pension."
The concerns come after MPs warned a "disproportionate" number of female and ethnic minority personnel in the armed forces file internal complaints, which often claim bullying, discrimination, and harassment, back in August.
The Ministry of Defence said: "The rules in place in the 1990s do not reflect our current position on supporting families, and the MoD now strongly supports pregnancy in service, enabling women to achieve a full and varied career whilst supporting ongoing family life. The Armed Forces Pension Scheme makes payments to more than 500,000 veterans every month and provides financial support to those who have served, and The Veterans Welfare Service is also available to all ex-service personnel and their families."
Join our new commenting forum
Join thought-provoking conversations, follow other Independent readers and see their replies