Quarter of women say their decisions weren't respected during childbirth, new study reveals
Exclusive: 'It was a violent delivery. I sustained a third-degree tear. I've had a lot of pain. I've had psychological trauma,' says woman forced to quit job due to childbirth injuries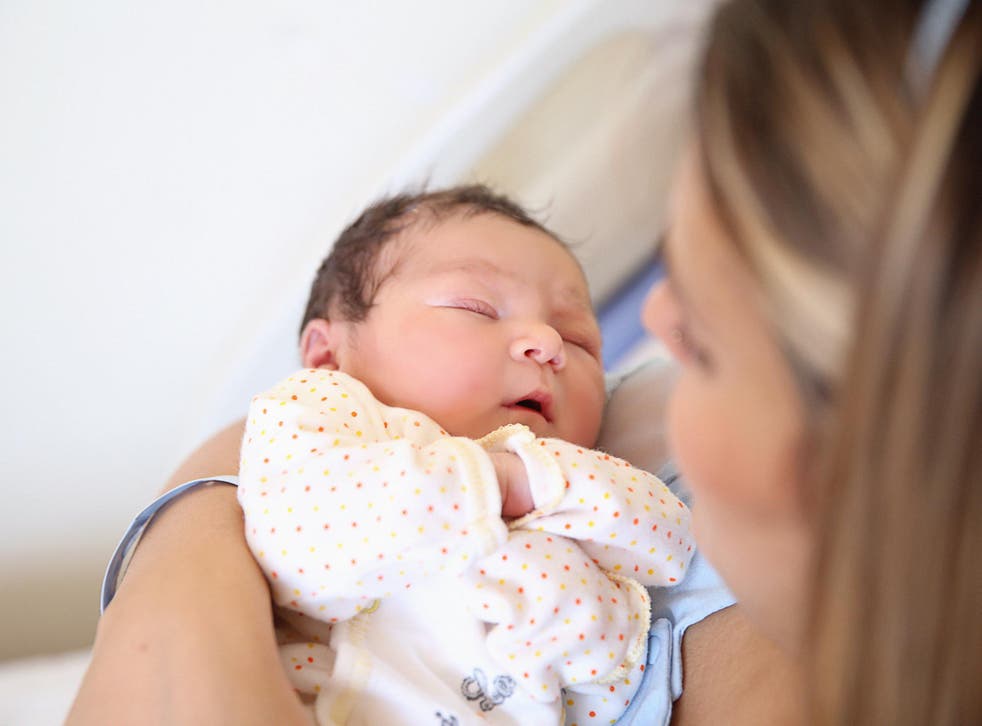 A new study shows a quarter of mothers say their choices were not respected during childbirth, with some left with life-changing injuries as a result, despite Britain's highest judges establishing women should be the primary decision makers during labour five years ago.
A poll of 1,145 women, carried out by leading pregnancy charity Birthrights and shared exclusively with The Independent, also found that a third said healthcare professionals did not even seek their own opinions on the childbirth process, while 14 per cent said their choices were overruled.
One woman told The Independent she had been forced to give up her career as a lawyer following what she described as a "violent delivery", while her baby daughter also sustained serious injuries to her face which can still be seen now – 12 years after she gave birth.
Rani*, a 44-year-old from north London, explained she had risk factors which would have increased the risks of vaginal birth such as short stature and a larger than normal baby.
She said: "After an epidural, the labour became prolonged. It was then clear after many hours that there were signs of distress. The baby's heart rate was not consistent which was incredibly worrying for me. At that point, we started discussing whether a different course of action was required – including a C-section.
"My requests for a C-section were not even considered and were completely dismissed. It then became an obstetric emergency and quickly progressed to a delivery which required instruments such as forceps which then, unfortunately, caused permanent and irreversible damage to both my daughter and myself. The injuries would have been completely avoidable had my requests been listened to and I'd had an emergency C-section.
"My daughter sustained serious injuries to her face which can still be seen now from where the forceps were placed. It was a violent delivery. I sustained a third-degree tear. I've had a lot of pain. I've had psychological trauma. I've had to have further surgeries to repair it which have failed.
"Now I am left permanently irreversibly incontinent which affects every aspect of your life. I have to plan where toilets are and bring a change of clothes. Many other women I've met who have sustained third and fourth-degree tears are in exactly the same position. Their lives have been permanently changed. They have lost careers and suffer from irreversible symptoms every day."
Birthrights, which campaigns for respectful pregnancy care for women, pointed to the fact half a decade has passed since Nadine Montgomery's Supreme Court case proved mothers-to-be are the primary decision-makers in their own care yet this is still not the reality for the majority of women.
The so-called Montgomery ruling which was handed down in 2015 is named after plaintiff Nadine Montgomery whose son was born with cerebral palsy due to complications in childbirth.
Ms Montgomery, who is diabetic and has a short stature, discussed fears about her baby's size and questioned whether it would be possible for her to give birth vaginally with health professionals on a number of occasions.
She said: "Five years ago the Supreme Court ruled that I was denied my right to make an informed choice about how I gave birth. My legitimate concerns were overruled because a doctor felt that she knew best.
"My son and I live with the consequences every day. My real hope is to see a sea-change in healthcare where all pregnant women, and indeed all patients, are treated as capable adults who are supported to make informed choices, who are listened to and respected, not treated like children who need to be told what to do. If this is the legacy of the 16 years I spent taking my case through the courts, it will have been worth it."
The Supreme Court unanimously ruled Ms Montgomery should have been informed of the heightened risks of a vaginal delivery in her situation and have been presented with the option of having a C-section.
"I was told what was going to happen to me. I had no say in it," one woman told researchers.
Another added: "After three days of labour, I was told to choose between an emergency forceps delivery or C-section. I knew the risks of a C-section so I opted for forceps. I ended up with a severe prolapsed bladder which is making my life a misery. I had no idea this was one of the risks of forceps and that it apparently happens to lots of women."
One more woman said: "Staff tended to treat me like a child, telling me what I must do. When I disagreed with their instructions I was met with disapproval and silence. It was a battle."
Women polled for the study, which was carried out with Mumsnet, were told they are legally entitled to be the "primary decision maker" about their childcare while doctors and midwives give them advice. Researchers then asked the women about whether this describes their own experience of pregnancy – with 42 per cent saying this did not reflect their own experiences.
Almost half said the information they were provided with did not cater for their own personal circumstances, while almost two-thirds said they needed more information to help them make informed choices about pregnancy and childbirth.
One woman said: "My labour spun out of control and things just started happening to me without discussion. I was very much pressured to agree to certain things because they felt it best."
Only 38 per cent of women polled said health professionals gave them the chance to talk about the advantages of having a home birth.
Maria Booker, of Birthrights, said: "Five years on from the Montgomery vs Lanarkshire decision, it is concerning to see that a majority of women still don't feel like they have the right to make decisions about what happens to their body during pregnancy and birth even though it is their clear legal right to do so."
Kim Thomas, chief executive of The Birth Trauma Association, said it was "shocking" that mothers-to-be are still not being properly informed about childbirth.
"Women tell us, for example, that interventions are sometimes carried out with their consent, or they are warned of the risks of giving birth by caesarean but not of the risks attached to a forceps birth," she said. "Women are adults and deserve to be treated as such."
Rosalind Bragg, director of Maternity Action, said issues around health professionals overlooking expectant mother's wishes have been compounded by the coronavirus crisis.
"The pandemic has placed enormous pressure on the NHS and maternity services have been forced to make changes to support those with Covid-19 and minimise the risk of transmission," she told The Independent. "It is important that women are supported to make informed decisions about their care, even in these difficult circumstances. We are keen to see proper investment in maternity services to enable them to deliver high-quality care to all women at this time."
*Rani's name has been changed to protect her identity
Join our new commenting forum
Join thought-provoking conversations, follow other Independent readers and see their replies