Female pirate lovers whose story was ignored by male historians immortalised with statue
'They broke gender boundaries and stunned people at the time. They were trailblazers in an incredibly male-dominated society who forged their own way,' says historian
Maya Oppenheim
Women's Correspondent
Thursday 19 November 2020 10:48 Comments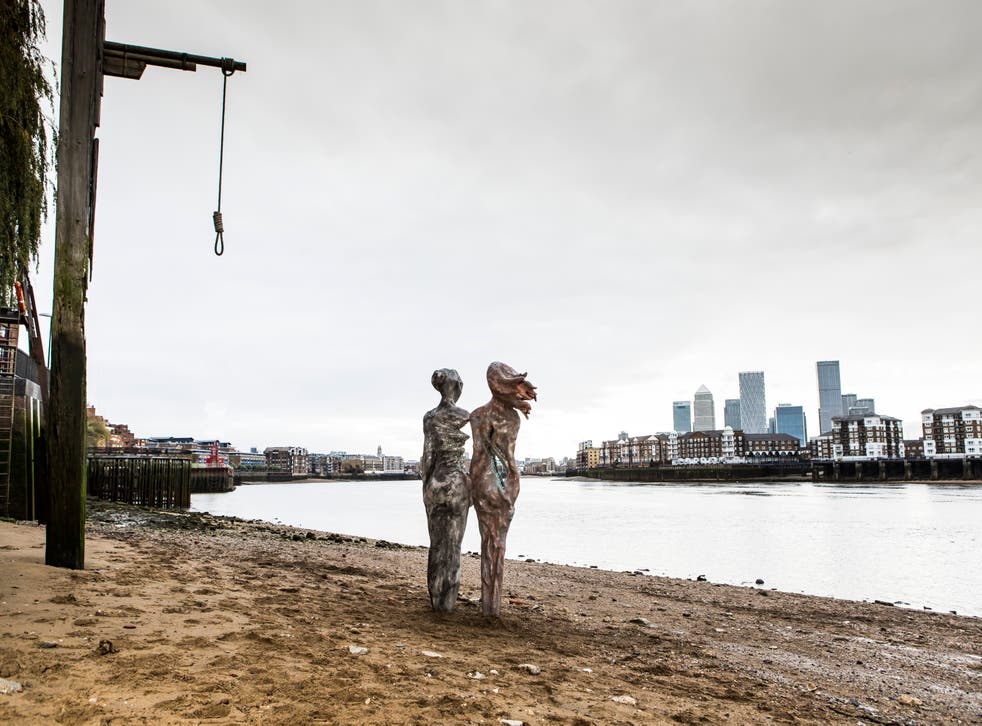 Two female pirates famed for leaving a stream of "looted treasure" and "treacherous ex-lovers" behind them have been commemorated with a new statue.
Figures of Anne Bonny and Mary Read have been unveiled at Execution Dock – where pirates and smugglers were executed for more than four centuries – in Wapping, east London.
The statue of Bonny and Read will be taken to Burgh Island, off the south Devon coast which saw pirates come and go for centuries, after Wednesday's London preview.
Professor Kate Williams, a prominent historian, told The Independent it was critical to unearth the "hidden voices and histories" of women and LGBT+ people. She noted history books have scant information about the pair – despite them being two of the most famous pirates in the 18th century.
Professor Williams added: "They broke gender boundaries and stunned people at the time. They were trailblazers in an incredibly male-dominated society who forged their own way. They were lovers and both fluid – moving between living as men and living as women and it is true, they have been forgotten from history.
"They lived determinedly and followed their hearts – both in being pirates and seeking their own destiny but also following their desire to love each other – when society demanded marriage.
"They were written about at the time, but you see a fear of them creeping in, a desire to downplay or ignore their story in the history of piracy, and I think that it's because writers in the later 18th century and the 19th century worried that women – supposed to know their place as wives or servants – might get some ideas about living as men's equals and love for each other."
Professor Williams noted lesbianism was not made illegal in the Victorian period, not because Queen Victoria "didn't like the idea of it", but instead due to male ministers being anxious that drawing attention to it could "encourage women to try it" and subsequently endanger the patriarchal order.
She added: "Today on the anniversary of section 28 being repealed – making it illegal to 'promote' homosexuality in schools, creating an environment of fear and exclusion – Mary and Anne have their own statue and their own drama podcast. The real-life Pirates of the Caribbean – finally being recognised."
Members of the public will be able to go and visit the statue created by British artist Amanda Cotton from early next year.
Although they were born hundreds of miles away from each other, both Bonny and Read were disguised as boys in their childhoods to dodge "poverty, propriety and disgrace" before going on to finally have a taste of freedom at sea. While Anne was known as Andy, at one point Mary was known as Mark.
Artist Amanda Cotton, who worked alongside a team of sculptors, said: "The sculpture's design is a metaphor for Bonny and Read's personality, fire and earth. Individually they are strong independent women but when Anne (fire) & Mary (earth) combine they are dangerously unstoppable.
"Anne's passion fuels Mary's determination, and Mary's patience channel's Anne onto a path. Together they erupt like an inexorable volcano."
The statue was commissioned to mark the launch of Hell Cats, a new Audible Original podcast which "celebrates the cutthroat adventure and enduring love affair of history's most progressive pirates".
Bonny was born in Ireland, as the illegitimate daughter of a lawyer and his housemaid in 1697. Read was born in England 12 years earlier.
"As quick to draw their cutlasses as they were to fall in love, Anne and Mary sailed the Caribbean leaving a trail of looted treasure, outfoxed law enforcement, and treacherous ex-lovers in their wake," a spokesperson for campaigners behind the statue said.
Register for free to continue reading
Registration is a free and easy way to support our truly independent journalism
By registering, you will also enjoy limited access to Premium articles, exclusive newsletters, commenting, and virtual events with our leading journalists
Already have an account? sign in
Join our new commenting forum
Join thought-provoking conversations, follow other Independent readers and see their replies