World record for high air pressure might have been set in Mongolia as region gripped by brutal cold
High pressure in western mountains accompanied by temperatures of -45.5C, according to preliminary data
Daisy Dunne
Climate Correspondent
Wednesday 30 December 2020 17:34 Comments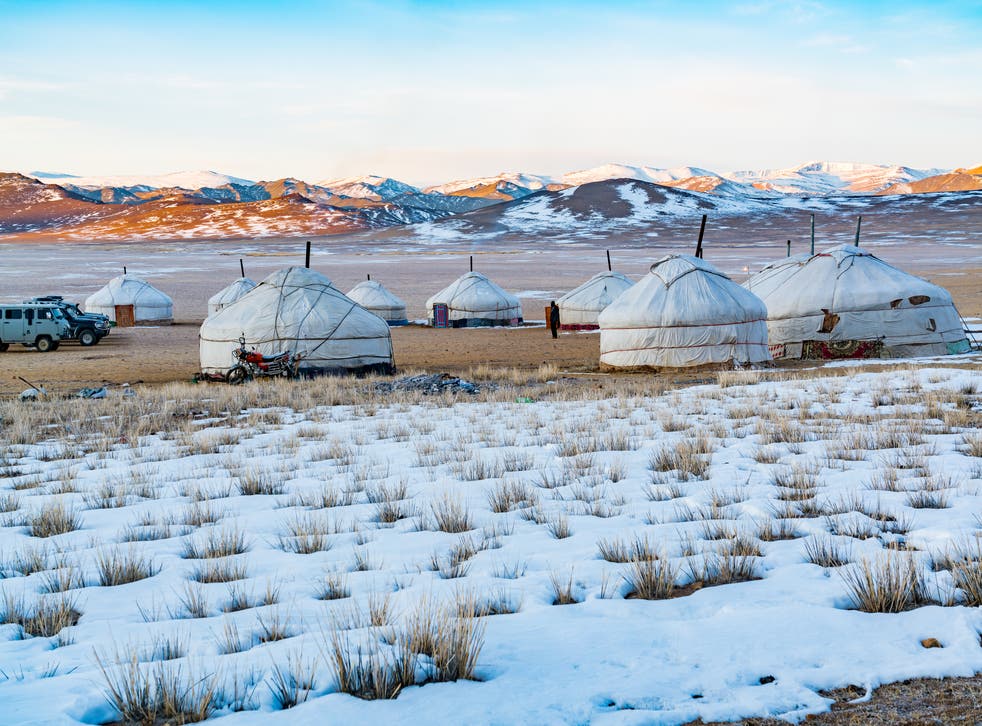 A new world record for high air pressure has provisionally been set in a high mountain valley in Mongolia.
An automatic weather station in Tsetsen-Uul, in western Zavkhan province, recorded a mean sea-level pressure of 1,094.3 millibars along with bitter temperatures of -45.5C.
If verified by scientists, it will top the previous world record of 1089.4 millibars, which was also set in Mongolia exactly 16 years ago on 30 December.
Stephen Burt, a research fellow in meteorology at the University of Reading, told The Independent: "This looks as if it's a genuine record, it's from an official synoptic reporting station.
"There are other stations that are reporting very high pressures as well. So this isn't just a reading error or a transmission error."
It is normal for Mongolia, Siberia and other parts of Russia to see episodes of high pressure and extreme cold at this time of year, Mr Burt said.
"It's common at this time of year, right in the mid-winter, to get these very large extensive high pressure areas right over the continent," he added.
"Mongolia is a long way away from the sea, it's got very little influence from the relatively warm ocean. The air gets very cold, the pressure gets very high and very sluggish, so it ends up sitting in an area.
"Because the high pressure tends to have little to no cloud in it, the air tends to get colder and colder because all the heat is escaping out into space. So, the pressure tends to get a bit higher every day and that goes on until spring, when the sun comes back and starts to warm the ground and the pressure begins to drop."
Though such weather conditions are expected at this time of year, Mr Burt said "it's not normal for it to get as cold as this or for the pressure to get as high".
There are some caveats to the record that are worth noting, however, he added. The potential record occurred high up in a mountain valley. Because air pressure decreases with altitude, calculations had to be made to understand what the pressure reading would have been at sea level.
"What is standard for meteorological purposes is to report the barometric pressure at sea level," said Mr Burt.
The calculations used to convert the pressure recorded at the weather station to mean sea-level pressure are very sensitive to changes in temperature, he said.
"That's not to say the reading isn't correct," he added. "All these records are examined by the World Meteorological Organisation before they are accepted as a world record, and that will take a little time."
Prof Randy Cerveny, a scientist at Arizona State University who studies extreme records for the WMO, told The Independent that his research team will need to ascertain what the raw pressure and temperature values recorded in Mongolia were and how the mean sea-level pressure was calculated before a new world record can be declared.
"Calculation of mean sea-level pressure involves the use of fairly involved mathematical formulae which involve some assumptions," he said.
"Unfortunately at this time there is no one single accepted formula for doing so although we at the WMO are working to try to establish a single method."
If the new record is verified, it is important to note that it does not mean that the climate crisis isn't affecting the region, Mr Burt added.
"Climate change is more likely to lead to more warm extremes than cold extremes, but it certainly doesn't mean that cold extremes will never happen," he said.
He added that, over the past decade or two, far more automatic weather stations have been installed in remote parts of Mongolia, meaning that new cold extremes are more likely to be identified than they were before.
"If you have more sites, you're more likely to pick up cold spots," he said. "Climate change certainly doesn't mean that cold extremes are a thing of the past."
Register for free to continue reading
Registration is a free and easy way to support our truly independent journalism
By registering, you will also enjoy limited access to Premium articles, exclusive newsletters, commenting, and virtual events with our leading journalists
Already have an account? sign in
Join our new commenting forum
Join thought-provoking conversations, follow other Independent readers and see their replies