Holocaust survivor who lived to become world's oldest man dies aged 113
'Despite all that he went through, he had a lot of optimism, and he always saw only light and good in everything'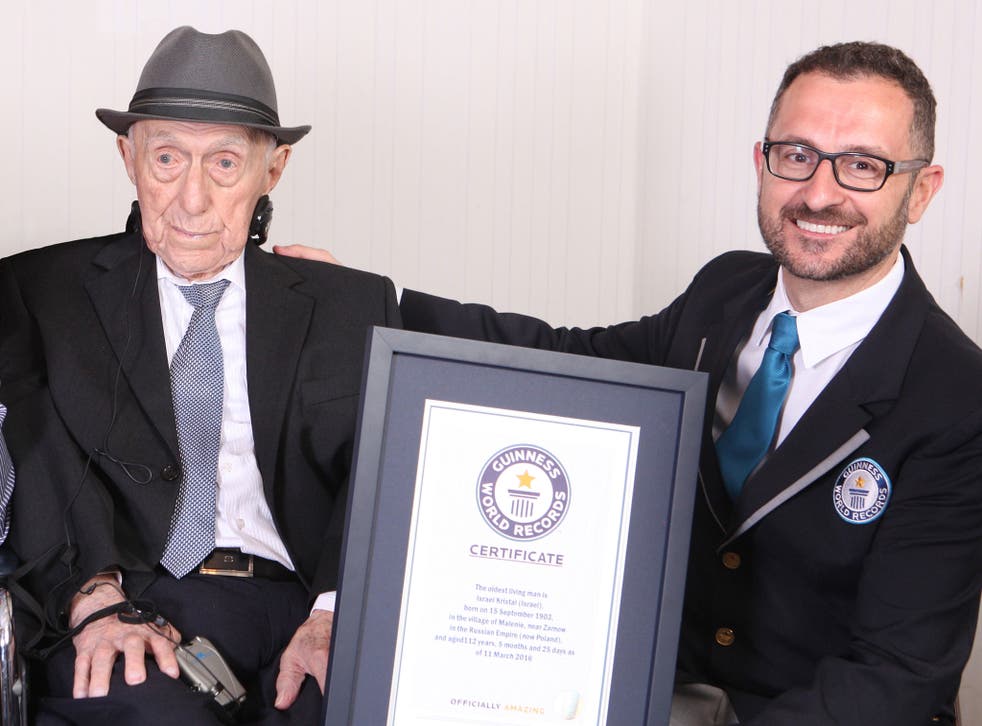 Yisrael Kristal, a Holocaust survivor who became the world's oldest man, has died at the age of 113.
The Polish-Israeli man died on Friday, a month before his 114th birthday, following a short illness.
Certified as the oldest man alive by the Guinness Book of Records in 2016, he had two children, nine grandchildren and 32 great-grandchildren.
Mr Kristal hit the headlines last year after deciding to celebrate his Bar Mitzvah a century late.
Usually marked at 13 for boys and 12 or 13 for girls in the Jewish faith, the Bat or Bar Mitzvah marks the transition to a person responsible for their own actions.
But when he was about that age in 1916, Mr Kristal's mother had recently died and his father was a soldier in the Russian army during the First World War.
"My father is religious and has prayed every morning for 100 years, but he has never had his Bar Mitzvah," his daughter Shula Koperstoch told the AFP news agency last year.
Mr Kristal was born in Zarnow in modern-day Poland on 15 September 1903 - three months before the Wright brothers' first successful powered airplane flight.
After World War I ended, Mr Kristal moved to Lodz where he worked in the family sweet factory, married and had two children.
But his happy family life was horrifically interrupted when the Jewish quarter of the city was occupied by the Nazis during World War II.
Mr Kristal was sent to the Nazi concentration camp Auschwitz-Birkenau, where around 1.1 million people, mostly European Jews, were killed between 1940 and 1945.
His wife Chaja Feige Frucht and their two children died, but Mr Kristal survived, weighing a skeletal 37 kilos (81 pounds) at the end of the war.
According to Tablet Mag, he thanked Soviet soldiers who liberated the camp by making them sweets.
He made a fresh start in Israel, where he opened a sweet shop and remarried, having two more children.
The Guinness World Records' website says that on receiving his certificate at his home in the northern Israeli city of Haifa last year, Mr Kristal offered no explanation for his longevity beyond his belief in God.
"I don't know the secret for long life. I believe that everything is determined from above and we shall never know the reasons why," he said.
"There have been smarter, stronger and better looking men than me who are no longer alive."
UK news in pictures

Show all 50
The World Jewish Congress noted his passing on Twitter.
"Holocaust survivor Yisrael Kristal was the oldest man in the world. Yisrael passed away today. May his memory be a blessing," it said.
His daughter Shula Koperstoch told Israeli website Ynet that he had been a "great father".
"Despite all that he went through, and he lost the whole family in the Holocaust, he had a lot of optimism, and he always saw only light and good in everything."
Register for free to continue reading
Registration is a free and easy way to support our truly independent journalism
By registering, you will also enjoy limited access to Premium articles, exclusive newsletters, commenting, and virtual events with our leading journalists
Already have an account? sign in
Register for free to continue reading
Registration is a free and easy way to support our truly independent journalism
By registering, you will also enjoy limited access to Premium articles, exclusive newsletters, commenting, and virtual events with our leading journalists
Already have an account? sign in
Join our new commenting forum
Join thought-provoking conversations, follow other Independent readers and see their replies