Xi Jinping 'not my president' posters appear in universities outside China
Protest posters spotted in UK, US and Hong Kong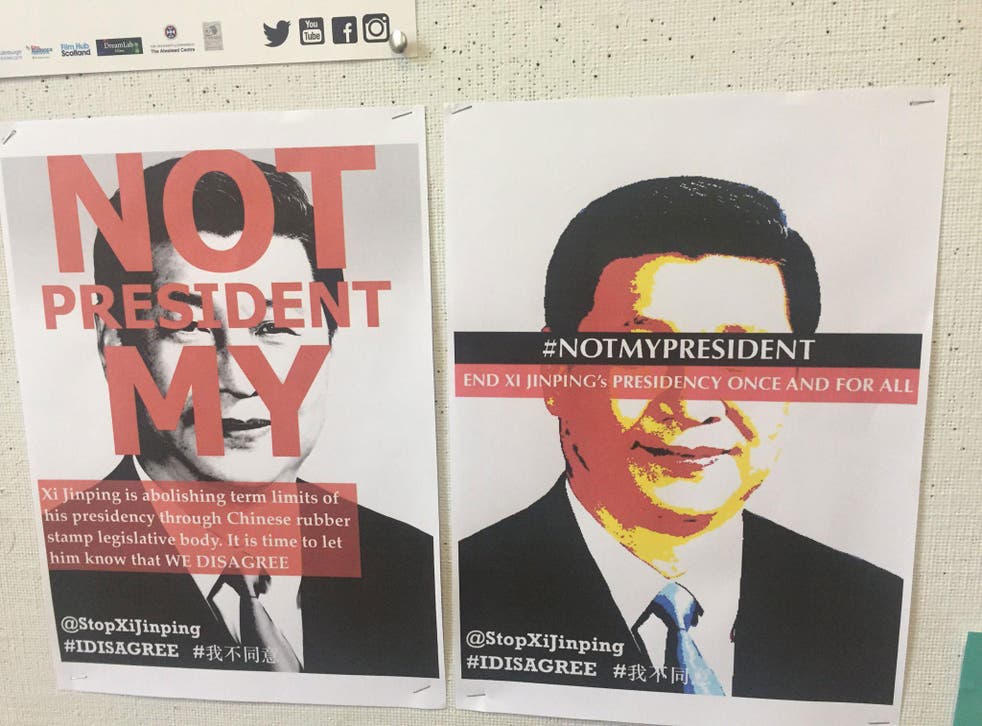 Chinese university students have been putting up posters criticising their government for amending the constitution to allow Xi Jinping to stay in office as President indefinitely.
The posters feature phrases such as "not my President" and "I disagree" written in both Chinese and English.
They have been spotted at several Western universities outside of mainland China, including the UK, the US and Hong Kong.
In the UK, they were posted at the London School of Economics and the University of Edinburgh.
In a wide-ranging crackdown on online speech around the decision, China banned reference to George Orwell's novels Animal Farm and 1984, and also the letter "N".
Other phrases blocked on Sina Weibo, China's equivalent of Twitter, included "disagree" and "Xi Zedong," a combination of Mr Xi's and Mao Zedong's names.
The phrase "not my President" has been used during protests in the US against Donald Trump.
The posters initially appeared in several universities across the US after a Twitter account, @StopXiJinping, posted links encouraging people to download the posters.
Since then, the account has drawn attention to universities where the posters have been put up.
Those behind the account, which has over 3,000 followers, told the BBC they were Chinese university students living abroad who wished to remain anonymous.
In an interview with Newsweek, one of the organisers said: "Back home if you express any dissent, your social media account will be deactivated, and the relevant discussions will be banned, so most people have become cynical about getting involved.
"Which is unfortunate because expressing your dissent ideas is a matter of dignity. However, free speech is protected in Western countries, which is where our campaign has lifted off."
The organisers did not respond to The Independent's request for comment.
China's parliament passed the constitutional amendment to scrap a two-term limit and further strengthen the Communist Party's dominant role in politics.
Only two "no" votes were cast, with three abstentions and one vote invalidated, among nearly 3,000 delegates.
Register for free to continue reading
Registration is a free and easy way to support our truly independent journalism
By registering, you will also enjoy limited access to Premium articles, exclusive newsletters, commenting, and virtual events with our leading journalists
Already have an account? sign in
Register for free to continue reading
Registration is a free and easy way to support our truly independent journalism
By registering, you will also enjoy limited access to Premium articles, exclusive newsletters, commenting, and virtual events with our leading journalists
Already have an account? sign in
Join our new commenting forum
Join thought-provoking conversations, follow other Independent readers and see their replies