Yarl's Wood immigration detention centre 'needs more female staff' after detainee abused by officers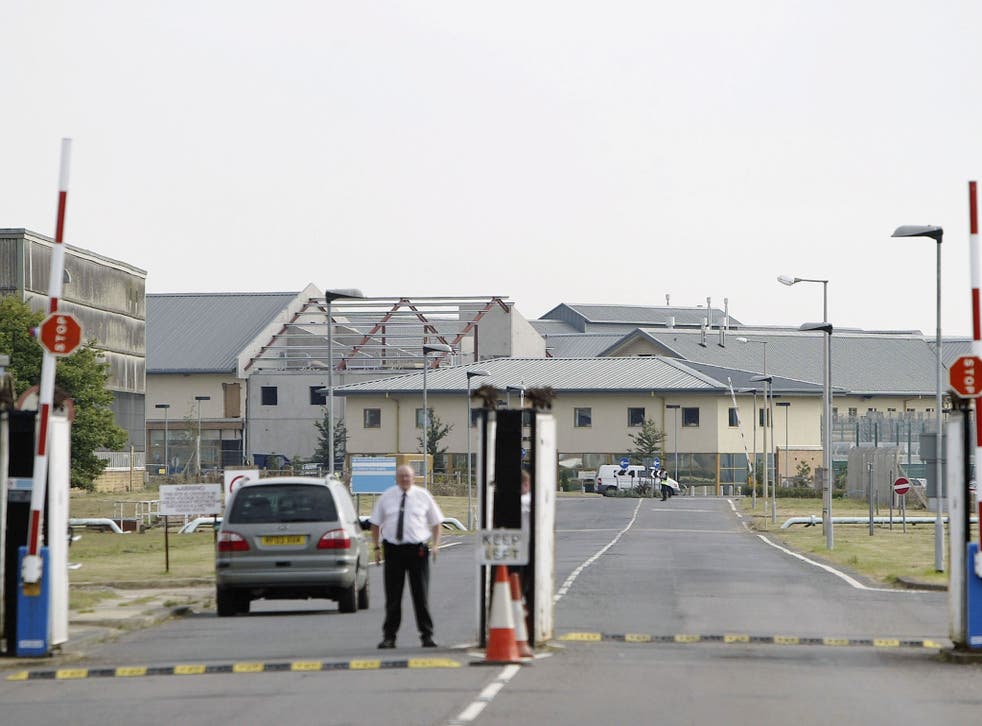 A controversial immigration detention centre needs to recruit more female staff "as a matter of urgency" following an incident where two officers sexually abused a female detainee, the Chief Inspector of Prisons said today.
Yarl's Wood immigration removal centre was given an unannounced inspection following reports last month that a woman held at the secure Bedford facility had unwanted sexual contact with at least two male officers last year. Three officers have since been dismissed, though the third was sacked for failing to take action when the situation was reported to them.
The 23-year-old Roma woman, known as 'Tanya', has since been released and is living in Britain. Her lawyer said last night that she was expecting to start proceedings in a civil claim by the end of this week.
Almost nine in 10 of those held at Yarl's Wood are women, yet around half of the staff are male. Female detainees reported to inspectors that they felt uncomfortable when male officers came into their rooms, often without waiting for a reply after knocking.
The centre, which can hold up to 400 people while they wait to be removed or have their case examined, is run by the private security firm Serco.
Refugee Council women's advocacy and influencing officer Anna Musgrave said: "Some of the findings of this inspection are shocking. Women in immigration detention are extremely vulnerable, with many likely to be victims of gender-based violence, so we're horrified to hear that male officers enter women's rooms without permission."
She added: "This report shows that urgent changes are needed at Yarl's Wood to ensure that vulnerable women feel safe and that their dignity is respected."
Detainees are now half as likely to report incidents of victimisation to the authorities than they were in 2011, according to more than 50 confidential interviews conducted with residents as part of the inspection. Two years ago, 48 per cent of those who felt they had been victimised by staff reported the incident. This year, the proportion was just 24 per cent.
Investigations into complaints were also sometimes conducted by extremely junior staff, the inspection found. In one case, a detainee had complained through her legal representatives of physical and verbal abuse by staff and the matter was only investigated by an "administrative assistant".
Chief Inspector Nick Hardwick described Yarl's Wood as a "sad place" for those incarcerated in it, saying at best it "represents the failure of hopes and ambitions, at worst it is a place where some detainees look to the future with real fear and concern."
Speaking about the treatment of 'Tania', he said: "Two staff had engaged in sexual activity with a female detainee, which can never be less than abusive given the vulnerability of the detained population, and these staff had been rightly dismissed".
The decision to hold very vulnerable people there was often "much too casual", inspectors said. This included keeping eight pregnant women in the secure facility, "without evidence of the exceptional circumstances required to justify this".
Many with serious mental health problems were also being kept there, even though they were often later sectioned and sent to a specialist hospital. In these cases inspectors said, "It was difficult to understand why they had been detained in the first place".
Women with clear signs of having been trafficked - including one found in a brothel with no leave to remain in the country - were not being picked up and registered as possible victims. Details of suspected victims of the crime are supposed to be passed onto the National Referral Mechanism so they can be properly protected.
Inspectors also raised concerns that many women are also being held there "for very long periods", including one woman who has lived there for almost four years.
Heather Jones of Yarl's Wood Befrienders said: "It is always distressing to meet vulnerable women who have been unable to access the help that they need. We continue to meet women who have clear mental health problems or are victims of trafficking or torture.
"These are people that The Home Office acknowledge should only be detained in exceptional circumstances and yet their detention continues indefinitely. We find the detention of pregnant women particularly deplorable."
Chief Inspector Hardwick said: "Yarl's Wood has had a troubled past, punctuated by serious disturbances and controversy surrounding the detention of children. This inspection found that the improvements we have noted since the detention of children ended have continued. Nevertheless, despite the good progress made, improvement continues to be necessary. Yarl's Wood still holds detainees in the middle of a distressing and difficult experience and more thought needs to be given to meeting their emotional and practical needs. For the most vulnerable of the women held, the decision to detain itself appears much too casual."
John Tolland, Serco's Contract Director, said: "We are really pleased that this inspection report recognises the improvements Serco has made at Yarl's Wood and considers it be to an establishment where residents feel safe and there is little violence. Our managers and staff have worked hard to establish and maintain good relationships with the residents, who are vulnerable people in the middle of a distressing and difficult experience. However we are not complacent; as the HMCIP Report says, we need to make further improvements, and we are already working closely with the Home Office to implement their recommendations."
He added: "Serco absolutely refutes the allegations made that there is an environment at Yarl's Wood where sexual intimidation or inappropriate behaviour is in any way tolerated."
A Home Office spokesman said: "Detention is a vital tool that helps us remove those with no right to be in the country, but it is essential that our facilities are well run, safe and secure."
Register for free to continue reading
Registration is a free and easy way to support our truly independent journalism
By registering, you will also enjoy limited access to Premium articles, exclusive newsletters, commenting, and virtual events with our leading journalists
Already have an account? sign in
Register for free to continue reading
Registration is a free and easy way to support our truly independent journalism
By registering, you will also enjoy limited access to Premium articles, exclusive newsletters, commenting, and virtual events with our leading journalists
Already have an account? sign in
Join our new commenting forum
Join thought-provoking conversations, follow other Independent readers and see their replies